Pierce moves into second place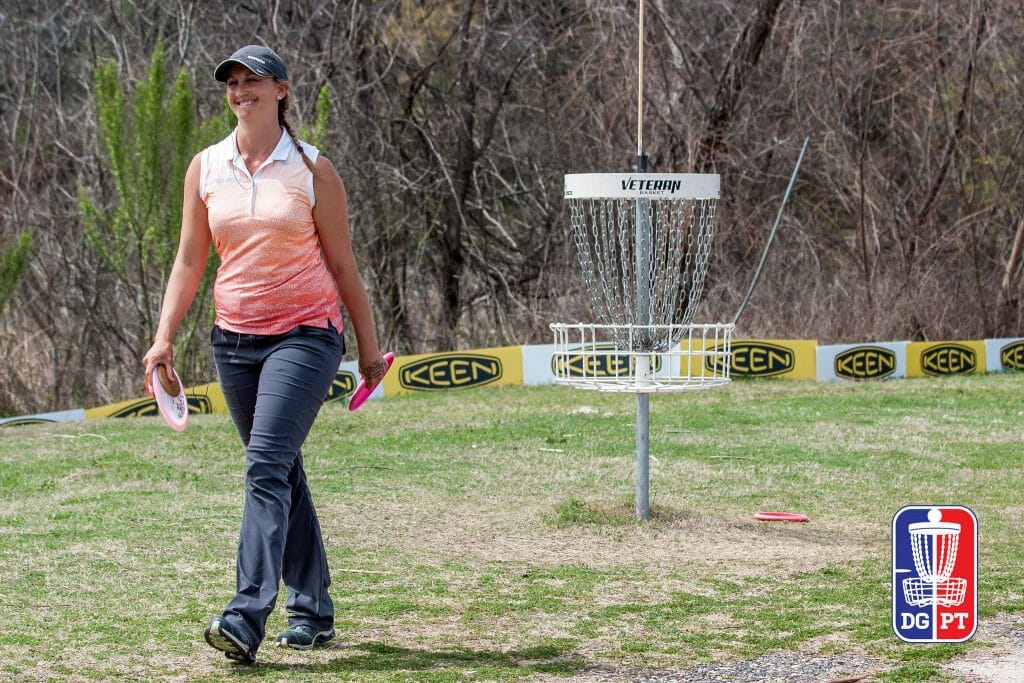 With two-thirds of the Disc Golf Pro Tour's Waco Annual Charity Open in the books, Sarah Hokom improved on her first round performance to extend her lead in the Open Women's division. She now holds a six-stroke advantage over Paige Pierce.
Hokom's 987-rated 6-under par 61 was six strokes better than her first round and moved her leading total to 7-under par 127. Pierce was also able to improve on her first round score, finishing at 3-under par 64 to move to 1-under par 133 and into second place. Catrina Allen carded a 2-over par 69 to move to 2-over par 136 overall in third place. Lisa Fajkus stayed in fourth place at 6-over par 140 after her 3-over par 70 second round.
Hokom reached circle 1 in regulation on half of 18 holes and converted her birdie attempts in each instance while adding two more from 38 feet, accounting for all 11 of her scores under par. She added a third 38-footer to save par on the 609-foot par 5 18th, which brought her circle 2 putting to 75-percent.
Hokom made the most of her ability to carve lines in the woods, going five-under par on the wooded back nine. Despite all the birdies, she only parred two holes on the day and bogeyed five times. In the case of her two pars, she was able to scramble successfully but failed to do so in the case of each bogeyed hole. For the second consecutive round, Hokom led the field in fairway hit rate and parked shots, according to UDisc Live's statistics.
Pierce got off to a strong start, birdieing the first two holes, but for the second straight round ran into trouble on the wooded back nine section of the course. Just like in round one, she carded bogeys on holes 14 and 15, this time after missed putts on 14 and an errant scramble attempt on 15. But she made up for those mistakes on the more open front nine.
Pierce notched birdies on holes 2 through 4, that included a 50-foot putt on hole 2 and a parked upshot on the 558-foot par 4 3rd. She hit a snag on the difficult 530-foot par 4 5th — it played as the hardest hole to par on the course, at nearly 1.5 strokes over par — going OB twice. Despite the late miscues, she still finished out the day with a birdie on hole 6.
Allen's second round got off to a rough start after she four-putted on the opening hole from inside circle 1 leading to a triple-bogey six. She bounced back quickly though, taking a birdie on the next hole, and collecting three more through the next seven frames while hitting all of her circle 1 putts and adding another from 38 feet.
Much like Allen, Fajkus would have come away from the second round in better position had she avoided big numbers on just a couple holes. The Texas-based pro began her round with seven straight pars but ran into trouble on holes 15 and 18, two heavily wooded par 5s. On both holes, Fajkus had difficulty progressing down the tight fairways and ultimately carded a 7 and 9. Disregarding those two holes, she played rather clean golf, hitting fairways at an 85-percent clip and hitting 90-percent of her circle 1 putts.
Further down the leaderboard, Ellen Widboom carded a 1-over par 68 score to move up two places to fifth at 7-over par 141. Rebecca Cox also made a move up the standings with a 1-over par 68 second round. She moved up three places to sixth at 8-over par 142.
The lead card of Hokom, Pierce, Allen, and Fajkus tee off for the final round at 9:40 a.m. local time. You can follow along with live scoring at UDisc Live.