Shortcomings in FPO coverage at DGPT events reveal contradictions in the disc golf community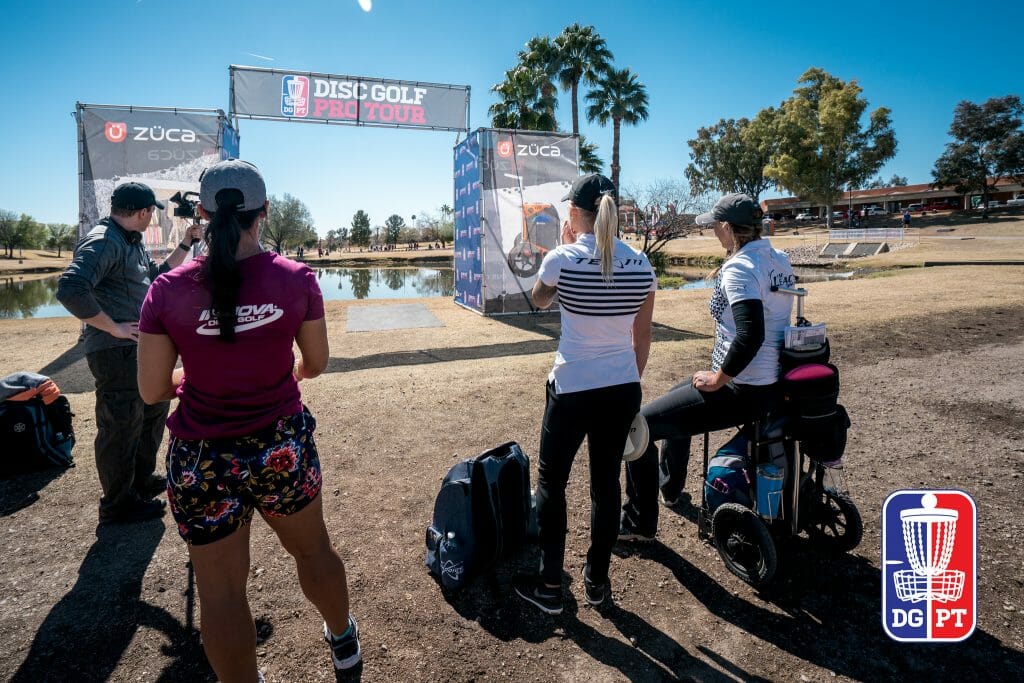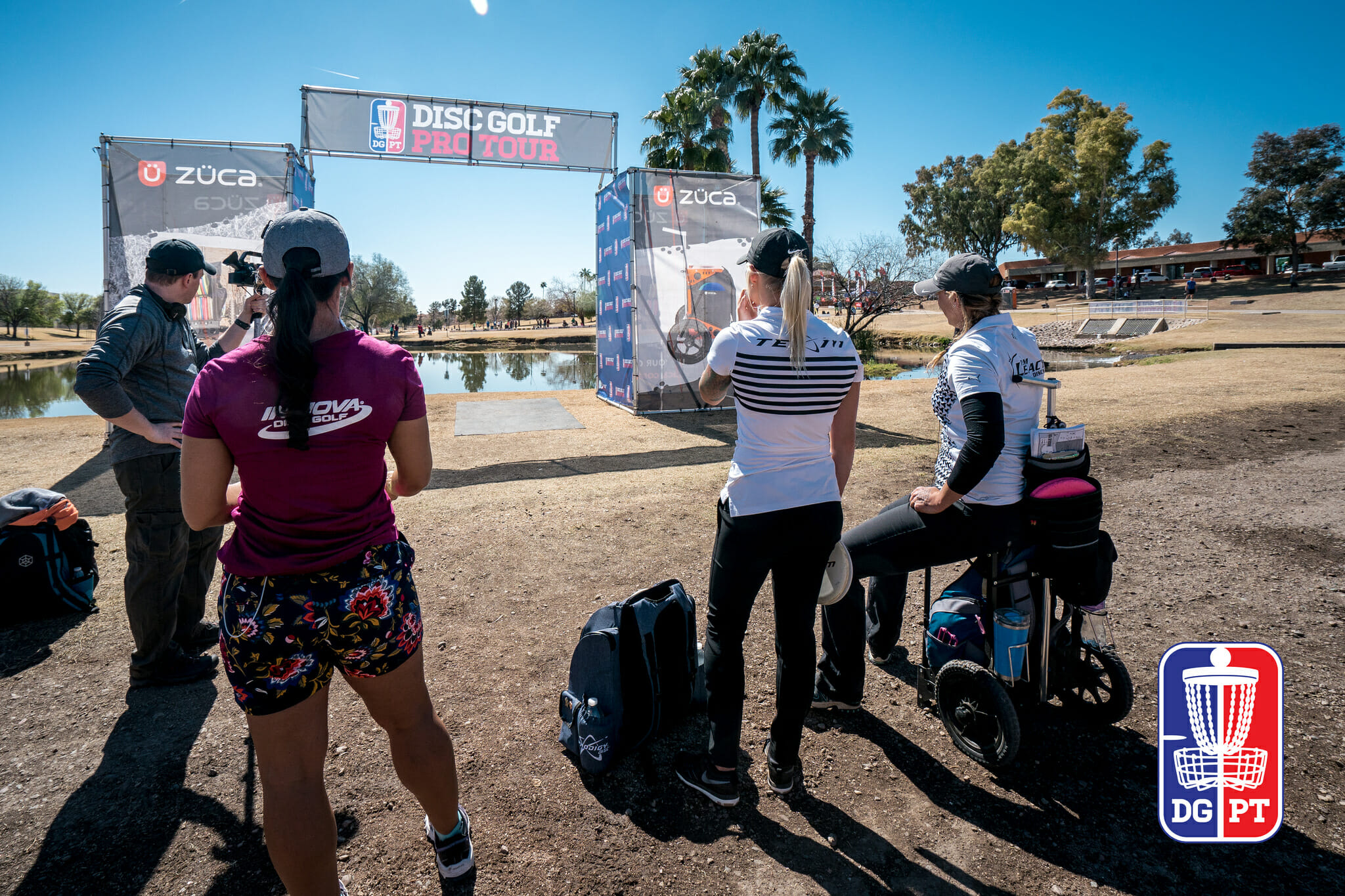 "If there's one thing that's true, it is that making the leap to become a disc golf professional is a difficult endeavor…for dozens of men, the dream is beginning to shift towards a possible reality," Disc Golf Pro Tour director Steve Dodge wrote in 2018: Growing the Women's Side. "On the women's side, however, it is a very challenging task."
Reading this last October felt revolutionary: A male leader in the disc golf community publicly acknowledging the disparity between MPO and FPO player's experiences is a rare sight. Dodge went on to lay out plans for 2018 and how the DGPT was going to help end the cycle of low support and low turnout in the FPO division. At the Memorial Championship, the first DGPT event of the season, they followed through on some promises. There were women's tents and tees. However, I'm not a pro. I'm a fan. A fan specifically of the FPO division. I want to see my favorite disc golfers play, but I'm not getting what I was promised.
Dodge claimed there would be "increased and improved video coverage" of the FPO division. Last year the DGPT's FPO coverage consisted of splicing clips of the women's rounds into the men's live broadcast. Those clips, meant for the live feed, were put together for videos of full rounds. This year FPO is still cut into the live feed but is edited for the shot-by-shot video separately and released after the tournaments are complete. "Improved," sure, but not "increased."
There was a time when it would have been fantastic, given the lack of resources in disc golf media, to have a tournament covered at all. However, on the MPO side at the Memorial, both the lead and chase cards were not only filmed shot-by-shot but released the next day. The resources exist, but instead of spreading that wealth to the FPO division, the DGPT and disc golf media are doubling down on MPO coverage. It is hard to appreciate a baby step forward when next door they get to take leaps and bounds.
Waiting so long for FPO coverage robs the division of what makes watching sports so great: the excitement of seeing it in the moment. While MPO fans get to watch rounds while the tournament is still happening, while social media still buzzes, FPO coverage for The Memorial has only just been fully posted, over a week after the tournament's conclusion. We already know the final results and the conversation is already onto Waco. The excitement simply can't build around FPO the way it can for MPO.
"If FPO grows there will be a bigger demand, and the division will receive more coverage."
This is the frequent argument against equivalent women's coverage. It seems easy to forget that until recently there was little demand for MPO coverage. Members of the disc golf community believed in filming rounds and they created the content. This is what, in turn, created demand. FPO should receive the same faith. The people who hold most of the power in disc golf, however, are men who constantly put FPO at a disadvantage. FPO routinely receives less and lower quality coverage. Jomez Productions, arguably the highest quality disc golf production crew, has 17 out of 257 total videos posted on their YouTube channel that are specifically FPO tournament round coverage. Central Coast Disc Golf has 27 out of 766 total videos that are specifically FPO tournament round coverage. As disc golf becomes more mainstream, the continued ignorance of the FPO division links a vision of success and professionalism with only male players. It is no wonder that there is less demand for FPO coverage when viewers are being trained to not expect or want it.
The phrase "you cannot be what you cannot see" becomes especially urgent here. It carries a sentiment shared by pro women who have repeatedly spoken out about the need for visibility in recent years. If the vision of professional disc golf being presented is one that is almost exclusively male, how can you expect a large number of women to pursue careers in professional disc golf? And if they do not pursue professional disc golf, how will the division grow? And if the division does not grow, how, under the oft sighted logic, will there ever be more coverage? Reverse the thinking: create the coverage first.
Take soccer for example. The U.S. Women's National Team's 1999 penalty shot victory at the FIFA Women's World Cup was, at the time, the most-watched soccer match in US history. A photo of Brandi Chastain's celebration graced the cover of Sports Illustrated and has since become famous. In 2015 the U.S. Women's National Team won the World Cup again, and again it was the most-watched soccer match in U.S. history. In the years between the two wins, participation in high school girls soccer rose 45% to boys soccer's 30%.
I was 8 years old in 1999 when the USWNT won the World Cup. I was 5 in 1996 when the WNBA was founded. My mom played tennis and had rowed crew in college. I remember reading a children's biography of Diana Taurasi at my school library. I played co-ed soccer, t-ball, and tennis. I grew up thinking I could be a professional athlete.
When sports split by genders there weren't enough girls to make a softball team, so I played baseball, but I was the only girl that did. I subscribed to a children's soccer magazine. They always had an equal ratio of men and women on the cover, until, slowly, they stopped putting women on the cover. I started playing club ultimate the same year that a professional league started, I assumed it would be co-ed. It was (and still is despite protest) a men's league. At an old job, they organized an NCAA Basketball March Madness bracket competition. Without any need for clarification, brackets were made for only the men's tournament.
Sports have been pushing me and other girls and women out by not presenting us with spaces where we are welcome and celebrated. It is not automatic that men's sports are the ones we want to watch and discuss. It is learned and accepted, and then it becomes a systemic part of our culture.
How many great female athletes are out there not playing disc golf because they don't even know it is an option? How many did find disc golf, but left the sport because they had better things to do than feel like outsiders?
If the DGPT wants to get serious about growing the FPO division they need to treat all their athletes fairly and produce the same level of coverage for FPO as they do for MPO. If that takes more work behind the scenes, they should do that work. Incentivize the next day coverage of FPO like the PDGA has done at their premier events. Make it coveted work amongst the production crews. Disc golf media companies like Jomez Productions and Central Coast Disc Golf also need to recognize their impact and prioritize filming lead FPO cards over MPO chase cards.
Most sports fans don't know or care about disc golf right now. Claiming that there is more demand for an MPO chase card than an FPO lead card is silly when there is barely any demand for disc golf at all. Take a page from Fulcrum Media's Equity Through Visibility project in ultimate. If resources are an issue, allow supporters to donate specifically to women's coverage.
As a new and growing professional sport, now is the time that we define who we are and how vast a fanbase we can have. Let's be a modern sport, one that understands that women and girls are watching and playing too. They want to, and deserve to, see themselves represented on the screen. If women don't feel valued in disc golf, they won't become long-term members of our community and the sport will suffer without those voices and talents.
Over and over again, I hear people talk about how welcoming the disc golf community is, but I struggle to agree. When I rarely get to see players like me being represented and celebrated, how can I feel welcome? How can I feel like I have a future in the sport? If we claim to be a welcoming community, we have to prove it from the top down.