Lisa Fajkus and Jessica Weese tie in second place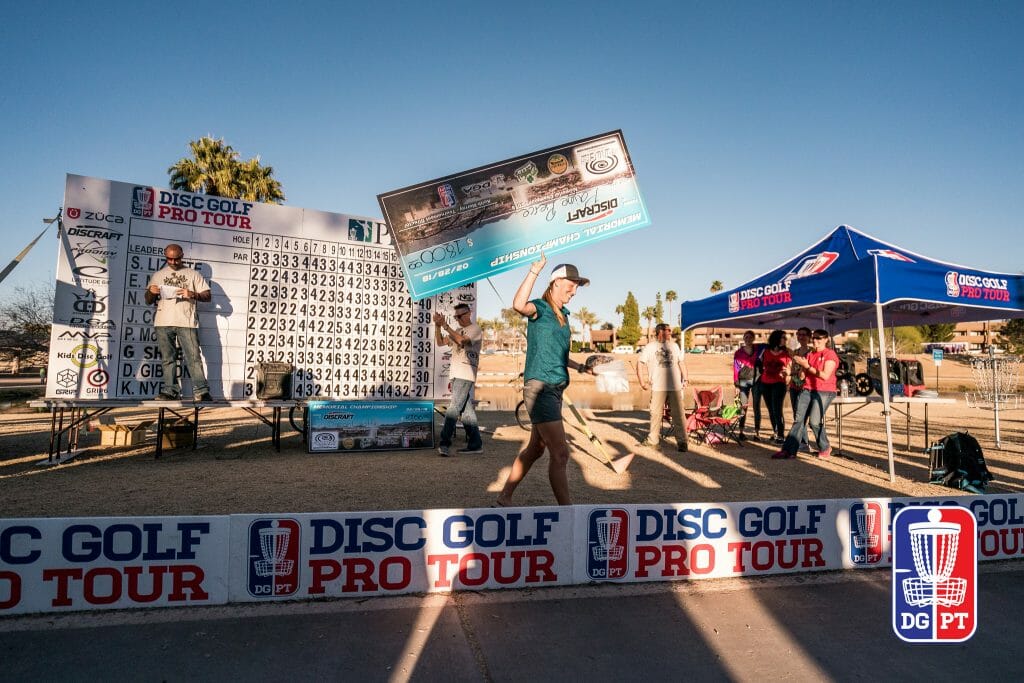 After sharing the lead early on at the Memorial Championship, and taking it for herself after round two, and extending it to seven strokes after the third round, Paige Pierce coasted in for the victory in the final round of the opening Disc Golf Pro Tour event at Vista del Camino Park.
Pierce finished out her final round at 5-under par 55 moving her total to 19-under par 213, eleven strokes ahead of second place. Lisa Fajkus and Jessica Weese tied in second at 8-under par 224 after Fajkus' 3-under par 57 moved her up two places in the final standings. Catrina Allen and Jennifer Allen tied in fourth place at 3-under par 229. Sarah Hokom finished in sixth place at 2-under par 230.
Pierce only needed a handful of birdies in the opening holes at Vista to extend her lead to double-digits and effectively end any chance of losing her lead. She did that, birdieing three of the first six holes, parking two from the tee to within five feet. Pierce alternated birdies and bogeys throughout the final two-thirds of the round, ultimately collecting five bogeys, due to occasional errant drives or missed putts, and seven birdies with her familiar accuracy from the tee.
Fajkus began the final round in fourth place but quickly started moving up after rattling off eight consecutive pars right off the bat. By the later stages of the round, she was within striking distance of Weese's hold on second place. Weese had an up-and-down round through hole 14, but grabbed birdies on the 450-foot par 4 15th and the short downhill 17th with a birdie putt from 38 feet to the elevated pin:
Fajkus then trailed Weese by one stroke and needed a birdie of her own on the final hole for a chance at the second place tie or better:
Her make from 60 feet out put the pressure on Weese to match and regain sole possession of second place. Her bid from just inside circle 1 was low, meaning the good friends and Innova teammates would share second place, each taking $1,025 in winnings.
"[Weese] had me by two going into the round," Fajkus said. "Honestly, I knew I shot so well the second round [at Vista], I shot the hot round behind Paige. I just knew if I could match that round I would probably get second. I just felt like it was all in my hands."
"I pretty much kept my head down and threw all my shots and didn't even pay attention to the score until hole 17 or 18," Fajkus continued. "It's cool because I'm really good friends with Jessica, Jennifer, and Paige, and I knew Paige was already winning the tournament by about 10 strokes. And I was just hoping the other girls do well too because they're my teammates. For me, I had no pressure and I was feeling really loose, and hoping everyone else played their best too. So it was a really good spot mentally, for me."
Fajkus and Weese head next to Sacramento, California for the St. Patrick's Classic A-Tier. The Disc Golf Pro Tour picks up again in two weeks at the Waco Annual Charity Open in Waco, Texas on March 15th.