Jennifer Allen and Jessica Weese are tied in second place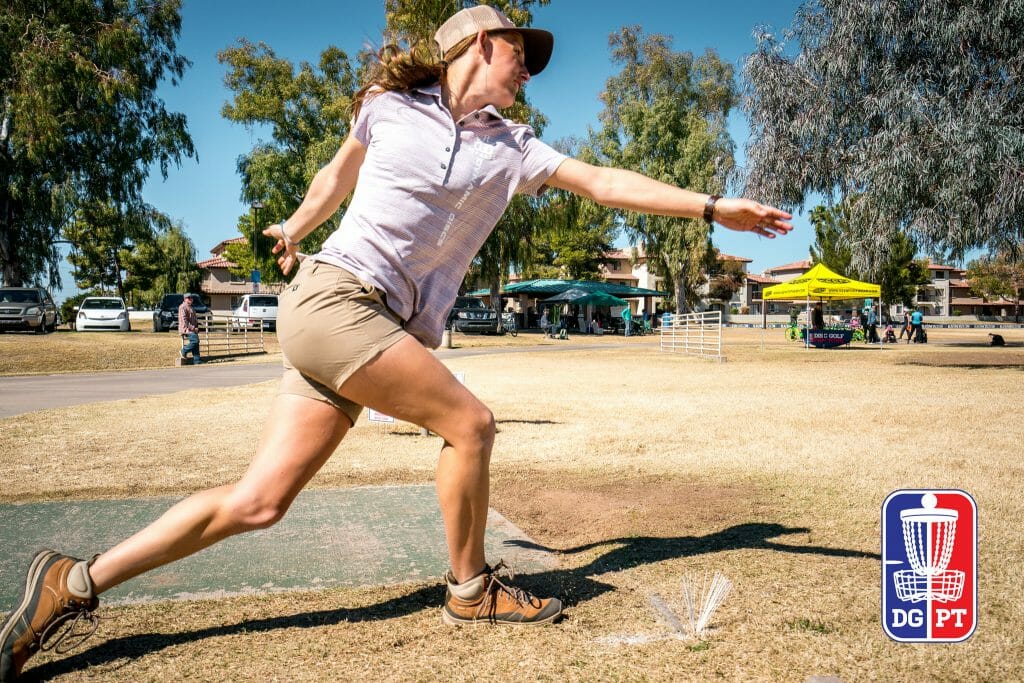 Paige Pierce added to her Memorial Championship lead with a late run of birdies on the event's third day at Fountain Hills. Pierce entered the third round up by five-strokes over her closest competitors and pulled away to a seven-stroke advantage by the end.
Pierce's hot round, 6-under par 50 brought her leading total to 14-under par 158, seven strokes ahead of Jennifer Allen and Jessica Weese who are tied in second. Allen and Weese each carded a 4-under par 52 to move to 7-under par 165. Lisa Fajkus scored the second-best round in the field with a 5-under par 51 to move into fourth place at 5-under par 167 overall. Sarah Hokom had the least consistent round of the event so far, finishing at 1-over par 57 to drop to fifth place at 2-under par 170.
For much of the front nine, it Pierce's lead was down to just a few strokes as you missed three birdie attempts in a row between holes 2 and 4 and carded bogeys on holes 7 and 9 after OB drives. But she came alive on the back nine, starting on the 375-foot par 3 14th with a birdie putt from 60 feet with a little help from some leaves:
After two more birdies after drives that landed inside circle 1, Pierce hit another long putt for birdie, this time from 38 feet on the 468-foot par 3 17th. Then on hole 18, she parked her drive at 5 feet for an easy tap-in to tend the day. Pierce's success continues thanks her accuracy from the tee and her long range putting. Pierce ranks first in fairways hit, parked shot, reaching circle 1 and 2 in regulation, and circle 2 putts, according to UDisc Live's statistics.
Allen and Weese both mixed solid putting and driving accuracy in their move up to second place. Allen hit 89-percent of her circle 1 putts, and, like Pierce, was able to close out with three birdies spread throughout the back nine. Weese hit 85-percent of her putts while staying nearly bogey-free save for an OB approach shot on hole 2.
Fajkus put together a second solid round to jump up to the lead card. After a slow first round, her putter has come alive. The Texas-based pro hit 95-percent of her attempts from circle 1 yesterday.
Further down the leaderboard Kona Panis moved up two positions to seventh place after a 3-under par 53 third round moved her total to even-par 172. Rebecca Cox, Karina Nowels, and Colleen Thompson were the final three to make the cut. The trio are tied in 13th place at 10-over par 182.
The final round lead card of Pierce, Allen, Weese and Fajkus tees off at Vista del Camino Park at 9:32 a.m local time. You can watch their final round during the live broadcast of the Open lead card, which begins at 4:00 p.m. eastern time on the Disc Golf Pro Tour YouTube Channel.