Weese, Allen, Hokom tied in second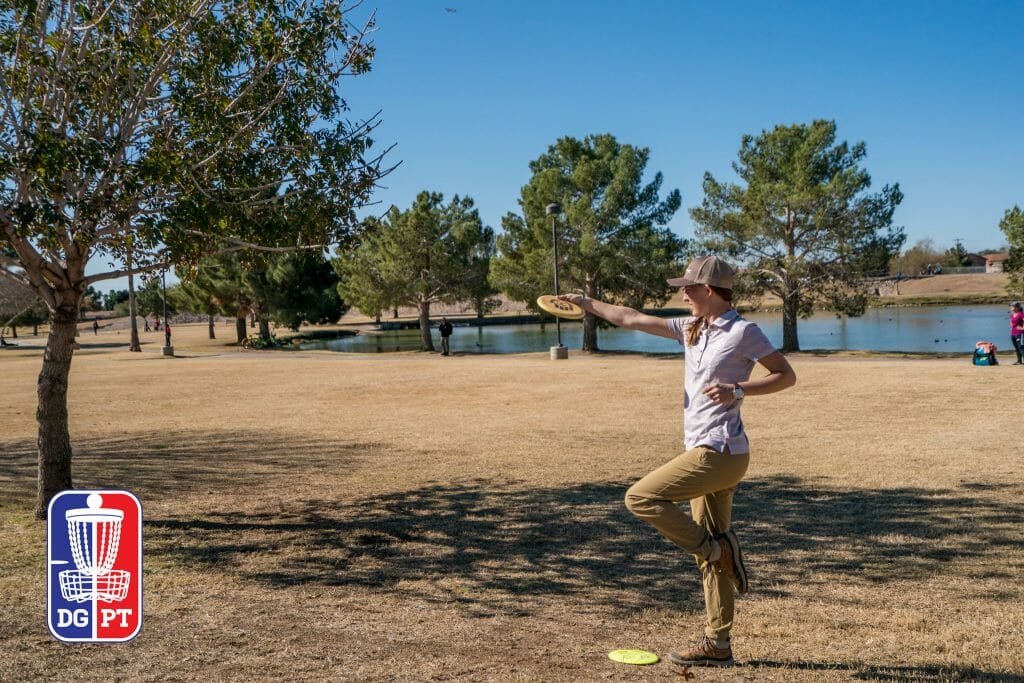 After a first round that featured a trio of leaders, only one emerged from the pack to take the lead after the second round at the Memorial Championship. It was Paige Pierce who put up the 995-rated hot round at Vista del Camino Park to jump out to a 5-stroke lead halfway through the first Disc Golf Pro Tour event of the year.
Pierce ended the day with a 6-under par 54, moving her leading total to 8-under par 108. Sarah Hokom, who came into the round tied with Pierce and Catrina Allen, stayed in second after a 1-under par 59 took her total to 3-under par 113. Jennifer Allen and Jessica Weese both made a move into a tie for second place with Hokom after both Innova-sponsored pros carded 2-under par 58s. Catrina Allen slipped to even-par 116 after a 2-over par 62 second round. She's joined in a tie for fifth place by Lisa Fajkus who made the biggest jump up the leaderboard, moving up eight spots after a 4-under par 56 round.
Pierce improved on the green from her first round performance, hitting 83-percent of her circle 1 putts, and hitting three of six from circle 2. Two of those circle 2 makes came at crucial moments towards the end of the round and helped Pierce pad her lead. First, on the 372-foot par 3 16th, she found chains and ran in the birdie from 50 feet. Then, after an OB drive on the 243-foot par 3 17th, Pierce made her uphill comeback putt from 38 feet to save par.
Pierce wasn't the only player on the lead card knocking down long putts at the end of the round. Hokom got in on the action too, with a similar putt from 38 feet to card her second birdie of the day. Hokom maintained the conservative style of play that has led to her success thus far. By taking some distance off her drives, she has stayed clear of the OB through two rounds and left herself with manageable approaches and short putts. Hokom successfully scrambled on 92-percent of her attempts yesterday and made all but one of her circle 1 putts.
In her move up to second place, Jennifer Allen finished out her round with consecutive birdies on the final two holes after landing both of her drives inside circle 1. Jessica Weese moved into that second place tie thanks to a perfect day putting from inside circle 1.
Lisa Fajkus completed a strong second round, carded pars on nine straight holes to open begin the day, and adding five birdies on the back half to go along with one bogey after an OB drive on the 372-foot par 3 16th. Fajkus was back to her usual self on the putting green, after some atypical performances at the Las Vegas Challenge. She hit 100-percent of her putts from circle 1 and added what is likely the highlight of the round: a 114-foot throw-in for birdie on the 651-foot par 4 10th.
Further down the leaderboard Madison Walker is in seventh place after an even-par round kept her at 1-over par 117. A cut after the third round means the top 50-percent of the field advances to the final round on Saturday. Currently, Rebecca Cox and Sami Keddington are right above the cut line in a tie for 14th place at 8-over par 124. Sara Fletcher and Karina Nowels are just below in a tie for 16th place at 10-over par 126.
The third round lead card of Pierce, Jennifer Allen, Weese and Hokom tees off at 9:00 a.m. local time at Fountain Hills. You can watch footage of their round during the live broadcast of the Open lead card which airs at 4:00 p.m. eastern time on the Disc Golf Pro Tour YouTube channel.