Ample scoring opportunities keep field scores tight at the top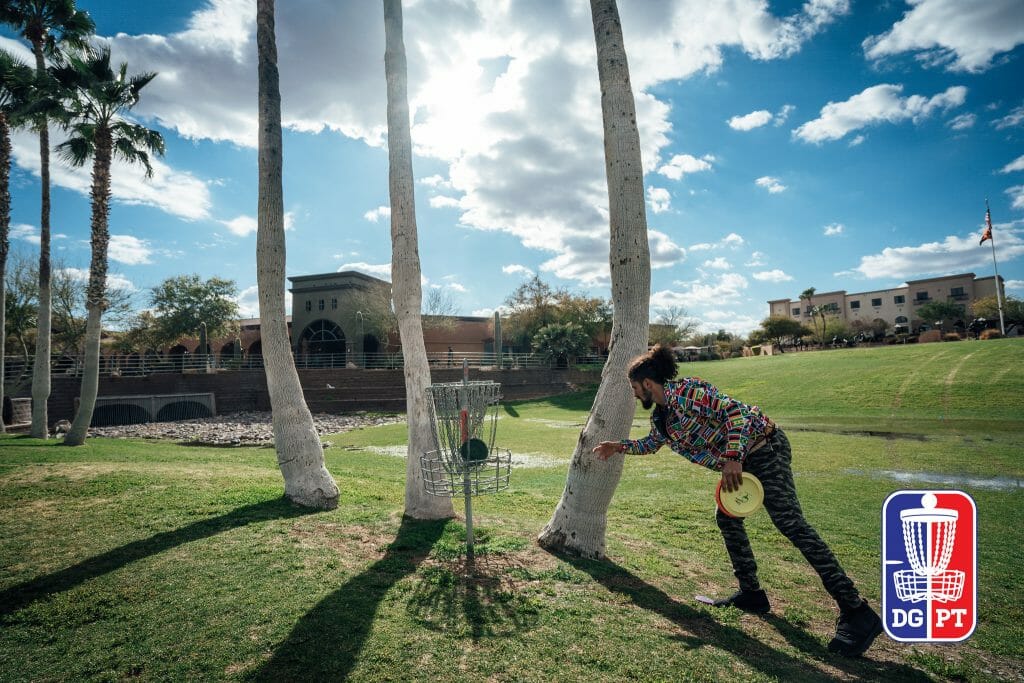 True to form, the Fountain Hills course, which has been a staple at the Memorial Championship for years, allowed for ample scoring opportunities in the Open field in round one. Seven players carded streaks of five consecutive birdies, two managed a streak of six consecutive birdies, three notched runs of seven consecutive birdies, and most impressively, Eagle McMahon, looking for back-to-back wins after his victory in Las Vegas, finished out the round birdieing the entire back nine.
Remarkably, of the five players tied for the lead after 1062-rated 10-under par 46s, only two carded birdie streaks of greater than four in a row: JohnE McCray and Nikko Locastro.
Locastro's putter stayed hot after an impressive top three finish at the Las Vegas Challenge. He rattled off six straight on the front nine, and almost finished the day bogey-free if not for going OB off the tee on 18 — it was the only hole all day where he did not land in at least circle 2 from the tee. McCray didn't get off to the hot start Locastro did, going just 3-under par on the front nine. But he caught fire on the shorter back half, getting seven birdies in a row between holes 11 and 17.
K.J. Nybo, Ricky Wysocki, and Teemu Nissinen are the other three tied at the top. All three were able to reach circle 1 in regulation on more than 60-percent of the holes. Nybo and Nissinen each finished with 95-percent putting from circle 1, while Wysocki made up for an uncharacteristic day putting at 84-percent from circle 1 by hitting two of three from circle 2.
Simon Lizotte, Eagle McMahon, and Eric Oakley are all tied in sixth place at 9-under par 47. From there, 11 players are tied in ninth place at 8-under par 49, including Paul McBeth, Nate Doss, Josh Anthon, Austin Turner, and Matt Dollar. Seven players are tied in 20th place at 7-under par 49, and 12 more are tied in 27th place at 6-under par 50.
In total, only four strokes separate the top 39 players after one round. With such little scoring separation, and the much longer Vista XL course, expect the field to begin sorting themselves out on day two, but only slightly. In the last two iterations of this event, the top two finishers in the Open field have been separated by just one stroke after four rounds. In 2015 and 2013 the winner was decided in a playoff, and the largest margin of victory came in 2014 when McBeth beat McCray by three strokes.
The lead card of McCray, Locastro, Nybo, and Wysocki tee off at 2:20 p.m. local time. The card will be broadcast live on the Disc Golf Pro Tour's youtube channel; it begins at 4:00 p.m. eastern time.