Top pros with later tee times struggled to score low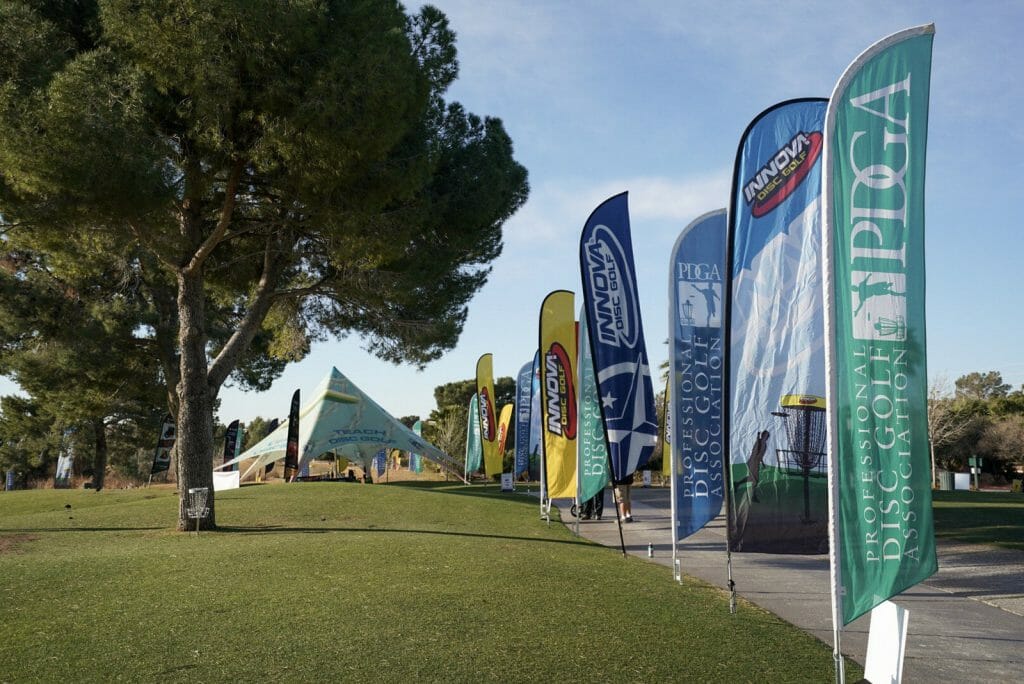 Sometimes the elements are too much, even for the best in the world. Dealing with adverse conditions is something that has always been part of disc golf: you play the course, foremost, and everything that comes with it.
Winds picked up as the first day at the Las Vegas Challenge went on, oscillating between 20 and 45 mph from the late morning through the late afternoon adding an extra layer of difficulty for those in the Open field with later tee times. As a result, those who hit the course early were more likely to come out ahead.
The current leader in the clubhouse, Jesse Adams, teed off at 8:32 a.m. local time and his 1075-rated 10-under par 48 held up. Colorado's Joel Freeman, who also teed early at 9:12 a.m., sits in second place at 9-under par 49. Jeff Renner and Nikko Locastro are tied in third after tossing matching 7-under par 51s. Renner enjoyed the relative comforts of an early tee time, while Locastro bucked the trend, managing to score despite going off with the second to last group at 1:20 p.m. when the winds were at their strongest. Christopher Keseloff rounds out the top five at 6-under par 52.
Outside the top-five on the leaderboard, the conditions allowed for very little scoring separation. Eight players are tied in sixth place at 5-under par 53, 10 are tied at 4-under par 54, and a combined 17 more sit at 3- and 2-under par. In that group who are currently between eight and five strokes off the lead are Eagle McMahon (-5), Cale Leiviska (-4), Ricky Wysocki (-3), Simon Lizotte (-3), and Paul McBeth (-2).
Adams, playing in his first PDGA National Tour event, carded one of only two bogey-free rounds on the day. Adams hails from Clearfield, Utah and only turned pro in November of 2016. Despite being relatively new to sanctioned play his player rating has steadily increased from 946 in July 2016 to 992, which he's kept for the last three ratings updates.
Despite the intense conditions for Wysocki, who headlined on round one's feature card at 1:28 p.m. as the defending champion of the event, he was able to grab an impressive, if unconventional eagle on the 585-foot par 4 8th. His backhand drive skipped off a golf green after taking numerous air-bounces down the fairway, before landing 16 feet past the basket. Faced with a comeback putt into a ripping headwind, Wysocki flipped his putter upside down and hit center chains:
With only slightly less intense winds of between 15 and 25 mph forecast for the afternoon during today's second round, Adams and the rest of the players who teed off early in round one will have a far different set of conditions to handle. In an interview with the PDGA's Steve Hill after his round, Adams said his plan is just to "stable up and play low" to stay out of the swirling winds.
The lead card of Adams, Freeman, Locastro, and Renner tee off at 1:32 p.m. local time on the Innova course.