Keegan grabs hot round to move into third place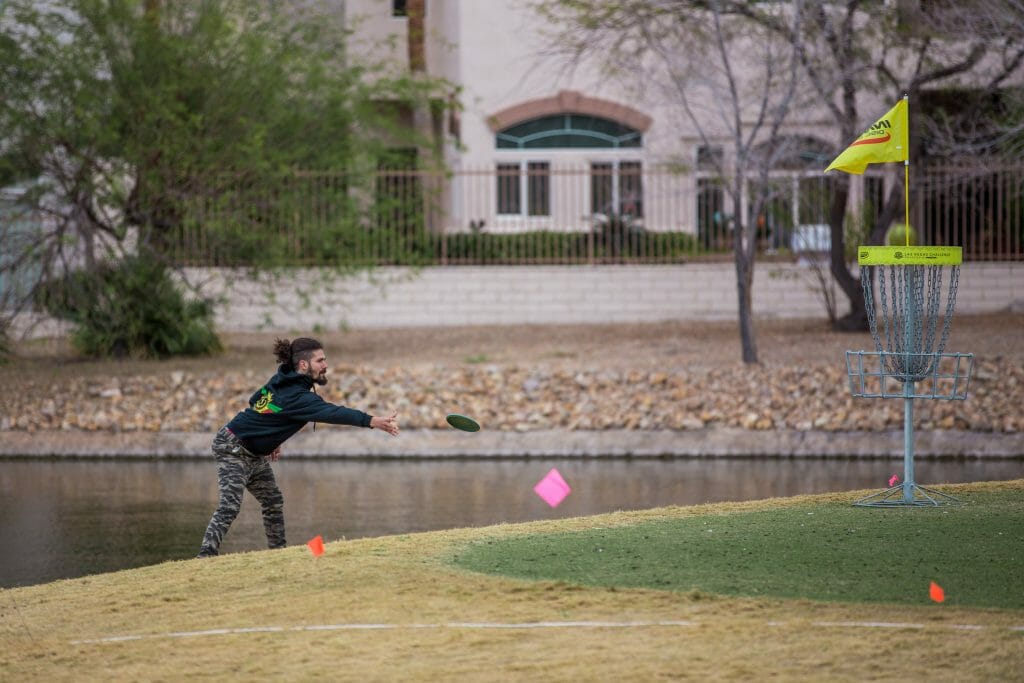 Nikko Locastro was adeptly able to handle the extreme winds that came with his late tee time in round one, and that experience seems to have paid off. Locastro lept up two spots and into a tie with Joel Freeman at the top of the Open division leaderboard during another windy round at the Las Vegas Challenge. On the event's second day, played at the Innova course, which will also play host to the final round on Sunday, winds howled between 15 to 25 mph in the late morning and last through the afternoon while temperatures never reached upwards of the high upper 40s.
Locastro carded a 1061-rated 9-under par 52, moving him to a 16-under par 103 total. Freeman, also at 16-under par 103, notched a 7-under par 54 that included a run of seven consecutive birdies. Dustin Keegan recorded the hot round with a 1069-rated 10-under par 51 to move into third place with a 15-under par 104 total. Eagle McMahon rounds out the top four after an 8-under par 53 moved his two-round total to 13-under par 106.
With the cold temperatures, made all the more intolerable by the persistent wind, Locastro has reportedly spent hours warming up on the practice putting green prior to each round. All that practice wasn't necessary, at least at the beginning of the second round, when Locastro parked five of the first six holes for drop-in birdies inside five feet. He stayed smooth through the rest of the second round, carding four more birdies, including two on the final two holes, and scrambled successfully to save par on four more occasions. Between the run of parked holes to open the round, and successful scramble opportunities, Locastro is ranked fourth and third in reaching circle 1 and 2 in regulation.
While Locastro is in a familiar position at the top of a PDGA National Tour leaderboard, it is foreign to Freeman whose highest career finish at an NT is 39th at last year's Gentlemen's Club Challenge. The third-year pro playing out of Greeley, Colorado was able to grab a share of the lead and stick on the top card by taking a similar approach to Locastro. Freeman's stretch of seven consecutive birdies was accomplished through a combination of parking four holes inside five feet and knocking down putts of 27, 38, and 49 feet on holes 6, 8 and 11. In total, he connected on 100-percent of his circle 1 putts and ranks first in both birdie percentage and circle 1 putting.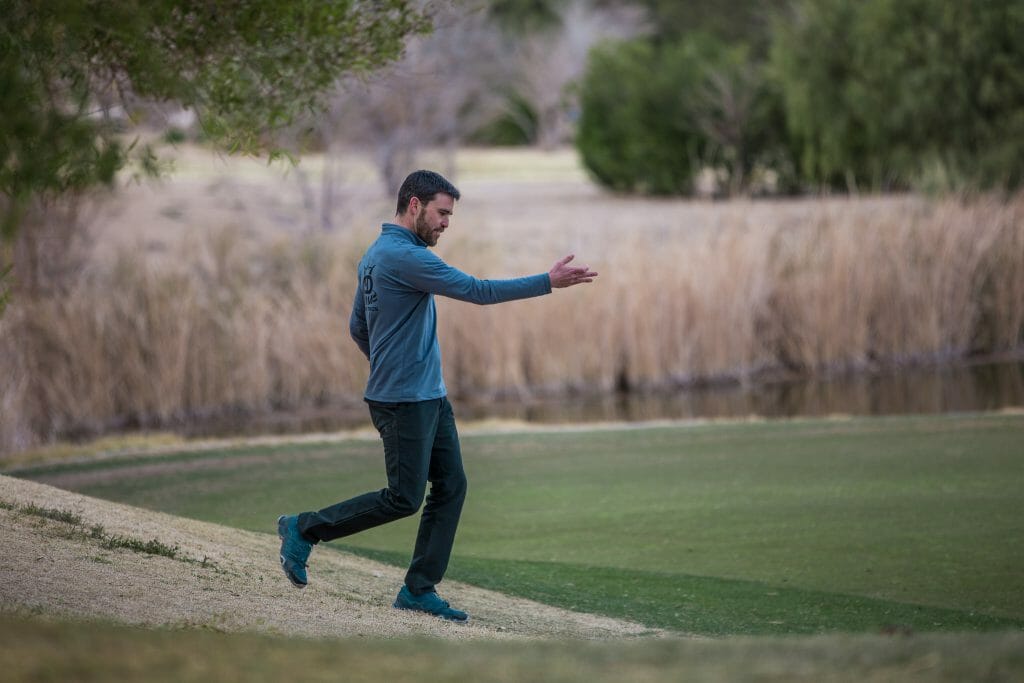 Keegan's hot round was marked by a high degree of accuracy from the tee and fairway. The Oregonian parked eight holes of birdie, successfully scrambled four times to save par and reached circle 1 in regulation at a 67-percent clip. He connected on 85-percent of his circle 1 putts and landed a birdie putt on the 507-foot par 3 17th from 50 feet for his last birdie of the day.
McMahon had a similar day, parking holes for birdie, reaching circle 1 in regulation with regularity. But for one blemish on his scorecard, his round would have turned out similarly to Keegan's. McMahon went out of bounds twice on the 783-foot par 4 10th, and a missed putt from circle 2 resulted in a double-bogey six. Despite the adversity at the turn, McMahon rebounded, carding five birdies, including three in a row to close out the round, finishing out the round at 95-percent putting inside circle 1.
Further down the leaderboard Ricky Wysocki and Devan Owens made significant moves up the leaderboard. Both jumped 18 spots to 11-under par 108 and into a four-way tie for sixth place with Seppo Paju and A.J. Risley. Paul McBeth carded an 8-under par 53 to move up 20 spots into sole possession of 10th place.
With the cut line set at the top 40-percent of the field, notable pros Zach Melton, Scott Withers and Lance Brown find themselves two strokes from safety but are amongst 25 other players within two strokes on either side of the line. Currently, JohnE McCray is the highest profile player in danger of missing the cut, currently tied in 111th place at 9-over par 128. McCray finished fourth at this event last year.
The wind that has plagued the first two rounds are expected to be far less of a factor during round three at the Adidas Terrex course. Locastro, Freeman, Keegan, and McMahon tee off on the lead card at 1:34 p.m. local time.