Weese in third, Pierce assessed penalty after misplay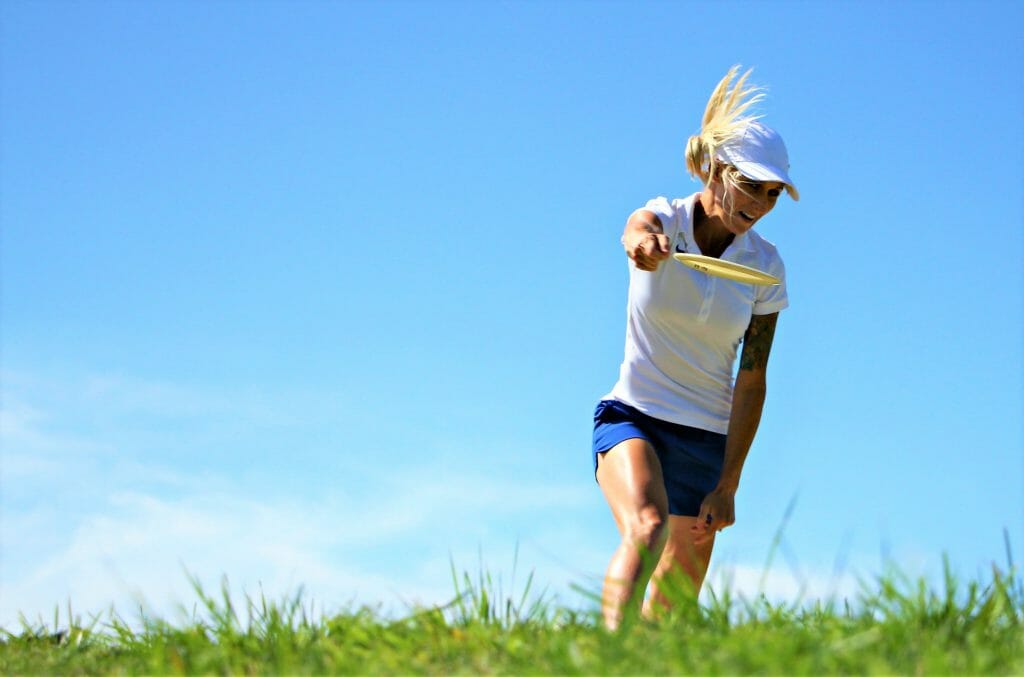 Coming into the first major event of 2018 many expected that it would be Paige Pierce who would pick up right where she left off. Instead, it was Catrina Allen and the 2016 PDGA Amateur World Champion Sai Ananda taking the early lead.
Allen and Ananda shot matching 1007-rated 2-under par 56s in the opening round of the Las Vegas Challenge on the Disc Golf Values course, the first of three courses the field will play in the four-round event at Wildhorse Golf Club. The pair are two strokes ahead of Jessica Weese who tossed a 990-rated even-par 58, and three strokes in front of Sandi Hendel who sits at 1-over par 59.
Allen and Ananda carded rather contrasting rounds on their way to the top of the leaderboard. Allen stayed at even-par through the front nine before grabbing two birdies in a row on holes 11 and 12. Her drive on the 375-foot 12th was particularly impressive, landing just inside the circle. From there, her birdie putt hit center chains.
Ananda started off her round hot despite the cold temperatures for her 7:12 a.m. tee time. She carded four consecutive birdies off the bat. Two, on holes 1 and 3, with shots landing inside 15 feet, and two more, on holes 2 and 4, with putts from 38 feet. Her next birdie came on the 294-foot par 4 6th, which boasts a triple island, and played as the fourth hardest hole for the field.
From there the young pro out of Washington state struggled a bit on the green, missing four putts inside circle 1, two of which were for birdie, while the other two resulted in a bogey and a double bogey. In an interview with the PDGA's Media Coordinator Steve Hill after the round, Ananda said she spent the first round trying to "minimize her errors and mistakes" and not go for shots that carried too much risk.
Allen's veteran poise and Ananda's cagy approach were good enough to land them at the top of the field in fairways hit, and reaching circle 2 in regulation. Allen was alone at the top in reaching circle 1 in regulation, doing so at a 39-percent clip. Ananda led in putting from circle two, making 33-percent of her attempts.
Weese had a strong day getting to the green, successfully scrambling on 73-percent of her attempts after off-target drives. That strong approach game padded her circle 1 putting stats (90-percent) as she rarely had to putt from outside 15 feet on the day.
Further down the leaderboard Jennifer Allen, Lisa Fajkus, and Lesli Todd are tied in fifth place at 2-over par 60. Sarah Hokom and Kona Panis are tied in eighth place at 3-over par 61.


With three rounds left to play and a cut before Sunday's final round, Pierce finds herself eight strokes out of the lead in a tie for 15th place after a 6-over par 64 round. While she experienced plenty of adversity throughout the round, after it, there was discussion as to whether or not she had misplayed the first hole. Her tee shot landed near the hazard in front of the basket, but not in it, and she took relief from the hazard before attempting her putt.
Unfortunately for Pierce relief from that hazard area was not allowed. Tournament Director Jeff Jacquart and Chief Marshall Shawn Sinclair conferred with the Rules Committee chairperson, Conrad Damon, and determined that the incident should be treated as misplaying the hole, rather than as a marking violation. As a result, Pierce was assessed a two-stroke penalty for the infraction, but not another two-stroke penalty for turning in an incorrect scorecard because her scores had yet to be submitted. After the mishap on the first hole, Pierce had difficulty staying inbounds going out of play seven times.
The lead card of Allen, Ananda, Weese and Hendel tee off at 7:56 a.m. local time on the Innova course.