2012 PDGA World Champion Sarah Hokom shares her tournament preparation routine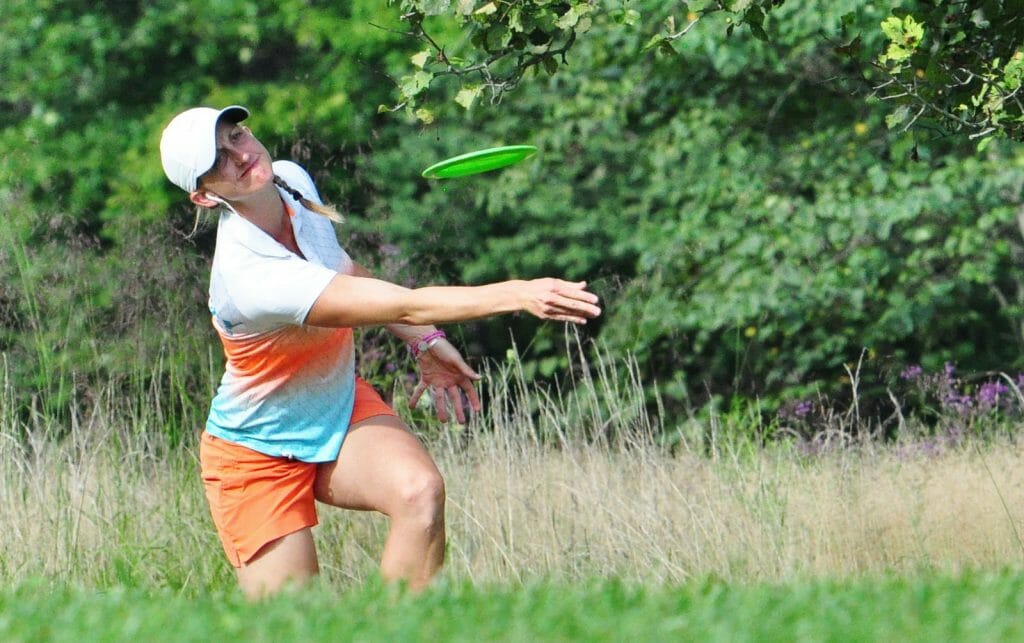 With the 2018 season quickly approaching, establishing a repeatable preparation plan for events is a major priority. Here are some preparation strategies to consider when getting ready to play your favorite events!
In an ideal world, you would get to the event a few days early to practice the course(s), settle into the area you are staying for the duration of the event, and give your body enough rest so you are fresh for your tee time on the first day. The following schedule details the ideal situation:
THE WEEK BEFORE:
Familiarize yourself with the course via online resources and work on the shots you think you will be throwing most frequently
Putt daily using a full pre-putt routine each time. Add pressure situations to emulate tournament pressure
Decrease carbohydrate intake and increase protein intake to prepare to carbo-load in the last few days leading up to the event
Try to drink 1.5 liters of water per day
1-3 DAYS PRIOR:
Practice the course(s)

Try out different lines on each hole.
Throw from different areas of the fairways for approaches
Putt from all sides of the greens and familiarize yourself with dangers or obstructed areas
Take notes on the following:

Which disc/angle/trajectory were most successful on each hole?
Which side of the fairway do you want to be on par 4s & 5s?
Approximate distances from fairway trees to basket to aid approaches on par 4s/5s

Which discs, angles and trajectories were most successful for approaches
Any prevailing winds, treacherous areas or other subtle hole elements
If time and body allow (without taking a large toll on your body or energy level), test your game plan and make adjustments if necessary
Determine your process goals and mental keys for the event
Take note of possible areas to warm up before tee off
Drink lots of fluids to stay hydrated. Proper hydration is achieved in the days leading up the to event, which is just as important as hydration during tournament time
Eat healthy meals with increased carbohydrate intake and limit alcohol intake to ensure proper energy on game day
Stretch and roll out sore muscles each night
Try to get nine to 10 hours of sleep in the nights leading up to the competition
THE NIGHT BEFORE:
Eat a healthy carbohydrate-rich meal with a lean protein and limit alcohol intake
Prepare disc golf bag, set out tournament clothes, prepare breakfast, and make lunch for the next day, if necessary
Relax and enjoy some relaxed social time
Stretch and roll out any sore muscles
Set your alarm (and a second one if you need it)
Try to get at least eight hours of sleep
GAME DAY:
Perform your normal morning routine
Eat a carbohydrate-rich breakfast with a lean protein-avoid high fat and high sugar foods (preferably 2-3 hours prior to competition)
Spend 20 minutes in a quiet area to meditate/visualize

Visualize playing each hole successfully
Meditate on performing your process goals & mental goals
Commit to staying positive and enjoying the day

Arrive at the course at least one hour before you tee off
Check-in and get hole assignment if possible
Warm up your muscles via the Disc Golf Strong Warmup
Throw approach shots or play catch
Throw fairway & distance drivers at a variety of angles, practicing shots you will need in the round
Putt inside the circle for at least 10 minutes
Putt outside the circle for a few minutes if you desire, but not necessary (personal preference)
Players' meeting may or may not occur
Arrive at starting teepad at least five minutes before start
Putt at nearest basket until you hear two minutes
Introduce yourself to your card mates, familiarize yourself with the teeing order, and get ready to hit the fairways and bang some putts!
If your life is like most people's, this ideal situation can sometimes be unavailable due to a variety of reasons, including work and family. If that's the case, consider working parts of this tournament preparation schedule into your routine where they fit.
But what if you can't get to the course until the night before or the morning of the event?
In less than ideal situations, you will need to find a balance between increasing your course knowledge, managing your energy levels, and balancing exertion. If you are familiar with the course, you may want to save your energy and get enough sleep and rest in the days before the event. You can replace that time at the course with visualization.
But if you haven't played the course before, I'd suggest getting there more than one hour in advance and playing at least half of the holes. Choose a loop that includes a few of the more challenging holes and consider walking the other holes on the way out or back in. Some people prefer to simply walk the course the night before or the morning of to get a feel for the lines. In either scenario, you are sacrificing a little energy and rest to increase your course knowledge. For me, course knowledge almost always trumps rest and energy, but everyone has a different recipe for success.
There are always trade-offs, so it will be up to you to know yourself and what works for you when deciding what combinations of tournament preparation strategies work best. Good Luck!