The PDGA World Champion's three 1000-rated rounds at the Beaver State Fling found her shooting "for the stars"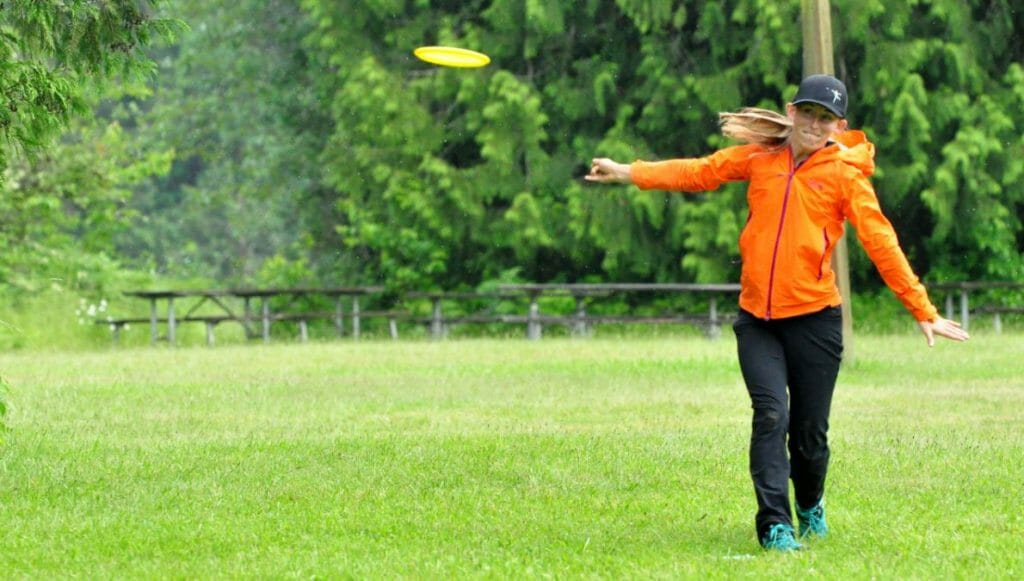 Paige Pierce dominated in 2017, so it was never a matter of if she would win our Performance of the Year award, an accolade we give for the best individual round or tournament of the season. With more than 20 1000-rated rounds to choose from, though, the real challenge came in determining which performance topped all the others.
We could have given the nod to her PDGA World Championship title romp in June, a wire-to-wire win that tied her with Valarie Jenkins on the all-time list. Or we could have handed out some virtual hardware for her final round showing at the United States Women's Disc Golf Championship, when she tossed a 1018 rating without having practiced the course. From her first tournament of the year — a runaway win at the Aussie Open that qualified her for the USDGC — to her last — a Disc Golf Pro Tour Championship victory punctuated by huge putts — Pierce's season was one for the ages.
But the Texas pro took her play to another level at the Beaver State Fling, a four-round assault on Milo McIver State Park that earned her 2017's Women's Performance of the Year.
Pierce threw three of the tournament's four rounds over 1000, logging consecutive 1008's during Friday's opening day and a 1020 to cement her lead on Saturday. She came incredibly close to cresting four digits in all four rounds, as her 997 on Sunday contributed to her whopping 18-stroke victory.
It wasn't just Pierce's stats that stole the show in Portland, though; it was her mentality. While she played aggressively all season, she made particular note of how she approached Milo when looking back on the event last week. A Beaver State win was still missing from her career resume at the time, and after losing in a playoff in 2016 she was determined to right the ship.
"I just wanted to attack every hole and not lose by one stroke or win by one stroke," Pierce said. "I just wanted to shoot as best as I possibly could. Sometimes I get caught up in taking a conservative play on a  certain amount of holes…I just told myself I wasn't gonna play conservatively at all at Beaver State and shoot for the stars, basically."
That approach crystallized in this round three shot on hole 12 at Milo McIver East. Pierce already had a significant lead in her pocket and could have opted to lay up on the 400-foot parking lot hole. But with no deviation from her game plan in mind, she ran the island and was rewarded:
Perhaps more impressive than any round ratings, margin of victory, or individual shots, though, were the personal circumstances that Pierce took into the tournament. She withdrew after the first round of the Utah Open just a few days before because her mother suffered a medical emergency. That kind of stress could have provided an easy excuse for Pierce to crumble when she touched down in Oregon but, true to form, that possibility never crossed her mind.
"I guess I hadn't thought about it like that, honestly," Pierce said. "I guess it was definitely scary in Utah because I didn't know how bad it was. I think it was good for me to go home and drop out of that tournament because it, one, allowed me to spend time with my mom, and I never would have forgave myself if she passed and I didn't go. After going and seeing she was fine…it was good to just have my mind at ease instead of just wandering and worrying, basically."
There was certainly no wandering during the Beaver State Fling. Instead, Pierce was all focus, and it yielded the top women's performance of the season.