Four of disc golf's most exciting moments battle for top honors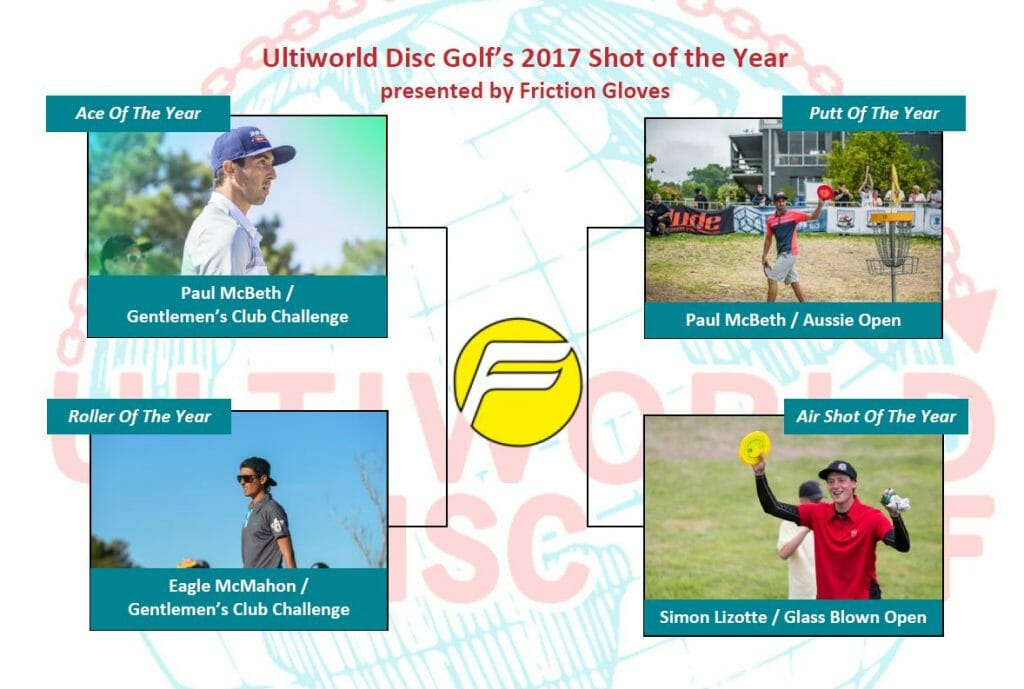 Ultiworld Disc Golf's 2017 Shot of the Year voting is presented by Friction Gloves; all opinions are those of the author. Check out our review of Friction's DG Gloves here.
After 56 total entrants, thousands of votes, and enough spirited debate to put holiday dinners with your overly political uncle to shame, we've finally come to this: Ultiworld Disc Golf readers have selected the four competitors who will vie for the 2017 Shot of the Year, and it's a who's who of the sport's most electrifying talent.
Coming out of the "West" bracket are two huge moments from the same tournament that, serendipitously enough, took place out west. First, it's Paul McBeth's 368-foot uphill ace from the Gentlemen's Club Challenge. This kicked off the season with a bang and landed disc golf on SportsCenter, a feat that hasn't gotten old yet. With the gradual slope and out-of-bounds to the right, McBeth said the hole was extremely difficult, but that he was playing the shot aggressively as he tried to chase down Ricky Wysocki's lead.
"As soon as I let it go I knew it was good," McBeth said. "I was like, 'Just be close,' but it went about as close as you can get."
Eagle McMahon's roller during the same round, meanwhile, made like Looney Tunes' Roadrunner and just kept cruising along the desert floor to the tune of 750 feet. He wasn't being hunted by Wile E. Coyote, but something inside was motivating the young pro — even if he couldn't quite pin down what that something was.
"From what I can remember, that round I was super jacked up, for some reason," McMahon said. "So I was crushing super far."
Not too shabby for the first PDGA National Tour event of the season. Who's your pick to move on to the finals?
The "East" bracket is again headlined by McBeth smashing chains, but from a little closer. Still, this putt for eagle on the Aussie Open's 70th hole was an instant classic, and yet another that found the four-time PDGA World Champion dialing up the intensity.
"I played it a little bit safer [on my second shot] and gave it a look, and I was like, 'Here's my moment, here's my chance to get this hole,'" McBeth said. "'What's gonna happen if I miss? I par?'…As soon as I let it go I knew it was on the right line…Even though it was a smaller gallery, the Jomez boys were there and they knew thousands and thousands of people would see it."
McBeth Aussie Open Eagle Video
If McBeth is going to secure a spot in the finals, though, he is going to have to make it past the top vote-getter in the entire competition. Simon Lizotte's 700-plus-foot drive on Jones East's ninth at the Glass Blown Open — one of three eagles during a round in which he (seriously!) claimed that he felt like he wasn't playing well — was everything we've come to expect from the German pro. Equal parts power and precision, the impetus was pure for a shot he had toyed with in practice but never intended to unleash during a round: He wanted to put on a show.
"I wasn't playing great (in my mind), so I felt like going for everything I could go for," Lizotte said in a message. "Plus there was a backup on the hole, so the gallery from the lead card, plus the lead card, was watching."
Two phenomenal highlights from two phenomenal players, but only one can move on. Make your picks now, then come back tomorrow for the finals!