The German star dropped jaws with his tap-in eagle during the Glass Blown Open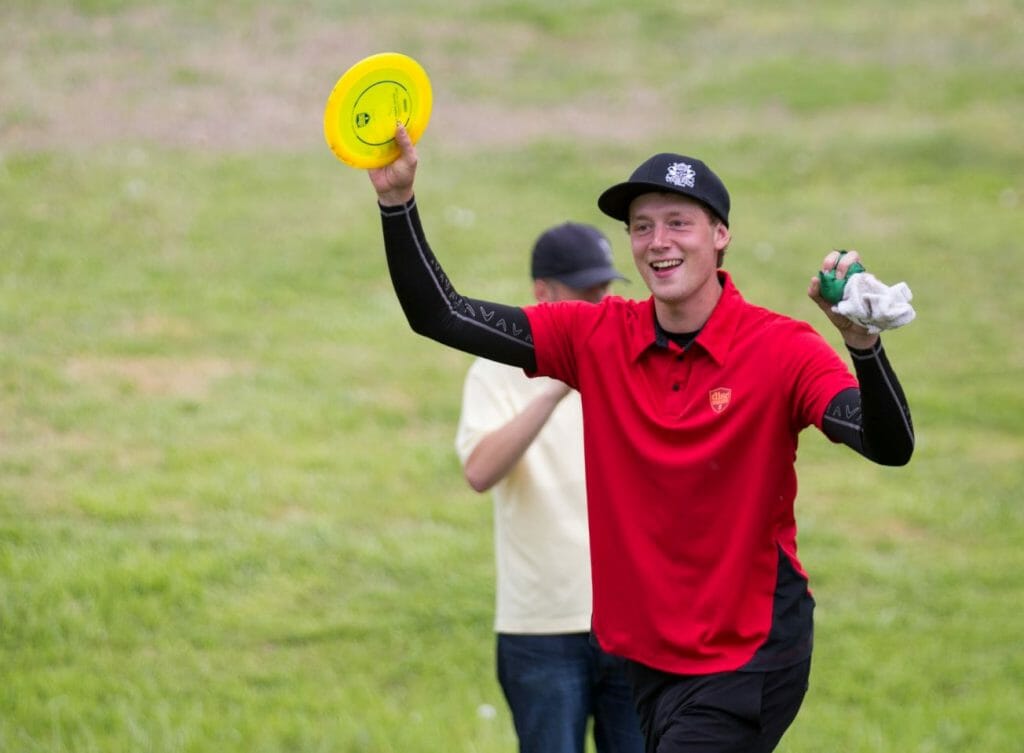 Ultiworld Disc Golf's 2017 Shot of the Year voting is presented by Friction Gloves; all opinions are those of the author. Check out our review of Friction's DG Gloves here.
At this point, we wouldn't be surprised to find out that Simon Lizotte's middle name is "Air."
Whether it's been viral trick shots, 360-degree drives at clinics, or setting world distance records, the German pro has spent his career wowing fans with his distance. So when he entered our 2017 Air Shot of the Year competition as the outright number one seed with a bomb at Jones East Park during the Glass Blown Open, it seemed like a foregone conclusion that he would cruise to a victory.
Still, you know what they say about assumptions.
Indeed, Lizotte's foes mounted fierce charges in both the final four and the final round of this tournament. First, Jennifer Allen made a push with her throw-in at Olpe Lake during that same GBO. Next, it was Nicholas Masters, whose direct hit on a 400-foot downhill shot during the Vibram Open put the Jacksonville-based pro on the map. Lizotte trailed in the voting for a couple days over the holidays, and fierce debate erupted in various online forums about if Masters' shot — which was indeed impressive — truly deserved the W over Lizotte's display of power, vision, and courage. And it wasn't just fans who came to Lizotte's defense, either: GBO-founder and Emporia, Kansas, native Eric McCabe made his closing argument on our Facebook page:
"I've played both holes, and I would give the nod to Simon. I was actually at the basket putting out when his drive came skipping in. I've played that hole hundreds of times, and I've only deuced it once, and it was a throw-in. Impressive shot, Simon."
That logic prevailed. After nearly 8,500 votes, Lizotte came away with an 805-vote margin of victory and a slot in our Shot of the Year final four. Still, if you ask the man himself, that Jones East magic wasn't even his best toss in our bracket.
"I personally believe I could pull that GBO shot off more often than I could park hole 18 of Pittsburgh," Lizotte said. "The GBO shot is just so incredible because of the distance and the small landing zone. The Pittsburgh shot is, for me, more impressive because of the tight gap the whole way and the fact that I did it twice in a row."
With that in mind, why not relive both?