Sexton sweeps the opening round, but stiff competition awaits!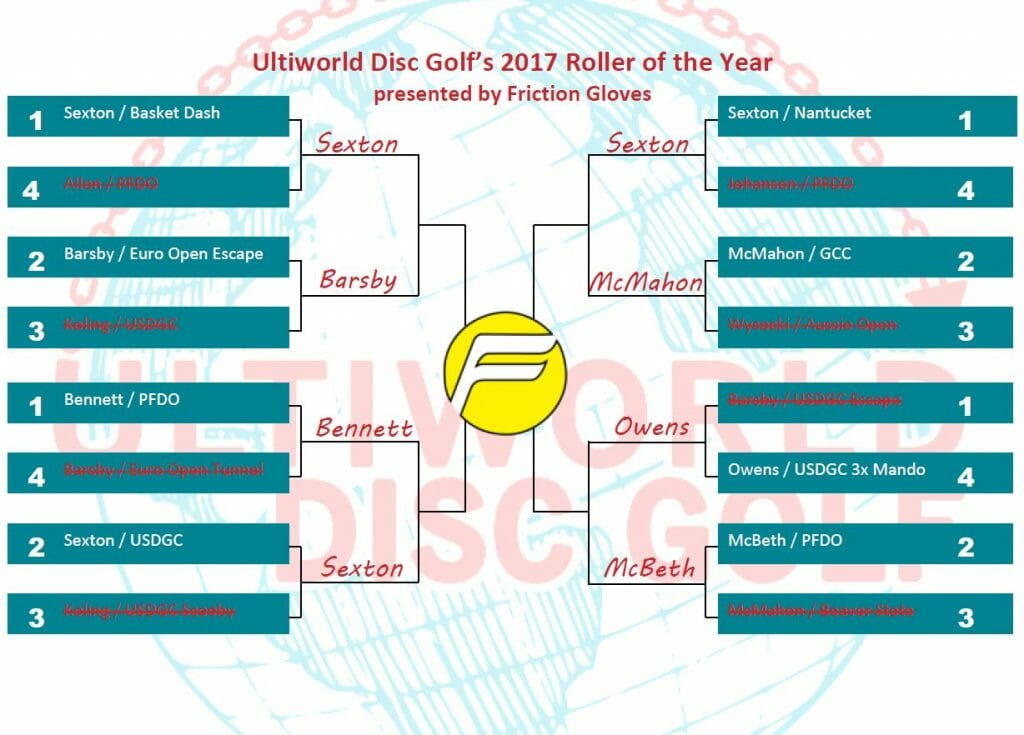 Ultiworld Disc Golf's 2017 Shot of the Year voting is presented by Friction Gloves; all opinions are those of the author. Check out our review of Friction's DG Gloves here.
We're through the first round of our 2017 Roller of the Year voting, and the big story is a Sexton sweep. That's right: Reigning United States Disc Golf Champion and certified Man of the People Nate Sexton won each of his matchups with authority and looks well-poised for a run to the title.
That is, until you look at his competition in the quarterfinals.
The next highest vote-getters — Gregg Barsby and Geoff Bennett — as well as the cannon-armed Eagle McMahon stand in Sexton's way this round, plus we've got a sneaky tilt at the bottom of the bracket. Just like last round, pick your favorite from each matchup below, then come back tomorrow for the semifinal round. If you're having fun with this, feel free to share the love on social media, and keep an eye out for our Air Shot of the Year, Putt of the Year, and Ace of the Year competitions to come.
A special thanks to Jomez Productions, The SpinTV, and the Disc Golf Guy for capturing these clips. And we're off!
1) Sexton vs. Barsby
Nate Sexton rolls Team Innova to a Jomez Productions Basket Dash victory:
Gregg Barsby rolls out of trouble and curls toward the pin while a massive European Open gallery watches:
2) Bennett vs. Sexton
Geoff Bennett? Geoff Bennett! Talk about sacrificing your body:
One of the crucial shots in Sexton's march toward his first Major title at the USDGC:
3) Sexton vs. McMahon
You know him. You love him. And you get two of Sexton's forehand rollers here in Nantucket:
Ho-hum. Just McMahon clearing two and a half football fields in one shot:
4) Owens vs. McBeth
Devan Owens mixes strategy and skill as he takes the triple mando out of play on Winthrop Gold's 15th:
And what would any competition be without some McBeast Mode? Paul McBeth gets down for a huge shot that essentially ices the Pittsburgh Flying Disc Open: