DGPT Championship's 45th seed wins card to land spot in finals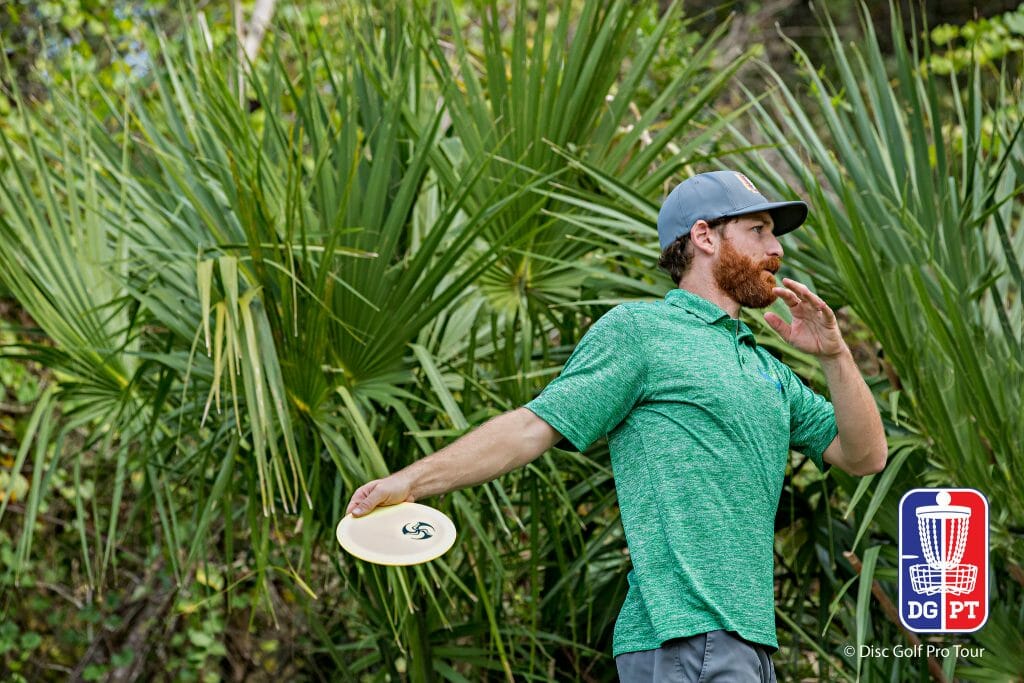 Ultiworld Disc Golf's coverage of the 2017 Disc Golf Pro Tour Championship is presented by DUDE Clothing; all opinions are those of the authors. Learn more about the Australian brand's offerings and player ambassadors here.
JACKSONVILLE, Fla. — Dana Vicich wasn't supposed to make it this far.
Entering the Disc Golf Pro Tour Championship as the tournament's 45th seed, he had planned for the likelihood that he wouldn't escape the opening round, content to head back home and take a family vacation to Michigan if things didn't work out.
"I thought I was gonna fly home Thursday," Vicich said. "I had a flight booked for Thursday. I had a flight booked for Friday. Here I am, it's Saturday. I play Sunday. Who knows when I'm going home now? Monday? I miss my family. I'm getting a lot of text messages."
The Illinois pro was overcome with emotion after his 5-under par 60 at New World Disc Golf's USA Links course found him well clear of his cardmates and pushed him through to today's final round. Even when he had plenty of breathing room — he took a four-shot lead over both Jeremy Koling and Peter McBride into the 988-foot 18th — he said he still had to sweat it out, especially after his second shot flew off the fairway and into the woods.
"I had to throw a forehand roller out, which was pretty big shot with those guys looking at birdie," Vicich said. "Coming into this tightly guarded out-of-bounds green on 18, a bad throw could have been devastating."
Even as he had a safe look for his fourth shot, his mind still raced with a final round berth 300 feet away. As he reached down to grab some dirt and make sure his grip was firm, his nerves still buckled.
"I grabbed my MD. The pine cones felt like ice — I don't know if it was that slippery, or if it was just the moment," Vicich said. "But I had to dig down, both in the ground and inside."
He landed safely on the green, pitched up for a tap-in bogey, and let out a sigh of relief. It was his second round in a row carding a 5-under par, and one that was well off the pace of today's remaining finalists. But he wasn't letting those showings dictate that he was a pushover for the championship round.
"I know I haven't scored my best out here, so watch out," he said. "Maybe I'll dip into double digits."
If proving everyone wrong wasn't enough motivation, Vicich had plenty more to pull from. First, there was the matter of some unfinished business from last year's DGPT semifinal round, when he challenged Paul McBeth — who is also on today's card — before faltering with three out-of-bounds shots on the final hole.
"I feel like I left something out there last year," Vicich said. "I know that was the semis last year, but I feel like I let McBeth off the hook. I'm not gonna do that [today]. I've got that in the back of my mind."
He was also looking to "somewhat" prove something to himself. He promised to putt more aggressively on the back nine after his situational approach to yesterday's round found him laying up for par. But he also knew that — especially since he has been travelling less as he devotes time to his family — his struggles inside the circle have held him back in recent seasons.
"It's not a secret that I'm not playing at the high level I was maybe two, three years ago, but most of that is on the putting green," Vicich said. "…If you look at the stats for the most part, unless I'm having a terrible weekend, my fairway hits, circle 1, circle 2 — I'm always at the top. So it's all about putting the disc in the basket for me."
Indeed, Vicich came in eighth place in fairways hit on the 2017 Pro Tour, and his third place finish at the Utah Open in June was powered by hitting circle 2 in regulation on a field-best 76 percent of his opportunities. He'll need numbers like that in the finals ride out this weekend's Cinderella story to its happy ending, but in the meantime he was content to crack open a lukewarm Yuengling and indulge in the moment.
"I could maybe cry, I don't know," Vicich said, his voice cracking slightly. "Or maybe I'll just drink a beer, smile, and have a good time."