Barham, McBride lead the pack while Sexton, Locastro fail to advance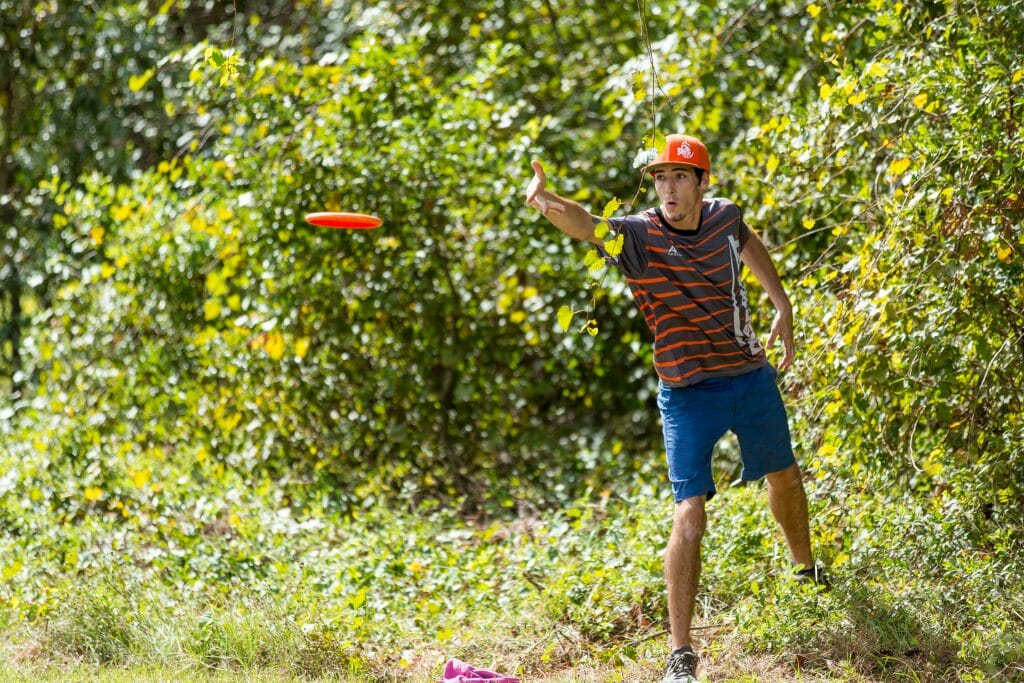 Ultiworld Disc Golf's coverage of the 2017 Disc Golf Pro Tour Championship is presented by DUDE Clothing; all opinions are those of the authors. Learn more about the Australian brand's offerings and player ambassadors here.
Thirteen players entered yesterday's Disc Golf Pro Tour Championship quarterfinals with fresh arms after accumulating enough tour points to skip Thursday's opening round.
It turns out that might not have been such an advantage.
Only three of those 13 escaped New World Disc Golf's USA Links course with a berth to today's semifinals, with a handful of upper echelon competitors among the track's victims. And on a day when 25 started play and only eight moved on, the lower seeds had their time in the sun.
Tim Barham, the tournament's 33rd seed, logged the hot round with a 9-under par 56, improving on his opening day score by four strokes. Peter McBride tossed an 8-under par 57 from the 11th seed and moved on to Saturday, as did Philo Brathwaite (9th) and Austin Turner (12th), who notched 6-under par 59s. The last four players to advance can all lay claim to Cinderella stories, as James Cole (28th), Zackeriath Johnson (31st), Dana Vicich (45th), and Reid Frescura (47th) threw 5-under par 60s on their second day of play.
McBride, Brathwaite, and Turner made up the bye round trio who made it out unscathed, and the group of 10 who failed to crack the semis is chock full of star power. Dave Feldberg's hole 18 bogey bounced him from competition after a 4-under par 61 showing, and Michael Johansen only managed a 2-under par 63 despite a late-round push that saw him birdie four of the final five holes. Zach Melton and Chris Dickerson, the event's 19th and 20th seeds, bowed out after their 1-under par 64s, while Nikko Locastro struggled to keep it between the lines, carding five out-of-bounds penalties on the way to his even par finish.
The biggest upset, though, was newly-minted United States Disc Golf Champion Nate Sexton's 3-under par 62. The fan favorite entered play as the 14th seed, but admitted to having a "weird day" amidst a lack of post-USDGC fire.
"I just couldn't access my competitive drive these last few weeks," Sexton said. "I'm ready for the offseason."
Barham, McBride, and Brathwaite all kept clean sheets during their rounds. For McBride, that was part of the game plan coming into the event, and he made good by landing a 77 percent fairway hit rate. His putting was also sound, as he nailed 94 percent of his attempts from inside circle 1 and tossed in a 40-footer for birdie on the 495-foot 17th.
"My goal was just to stay clean and try to play bogey-free, and the birdies will come," the 21-year-old Central California native said. "I felt good about how my shots were flying."
Turner said the wind was a factor during the round, and it led to his lone bogey after he flipped his drive on the 770-foot, par 4 10th. Aside from that blemish, though, the North Carolina left-hander was more concerned with navigating New World's numerous OB-lined fairways.
"There are a lot of shots out here I feel like, for a lefty, that fade toward the OB," Turner said. "Those shots were the ones I tried to focus on the most."
For Vicich, it's now been "two years on the hot seat," as his early tee time left him in the clubhouse to sweat out the rest of the competition, unsure if his round would be good enough to get to the semis. Though he wasn't in a chair with a camera on him this time around, he still felt the intensity of the situation.
"It was…so many moving parts and so many different times where it looked like I was in or not in," Vicich said. "Kinda what this is all about: the drama."
The Illinois pro improved on his round one showing by six strokes, and a second go-round on USA Links might have gotten his game back up to speed, as he had not played since the Green Mountain Championship.
"[Thursday] was a really bad round, nothing really going," Vicich said. "The odds were good [to move on], I hung in and made it safely. Cleaned up some of the mistakes from [Thursday]. Still wasn't all that crisp on the putting green, but threw better today."
The same went for Frescura, who notched a 39 percent improvement in hitting circle 1 in regulation. The 993-rated Michigan pro has made the best of what he called an "opportunity," as he did not expect to land in the DGPT's top 50 this season. The second of the pair of lefties to break into the semis, he said he had to nail down his forehand before making the trek to the Sunshine State.
"That has really helped my rounds," Frescura said. "Additionally, there are truly just a lot of birdies out there. It may be that the majority of the holes are preferable to lefties. This course just requires shots that I feel more comfortable with."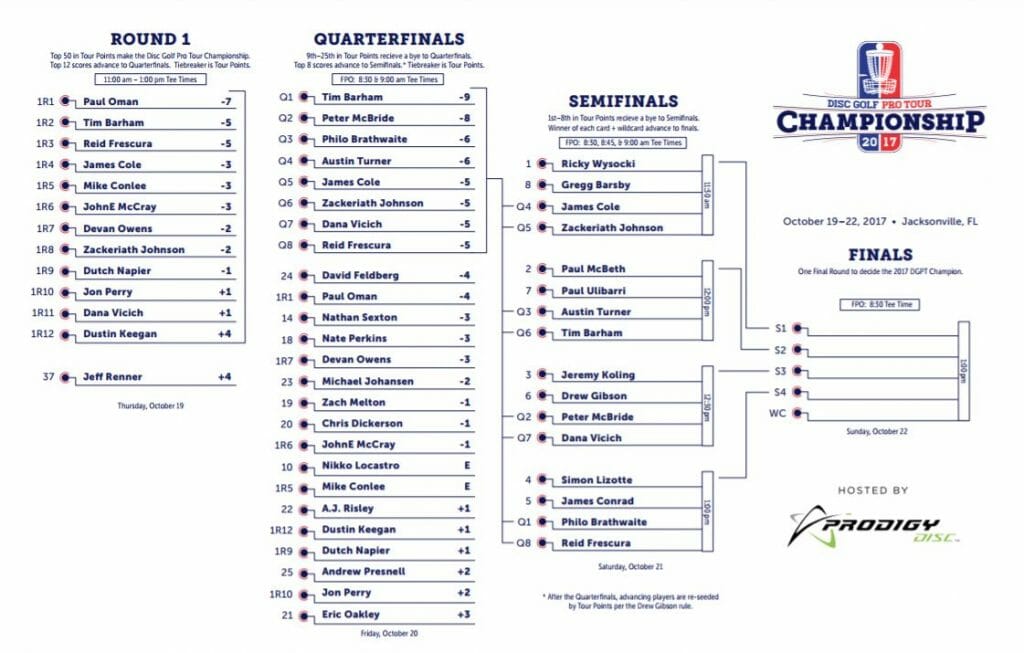 [DGPT Championship — Semifinals Tee Times]
The Championship's format now takes a left turn. Scores are again wiped clean, and the winner of each card today advances to the finals, with one wild card entry awarded to the non-winner with the best score. Vicich said that he and McBride, who are grouped with Jeremy Koling and Drew Gibson, the tour's 3rd and 6th seeds, have a built-in advantage: They're already in the tournament groove.
"Peter played really good today, last year he was hot in the Pro Tour [Championship]," Vicich said. "Jerm and Drew have been sitting, hanging out for a few days. The favor is with Peter and I. I'm playing with house money."
Turner, though, said players who enter the semis off of extra rest have the upper hand. He pointed to the hot, humid conditions and the nearly 12,000-feet of track as especially daunting.
"For someone who might make it into the finals who got into it through [Thursday], four rounds out here is insane on the body," he said.
Turner is part of what he called a "supercard," as he takes on Paul McBeth, Paul Ulibarri, and Barham. But as much as the competition might be imposing, he said it did not matter who he was grouped with.
"I'm playing against the best of the best," Turner said. "I know I'm gonna have to shoot well, no matter whose card I'm on."
That's been a common refrain from players, as the format lends itself to more chaos than conventional tournaments. Instead of worrying about digging out of a hole, or leaning on a lead, it's just one round at a time.
"It's kinda all or nothing," McBride said. "If you can string a good round together, it doesn't really matter what you do the next day."