Oman paces, McCray aces on day one in Jacksonville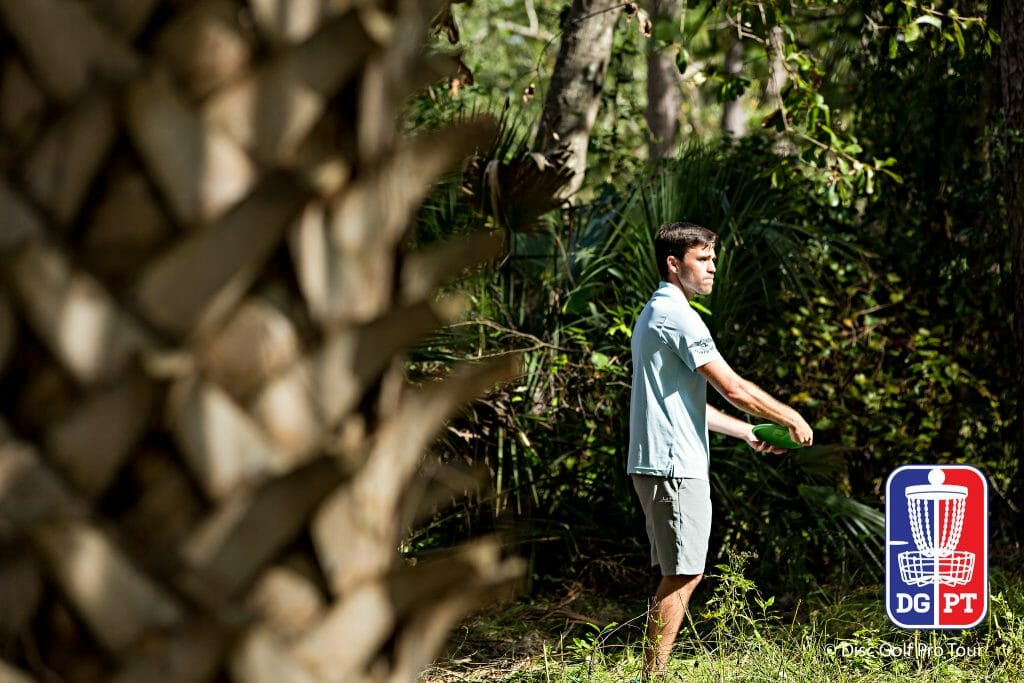 Ultiworld Disc Golf's coverage of the 2017 Disc Golf Pro Tour Championship is presented by DUDE Clothing; all opinions are those of the authors. Learn more about the Australian brand's offerings and player ambassadors here.
Even on a day when 12 of 13 competitors were assured a spot in the next round, the Disc Golf Pro Tour Championship still managed to provide a memorable finish.
With five holes to play at New World Disc Golf, Dustin Keegan needed to log three more strokes under par to tie Jeffrey Renner, who was in the clubhouse with a 4-over par 69. Do that, and Keegan would move onto the quarterfinals, as he held the tiebreaker over Renner by having earned more points during the DGPT's 2017 season.
The odds wouldn't normally be long for the 1016-rated Keegan to snag a birdie or two down the stretch, as he did so on 35 percent of his holes across six Pro Tour events. But the 31-year-old Oregon native hasn't been right since suffering a shoulder injury after throwing a standstill forehand during the Idlewild Open in August. Sure, he's had a strong round or two since then — his 1061-rated final at the Vibram Open was only one stroke off the day's best — but has mostly struggled in recent tournaments while he plays through the pain.
"It hurts when my elbow goes above my shoulder," Keegan said. "So like hyzers, high sidearms, my putt. My putt kinda makes it hurt the most."
Oh, and since he's been injured, he didn't even practice at New World's USA Links course. So when he took birdies on 14 and 15, then parred 16 and 17, he was doing it blind. And when he stepped up to hole 18 – a 988-foot par 5 – he didn't know how his shoulder would handle the roller he would throw off the tee, as he hadn't tried it all day. But he still needed one more birdie.
"It was one of those rounds where I probably shouldn't have been out there," Keegan admitted. "But since I was, everyone was like, 'Dude, you can do it.' …It was cool in the moment, playing bad, to still have a cool moment at the end."
That end was a happy one. Keegan unleashed a Destroyer roller, then followed up with two Roc approaches, the second of which he called "probably the best shot I've thrown in two months." He made the 15-foot connection with an augmented putting style — he converted to a straddle, then added more spin and a lower release point to avoid pain — to punch his ticket to today's quarterfinal round, which he still plans on playing.
"I'm gonna try it out," Keegan said. "It doesn't really get worse. I've got a pretty high tolerance for pain."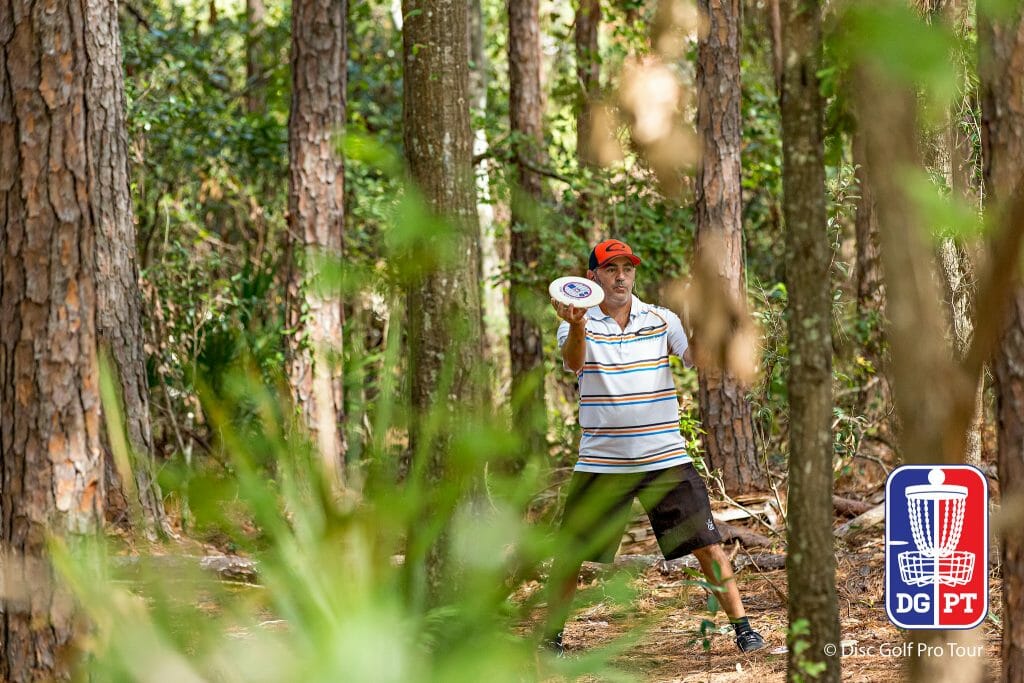 Keegan wasn't the only player to power through some discomfort on the way to qualifying for the round of 33. JohnE McCray has spent much of the summer battling a flare up of Lyme disease, which he first contracted in 2007. At the time, it "almost killed me," he said, but after receiving treatment he hadn't experienced any symptoms.
That changed around May, when the disease bit back and resulted in a cyst. His wife treated it holistically, he said, but it left him with a gash that has been stubborn to heal. He pulled out of some tournaments later in the season — he only played in two DGPT events, which is why he came into this weekend as the 36th seed — but was feeling well enough to stop in Jacksonville and play the Tour Championship on his way back to Central Florida.
"It's been a long road to recovery," McCray said.
He's also battling a head cold, but none of that mattered yesterday as he made his way to the quarterfinals after a 3-under par 62 showing. Though the wind at times played havoc with his shots and he was often forced to turbo putt over some Florida shrubbery, he used an 86 percent fairway hit rate and scrambled successfully 80 percent of the time to stay in the hunt. He also tossed in an ace for good measure, crashing chains on the 314-foot 3rd with a Westside Warship before nonchalantly walking to the basket. No celebration required.
"I was trying to be calm about it," McCray said. "I was thanking God for it and all that. It was only the third hole, so I didn't want to get too excited. We had lots of golf left, and plus the guys I was playing with were beating me at that point, so it didn't seem like I should be dancing around."
Indiana pro Paul Oman fired off a 7-under par 58 to pace the field and move on from the 39th seed. Oman logged a single bogey on the day and never ventured out-of-bounds. Tim Barham did the same en route to a 5-under par 60, connecting on all of his putts from inside the 10-meter circle.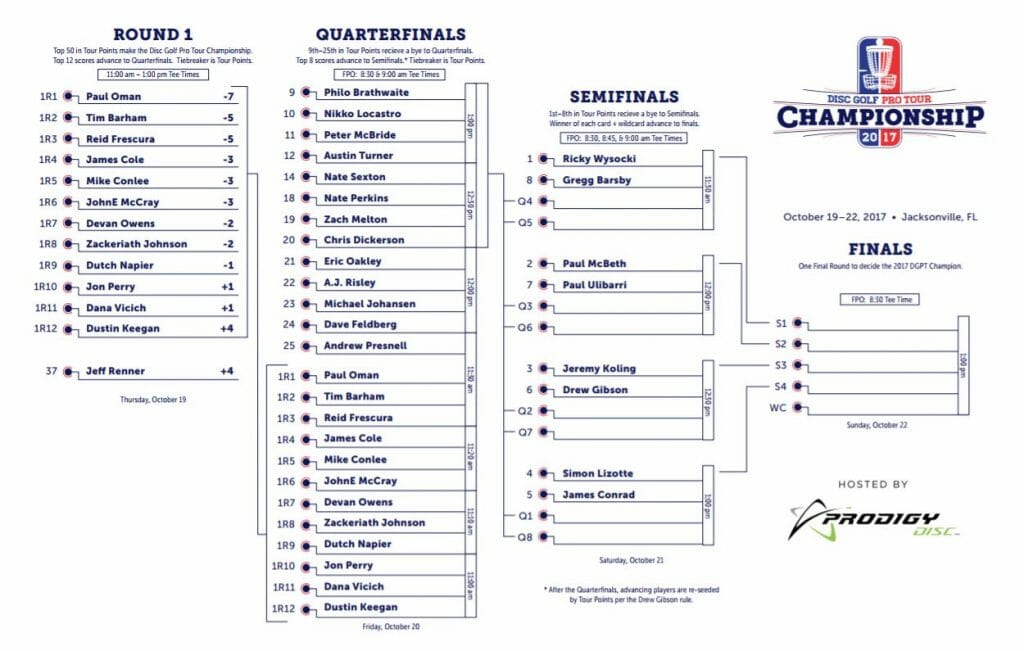 [DGPT Championship — Quarterfinals Tee Times]
Though Keegan was ailing, he also relished the opportunity to tackle New World again with a clean slate. Scores are reset after every round of the DGPT Championship, with the top eight performers today earning a trip to the semifinals.
"I shot 1060 in the rain with a bum shoulder at Maple Hill," Keegan said. "If that happens again — who knows what can happen?"
McCray was taking the same approach.
"Every day is a new day," he said. "Nothing carries over form today to tomorrow, so you've definitely got a chance, I think. Everybody's got a chance, you know? That's the way I feel. I've definitely got the game to compete with these guys. One day. All you need is one day."