Jacksonville, Florida, is the setting for the showdown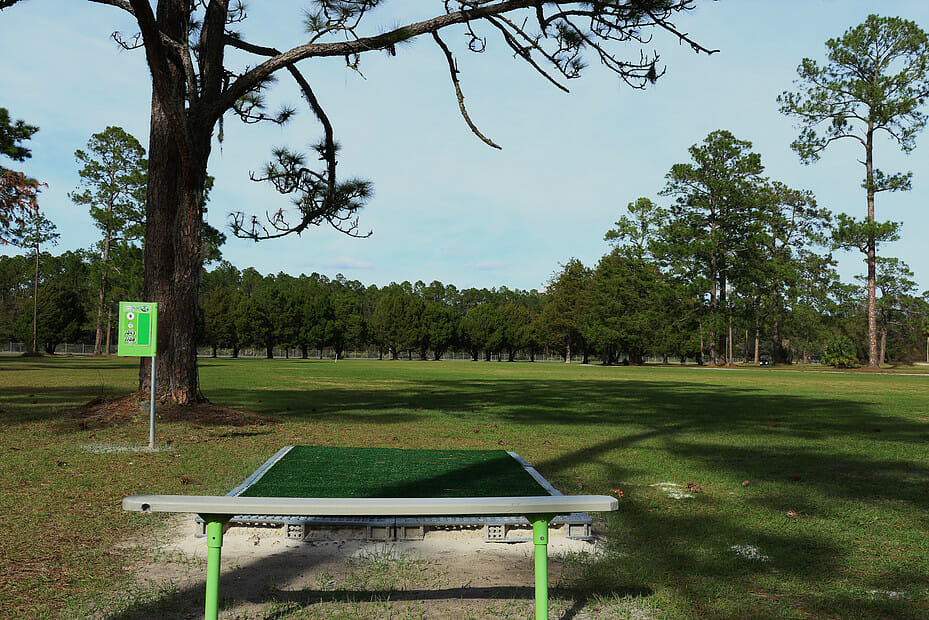 Ultiworld Disc Golf's coverage of the 2017 Disc Golf Pro Tour Championship is presented by DUDE Clothing; all opinions are those of the authors. Learn more about the Australian brand's offerings and player ambassadors here.
It's time to put a bow on the 2017 season.
The Disc Golf Pro Tour Championship takes place today through Sunday at New World Disc Golf in Jacksonville, Florida, and winds down the year in unique fashion. Players have earned their way into the tournament based on their season-long performance on the nine-event circuit, culminating in a March Madness-style, bracket-based showdown for a sizeable payday: $5,000 for the winner of the Open division, with the Open Women's champ pocketing $1,500.
How It Works
It's not your typical disc golf tournament, but it's certainly exciting. Here's a quick primer on how the DGPT Championship's bracket stylings will go down.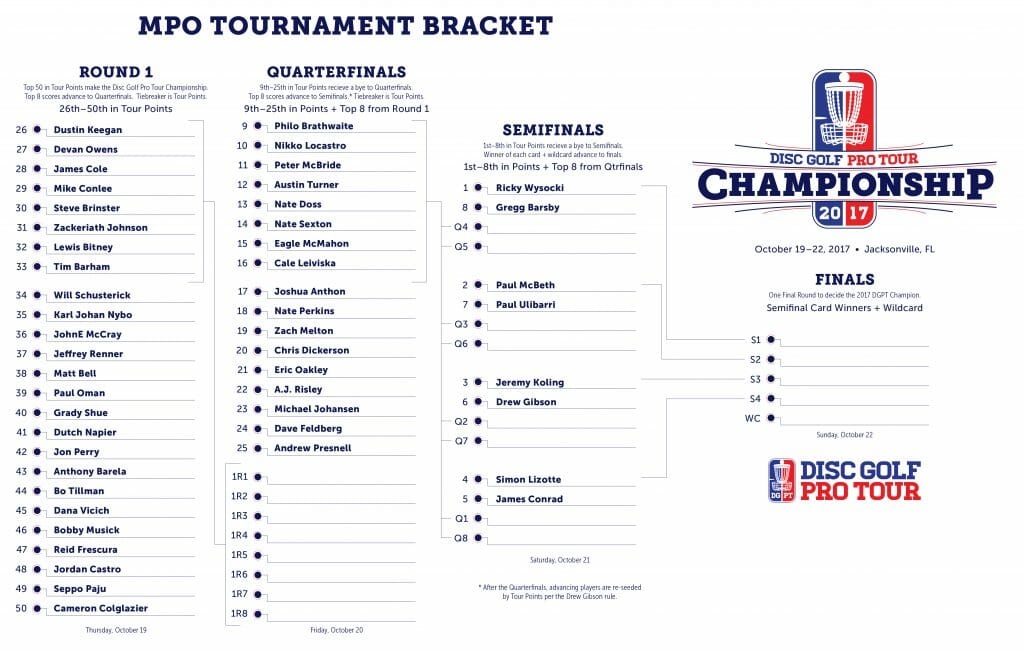 Opening Round – Thursday (Open only)
Open competition begins today, with the tour's 26th through 50th-seeded players competing. Quite a few in this lower tier have opted not to make the trek south, though, leaving the day with a 14-competitor field consisting of:
Zackeriath Johnson
JohnE McCray
Tim Barham
Jeff Renner
Dustin Keegan
Devan Owens
James Cole
Mike Conlee
Dana Vicich
Reid Frescura
Cameron Colglazier
Paul Oman
Jon Perry
Dutch Napier
The eight best scores from that group advance to the quarterfinal round Friday. Up to and including the semifinals, any ties are decided by finishing place in season-long tour points.
Quarterfinals – Friday
Players ranked from 9th to 25th in the DGPT standings received a bye into the quarterfinals and will be joined by those who advance on Thursday. Here's the lineup:
Philo Brathwaite
Nate Sexton
Cale Leiviska
Chris Dickerson
Nikko Locastro
Zach Melton
Austin Turner
Michael Johansen
Peter McBride
Nate Perkins
Andrew Presnell
A.J. Risley
Eric Oakley
Of the 22 players that start play Friday, only the best eight scorers advance to the semifinals.


The Open Women's competition also begins during Friday's quarterfinal round, featuring players who finished anywhere from 15th to 4th in tour points:
Jessica Weese
Melody Waibel
Lisa Fajkus
Tina Stanaitis
Rebecca Cox
Courtney Cannon
Nicole Dionisio
Erika Stinchcomb
The six best scores from that group advance to the semifinals.
Semifinals — Saturday
The top 8 in tour points anxiously await their dates for the semis. The group of 16 will be split into four cards of four each, but this round features a twist: Instead of the best scores moving on, only the winner of each card gets to play on Sunday. Additionally, one wild card entry to the finals will be awarded to the top-scoring player who does not win his card. Here are the players who are locked in for the semis and will be paired together on a card, with the eight players joining them from the quarterfinals distributed based on tour points:
Ricky Wysocki
Gregg Barsby
Paul McBeth
Paul Ulibarri
Jeremy Koling
Drew Gibson
Simon Lizotte
James Conrad
The Open Women's division follows a similar format, but with three cards instead of four. Here are the top seeds that will headline each group:
Paige Pierce
Catrina Allen
Sarah Hokom
Finals — Sunday
Only one card per division tackles New World on Sunday for all the marbles. The Open card will feature five players – the four semifinal winners and the wild card – while the Open Women's division will have four. Win the card, win the tournament.
[Play Our DGPT Championship Payout Pick 'Em! Entries Close When Play Begins.]
Course
New World Disc Golf "USA Links" Elite Course – (Thursday through Sunday): 18 Holes, Par 66, Long Tees: 10,347 feet. Short Tees: 9,054 feet. – This is a private, disc golf-specific venue on a defunct ball golf course. The championship layout, which has been dubbed the "USA Links" course, was co-designed by Will Schusterick and Phil Arthur and features plenty of palm trees, water hazards, and out-of-bounds areas. Check out hole maps here.
Past Winners
Catrina Allen and Paul McBeth won the 2016 DGPT Championship at Smugglers' Notch Resort in Vermont.
Extended Forecast
Thursday: High pressure will be settled to the north of the region in northern Georgia. This will lead to northeasterly, onshore surface flow from the Atlantic Ocean that will help keep temperatures in check, but could lead to the development of isolated showers throughout the day.
Noon: Partly cloudy skies with a chance of an isolated shower. Temperatures will be around 79° with a northeast wind between 10-15 mph.
Hole to Watch: Hole 8 will be playing into a bit of a headwind. A par 4 with OB lining the right side of the fairway, the hole plays at 956 feet for it's a position at the Championship. It will be interesting to see if OB comes into play as a headwind rages on.
Friday: The aforementioned area of high pressure will remain in place north of the region, making for similar conditions to Thursday. Partly cloudy skies will be likely, with an isolated shower chance not out of the question. Northeast winds will lead to high temperatures around 83°F.
8 a.m.: Partly cloudy skies with temperatures around 70°. Northeast wind around 5 mph possible.
Noon: Partly cloudy skies with a chance of an isolated shower. Temperatures will be around 80°. Northeast wind between 10-15 mph possible.
Hole to Watch: The long par 5 hole 9 may get even longer as it plays into a headwind on Friday. The 1,108-footer will have players throwing in a northeast direction to start the hole, before doglegging to the right, which will force players to throw in a more easterly direction.
Saturday: The dominant area of high pressure will begin to lift north and east, bringing more easterly surface flow. This still means the surface flow will be onshore, which means isolated shower chances remain in the forecast. High temperatures will top out around 83°F.
8 a.m.: Partly cloudy skies with temperatures around 70°. East wind between 5-10 mph possible.
Noon: Partly cloudy skies with a chance of an isolated shower. Temperatures will be around 80°. East wind between 10-15 mph possible.
Hole to Watch: A strong left-to-right crosswind may be possible on hole 15. This 222-foot island hole features stroke and distance rules, and players may flip discs over in the wind or throw with too much hyzer, pushing them into the ground sooner.
Sunday: An approaching upper level trough will bring a change to weather conditions on Sunday. Weak south-southwesterly flow aloft, combined with southeast flow at the surface, will bring more moist air back into the region. Expect partly to mostly cloudy skies and temperatures to top out in the mid-80s. Rain coverage may increase on Sunday thanks to broader atmospheric lifting mechanisms. We'll also have to watch for lightning.
9 a.m.: Partly cloudy skies with temperatures around 71°. East wind between 5-10 mph possible.
Noon: Scattered showers possible with temperatures around 81°. Southeast wind between 10-15 mph. Lightning may be possible in the afternoon.
Hole to Watch: Hole 17 is a 495-foot par 3 with OB on the left, and then the right, of the fairway. Those attacking this hole will need to throw a hyzer into a left-to-right crosswind, as well as a little headwind. It'll be interesting to see who goes for birdie and who lays ups for par.
How To Follow
Unlike last season, the DGPT finale will not feature multi-card live coverage during the quarters and semis. Instead, a select Open card will be simulcast each day at 12:00 p.m. ET on the Disc Golf Pro Tour's YouTube channel and SmashboxxTV, with additional live coverage for Disc Golf Pro Tour Patreon subscribers coming via livestreamed cell phone video beginning at 9:30 a.m. each day. Real-time scoring and statistics can be viewed on UDisc Live.
[Here's The Disc Golf Pro Tour Championship Video Schedule]
Open Women's cards will be filmed in the morning and edited into the Open live broadcast in the afternoon during Friday's quarterfinal round. Jomez Productions and Prodigy Disc Video will all be filming the Open cards that are not being livestreamed, and other select cards will be filmed and released on the Disc Golf Pro Tour channel.