Pine cone battles and a hot Lizotte make for a memorable round at the IDGC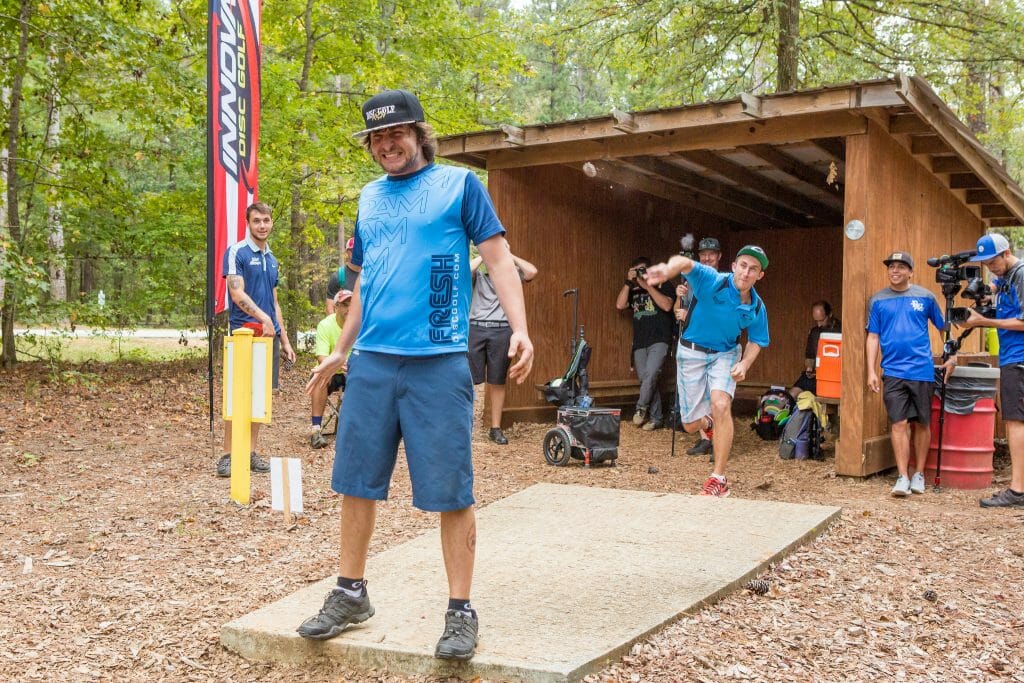 It's no secret Ricky Wysocki has been a dominant force on the course over the last two seasons. Yesterday at the Ed Headrick Disc Golf Hall of Fame Classic, though, he unleashed havoc during the most unexpected moment: a backup.
A three-card logjam on hole 8 of the International Disc Golf Center's W.R. Jackson Memorial Course brought Wysocki and his fellow chase card competitors to a halt. As Devan Owens, Zach Melton, and Austin Turner passed the time by "chunking pine cones at each other," as Turner described it, the trio was surprised to see the normally stoic Wysocki jump in on the game. Give athletes possible projectiles, and the hijinks amp up quickly.
"Right before we started, Ricky chucked one at Devan and put a giant…you could see the pine cone on his back like it was a tattoo," Turner said. "It was an imprint of the pine cone on his back."
"I took a full run-up and just threw as hard as a I could at Devan's back and just completely pelted his back," Wysocki confirmed with a laugh. "It was awesome."
Owens, of course, was given a chance to return the favor. But he failed to bring the pain.
"I wiffle-balled it right past him," Owens said.
The sequence captured a rare moment of levity from Wysocki, as the two-time PDGA World Champion usually spends his time between holes in solitude. Instead, he took a chance to bask in the twilight of the 2017 season and enjoy being a big kid, just out playing in the forest with his friends.
"That's the most fun I've ever had in a round, ever," Wysocki said. "Of course, I'm always having fun. But most people can't tell."
And it translated on the scorecard, too: Wysocki, Owens, and Turner all threw 9-under par 59s, elevating them to the top of the field with 22-under par 110s along with James Conrad, whose 6-under par 62 kept him tied for the lead. Simon Lizotte's 11-under par 57 qualified as the hot round and found him climbing from 18th place to fifth, which he shares with Chris Dickerson, who also joined the 9-under par club yesterday. The pair are only one shot off the lead with their 21-under par 111 totals.
Wysocki started off the round quickly yesterday, carding a turkey to open play. He went 4-under par through the front nine, then saved his second most aggressive play of the day for the 837-foot 10th.
"I threw a really good tee shot on that hole, which I usually struggle with the tee shot for some reason," Wysocki said. "I threw it in such a good position, I'm like, 'I can't just lay up and try and get a birdie. I've gotta attack.'"
And attack he did, rolling a Latitude 64 Vision to 20 feet for an easy eagle on the par 5.
"I got rewarded on the second shot," Wysocki said. "You basically have to execute a basically perfect second shot to even have a chance at an eagle…It was nice. It kinda sparked some momentum for the back nine."
Not as much as was gathered by Owens, though. The Oklahoma lefty was the only one on his card to notch birdies on the short run of par 3s that make up holes 11 through 13. And while Wysocki's finish was spurred by his strong play on 10, Owens said his own misplay for a par on that hole made him frustrated enough to snap into action.
"I was a little heated, but I wasn't throwing like arrogant shots," Owens said. "It was just like, 'Alright, I'm a little more focused now.'"
He didn't necessarily want that style to spill over into today's round, though, and he said he's been working more recently to keep his feelings in check. That would go a long way toward giving him his first NT victory since the 2011 King of the Lake.
"Just keep my head straight, keep focused," Owens said. "I've been really working on not letting a bad shot or something get me down and not really letting momentum determine how I play. Really leading with emotions, I'm working on that — not letting my emotions take over my game."
Turner, meanwhile, has gone bogey-free through the first two rounds of the tournament. He came close to going over par after a poor second shot on hole 5 and a drive that cut-rolled out-of-bounds on 13, but he connected on saves for both from beyond the arc.
"I haven't really made too many mistakes," the 19-year-old North Carolina native said. "Or if I have, I've been lucky enough to get up and down and make some big putts and really attack my baskets and get my pars out there."
He was also happy to see Wysocki take his light-hearted approach to the round, even if it meant some good-natured ribbing after the fact.
"He blamed us for him not shooting like a 1080-rated round, because that's how much fun we were trying to have with him," Turner said. "…I'm like, 'We're gonna do the same thing tomorrow, Rick.' And he's like, 'Yeah right. I'm not gonna talk to any of y'all tomorrow. Y'all got me out of my groove today.'"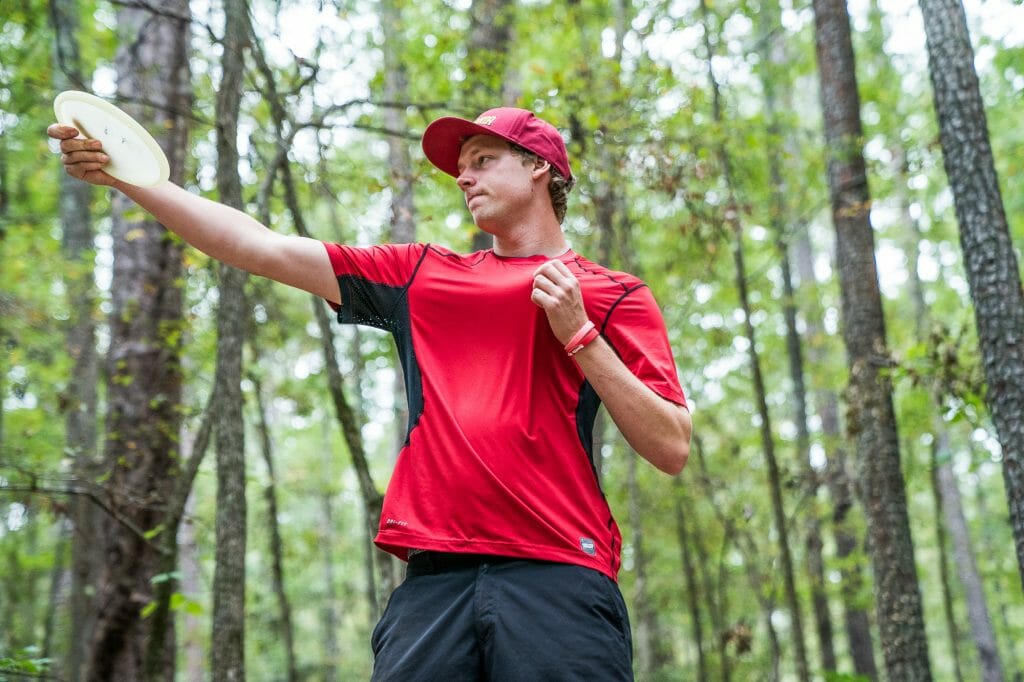 Speaking of fun, Lizotte has made it well-known that he's had trouble finding it through the end of the season. And even after a scorching round that featured a run of eight straight birdies to close play, he still wasn't sure if his passion had been reignited. But taking home a first place trophy could help.
"I don't think it would change what I am feeling right now, but of course winning it would be awesome," Lizotte said. "I still like winning. It'll make me go to the offseason with a lot better feeling, of course.
"It's kinda cool that the top 6 are within one stroke," Lizotte continued. "It doesn't happen very often. I was hoping I would be on lead card, maybe, but I think maybe one behind all the leaders on second card might be almost an advantage."
Even those beyond sixth place are still within striking distance. Zach Melton and A.J. Risley are tied for seventh place with 19-under par 113s, as Risley held his own with a 5-under par birthday round on the lead card. Paul McBeth rebounded from his first sub-1000 round in more than a year, using his own hole 10 eagle and a 1042-rated 9-under par to jump from a 26th place tie to ninth. He is knotted up with Michael Johansen at an 18-under par 114.
It's safe to say, then, that competitors may be more focused today, even if there are more delays. Turner, though, was aiming to keep it loose. He's had plenty of big-game experience in his young career, taking victories over disc golf luminaries like Ken Climo and Barry Schultz, and his season has been trending toward a signature win.
"I've learned, namely, just try to have fun out there," Turner said. "I've come into some of these tournaments, especially after…a really strong finish, and I put way too much pressure on myself and I think way too much about it. After [winning the] Nantucket [Disc Golf Open] — that was probably the most fun I've ever had at a tournament, and everything ended up very well for me out there. So I told myself I need to stop getting mad at myself for no reason and just have fun out there and see what happens."
It'd be a fitting end to the event named after the sport's founding father, who consistently preached a lasting mantra:
"Most fun wins."
Correction: A prior version of this article stated that Owens was going for his first career NT victory. We regret the error.