King ties Waibel in second heading into today's final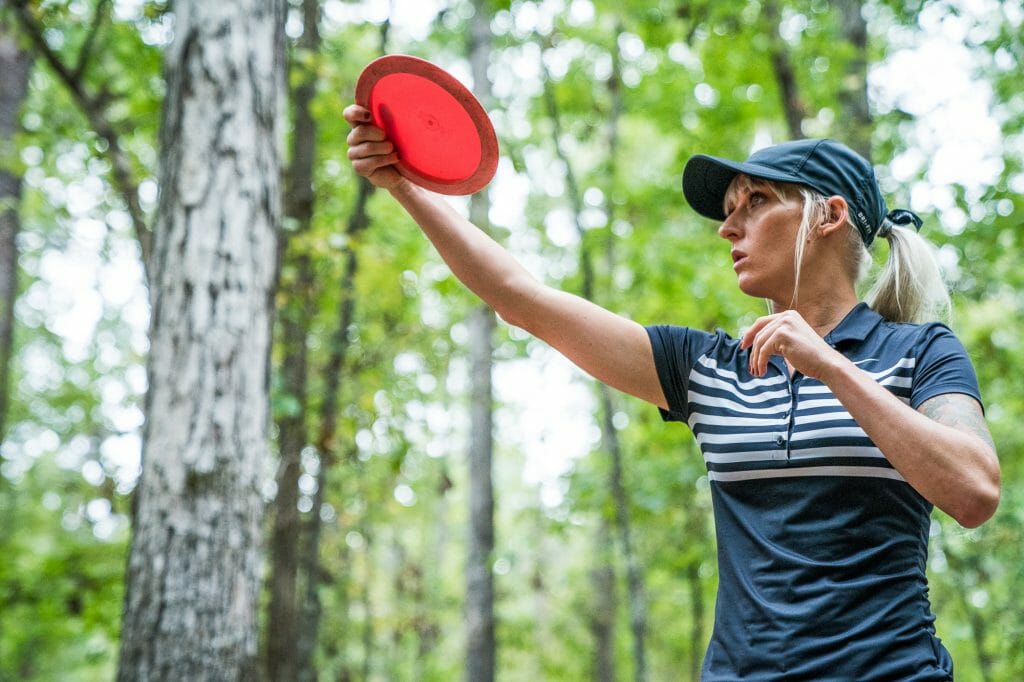 If Catrina Allen's first round was "Steady," her second round at the Ed Headrick Disc Golf Hall of Fame Classic's W.R. Jackson Memorial Course was scorching by comparison. Not only was her 1000-rated performance the best in the field, giving her a nine-stroke advantage over second place, but it was also the only to register under par on the event's second day.
Allen's 3-under par 64 moved her two-day total to an 11-under par 120, while Melody Waibel's 5-over par 72 and Elaine King's 2-over par 69 have the pair tied for second place with 2-under par 129s. Paige Pierce moved up into the top four with her own 2-over par 69 and sits 10 strokes behind Allen with a 1-under par 130, while Sarah Hokom and Courtney McCoy are tied for fifth place with 2-over par 133s.
Allen's hot round began well, as she parked the 390-foot 2nd for an easy birdie before carding another deuce on hole 3. She managed three pars and one bogey through the ensuing stretch of four straight par 4s, but after long, accurate drives on holes 6 and 7 she felt like troublesome second shots were leading to missed scoring opportunities.
"On the front nine I was hitting my lines," Allen said. "I remember thinking, 'Oh my gosh, we've played seven holes and I've only missed one fairway, and I'm only one or two under.' So that was kinda frustrating.
"I was just always looking at birdie, but unfortunately it was like 60 to 90 feet," Allen continued. "So I had really easy pars, minus my bogey on the front. I just needed to club up. I was hitting the line, but was just off a little bit — a little left, a little right, a little short. I wasn't scrambling, but I was getting tap in pars."
Allen got back on track on the 891-foot, par 5 8th as she grabbed her third birdie of the round. She followed that up with pars on the next four holes before heading into "Turkey Gulch," the formidable run from 11 through 13 that is notorious for breaking apart good rounds.
It was on the final hole of this nerve-racking stretch that Allen hit what she called "one of my best putts in a while." After her drive on the 216-foot 13th barely clipped a tree and faded early to 35-feet left of the pin, Allen stared down the out-of-bounds creek and hit the death putt for birdie.
"It was right in the center, never had a chance to go anywhere but in," Allen said. "It was awesome." Allen added another deuce on the downhill 16th and a bogey on 17 before closing out the round with a par, missing a birdie bid from inside the circle.
Allen, who said she has never won an event that featured a round on Jackson, said she finally determined how to play to her strengths on the championship track. Specifically, she's found that tackling longer holes with drivers instead of the midranges or putters she has tried in previous tournaments has netted extra distance and opened up more opportunities.
"I feel really confident — not that I'm going to, like, win anything, but just, like, that I'll hit my lines," Allen said. "Or possibly just that, after so many times of playing this place, I maybe finally figured out where you should be aggressive or where you don't…I think I'm just trying to attack the course a little differently than I have in years past."
After her bogey-free effort on the "Steady" Ed Headrick Course in round one was good enough for second place, Waibel described her day at W.R. Jackson as, comparatively, much more of a roller coaster. Indeed, she tied for collecting the most birdies in the field — six — but offset them with bogeys and double-bogeys throughout the day.
"I definitely felt like I was ping-ponging it back and forth, but luckily I did get some of the birdies that I wanted to get, too, and erase some of those poor strokes of mine," Waibel said. "I had a couple bad putts where I three-putted on a couple holes, and that really hurt me. Usually I'm a stronger putter than that, but I did a good job just trying to stay grounded and not get too upset and let it affect my next hole, so that was definitely helpful."
Waibel alluded to the relatively later start time for the lead card — they teed off just before noon — as a reason for some off her struggles on the green.
"I think that was just not being quite warmed up enough, not being quite ready," Waibel said. "It's a little harder in the afternoon, because sometimes I lag around too long. So sometimes in the morning it's just easier to get your body going. But I think that was just as much mental thing — maybe a slight bit of nerves and a bit more pressure."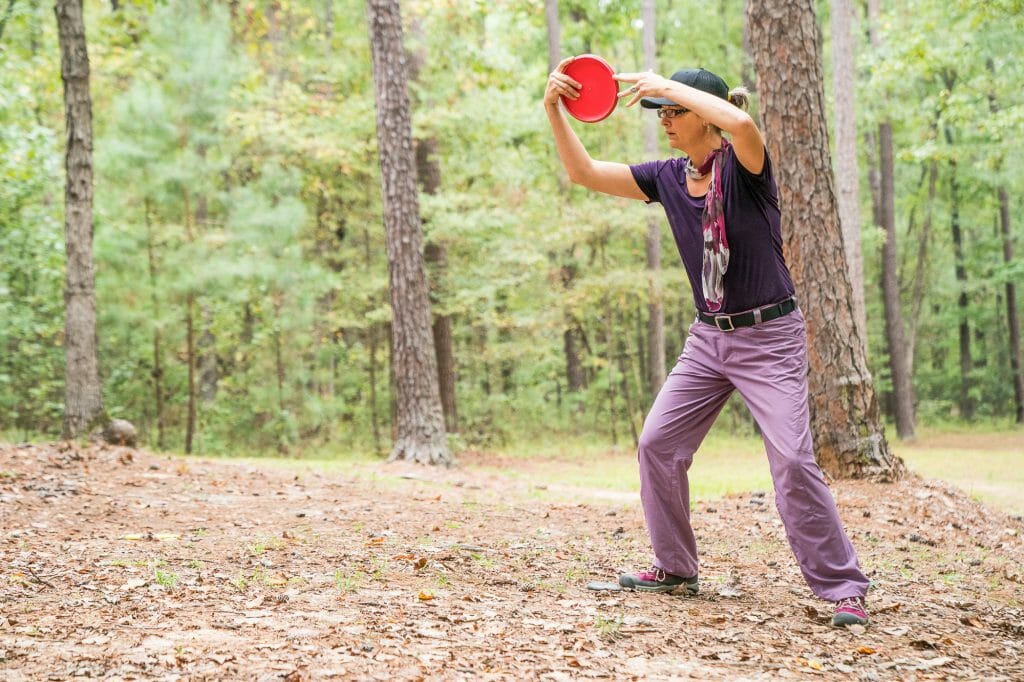 Even after the long round lasted well into the afternoon, Waibel went back to hole 1's tee to throw about 50 shots in an attempt to iron out her release before today's final.
"I just wanted to work on my drive a little bit," Waibel said. "It felt pretty off today, so I was having trouble hitting my mark as well I wanted to. I threw a couple of good ones but it wasn't as consistent as I wanted, so I went and worked that out, and I think I did. I was losing some distance because of that, so I got that back real quick and feel better about it."
King's second round was also a bit inconsistent, but it had fewer peaks and valleys and ended up tied for the second hottest round of the day. After going 3-over par through the front nine, the five-time PDGA World Champion got two birdies on Turkey Gulch, then added another on the 540-foot 15th. When all was said and done, she'd moved up three slots on the leaderboard.
In keeping with the day's theme, Pierce also had an up-and-down round. A triple-bogey 7 on the 621-foot 14th and a bogey on the 285-foot 16th kept her from being closer to Allen's lead, but she saved her place on the final round lead card by closing with back-to-back birdies. She was the only competitor in the 15-player field to card strokes under par on those holes.
Further down the leaderboard, Des Reading currently sits in a tie for ninth place with fellow Texan Lisa Fajkus at a 6-over par 137. Reading, the three-time PDGA World Champion and longtime ambassador for the game, was officially inducted into the Disc Golf Hall of Fame in a ceremony last night, joining King as the only two current hall-of-famers in the field.
With just 18 holes left to play and a sizeable lead over Waibel and King, Allen doesn't want to change her game plan. She'll stick with looking for extra distance off the tee and the resulting shorter approaches in her attempt to capitalize on some of the chances she felt like she left on the course yesterday.
"I feel like I left a lot out there," Allen said. "I'll just try to execute my drives again, and maybe throw those second shots a little better. I hope I can keep playing well."
The final round lead card of Allen, Waibel, King and Pierce tee off at 9:30 a.m. ET, with real-time scoring available via PDGA Live.