Waibel, Hokom close behind in second and third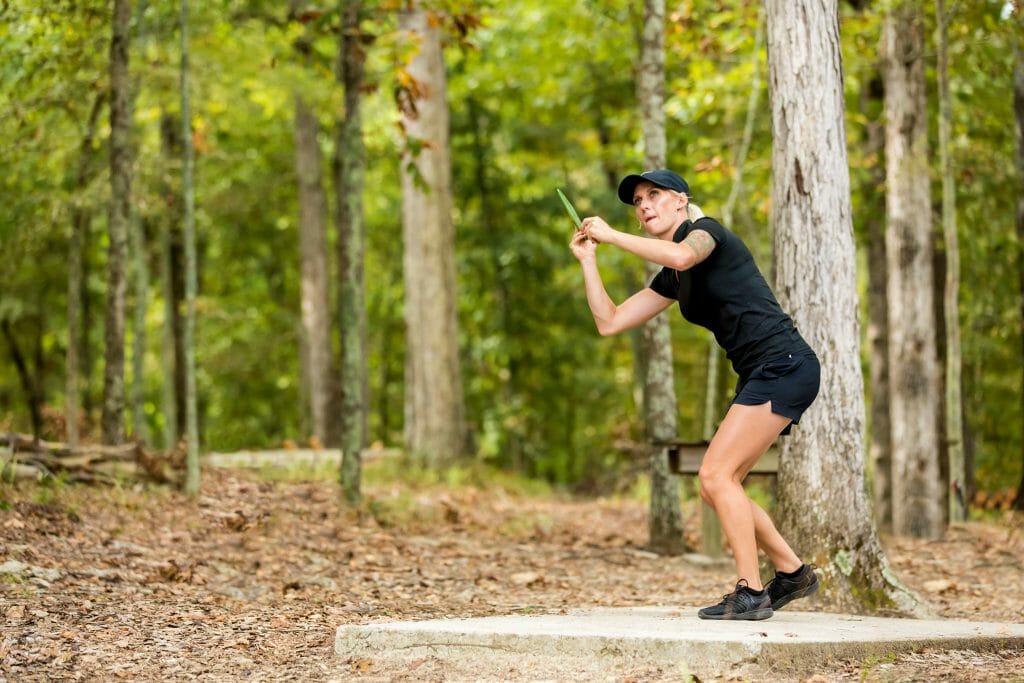 Catrina Allen managed to live up to the nickname of disc golf's founder at the event and course named in his honor, keeping things "Steady" as she took the lead after the first day of the Ed Headrick Disc Golf Hall of Fame Classic.
Allen opened both the front and the back nine with bogeys but maintained an even keel, notching 10 birdies on her way to a 990-rated 8-under par 56 yesterday. Melody Waibel went bogey-free during her 7-under par 57 performance, building the only clean card in the 15-player field. That effort kept her one stroke ahead of Sarah Hokom, who carded a 6-under par 58 to land in third place. Northern California pro Ellen Widboom sits in fourth place after a 5-under par 59 round, while Elaine King and Lisa Fajkus are tied for fifth after matching 4-under par 60s.
Allen was one of only three players to begin the round over par through the first two holes, as she took a bogey 5 on the 375-foot 2nd. Not to be deterred, she took the stroke back with a birdie on the 290-foot 3rd before rattling off four more to close out the front nine.
Another bogey opened the back nine on the 305-foot 10th, but again Allen shook off the blemish. She took birdies on the back-to-back par 3s of 12 and 13 before adding another on the 685-foot, par 5 15th. She closed out the day with a birdie putt over guardian rocks on 17 before adding one final shot under par on 18.
Waibel kept her second clean sheet in a row in as many high-level events, after her final round at the United States Women's Disc Golf Championship was a 994-rated showing that bumped her into the top 10. Waibel said she carried a similar mindset from that Championship Sunday into Opening Friday.
"It was kinda the same vibe as I had today — I was just trying to not do anything stupid, I guess is the best way to put that," Waibel said with a laugh. "Not go for putts I think I can't make. I think it was more mental. I think that I learned a lot from getting too upset about my other rounds [at USWDGC] that there's nothing you can really do about those, so there's really no reason to get upset. So just kinda try to be calm and cool and collected."
She achieved that by playing what she called "boring golf," opening with three pars before tacking on her first two birdies on holes 4 and 5. Each of those holes brings with it the threat of water and distance, with hole 4 measuring in at 405 feet and hole 5 at 510 feet.
"I didn't have anything exciting go down. Sometimes I get a little too aggressive, so it's better for me to do something a little bit more smart — play golf and not just throw shots," Waibel said. "I got the birdies when I needed to…I'm better at birdie 3s on par 4s than I am at parking a shot, so I think that's where that golf comes into play."
Waibel said she was focused on maintaining a positive attitude, and it helped down the stretch. After a five-par run that got her through 13, she closed with four birdies in the last five holes.
"I missed a couple short putts, but for the most part I was just trying to put the shot right where I practiced it and not try for more than I thought I could get, and even if that meant just laying up to 28 feet and trying to make it that was usually fine," Waibel said. "I've been practicing a lot and trying to get a little more consistency off the tee because that's usually where I falter. I've been spending time in the field making sure that doesn't happen."
Hokom came out strong, going 6-under par on the front nine, including a jump-putt for birdie on the opening frame. She followed with two more birdies, including a stand out play on the 290-foot 3rd.
"Hole 3 was memorable because it's a really nasty hole to throw a sidearm at, and I throw a standstill sidearm with the flippiest disc in my bag — down a hill, turnover," Hokom said. "I threw it perfect, then I had a putt over a fallen tree behind the basket. I had to go up and over it to get the 2."
Hokom grabbed another birdie on hole 5 with a scramble from the rough that put her under the pin for an easy putt, then added another on 6. She didn't find her first real trouble of the day until hole 12, when her backhand approach caught an early tree and she missed her par save from 50 feet. After another birdie on the par 5 15th, she missed a short par putt on 16 and settled for bogey before closing out the day with a pair of pars.
"I kinda just played my normal game, normal mindset," Hokom said. "I hit my lines at the beginning of the round really well. Then I kinda just cooled off a little bit and made a couple mental errors down the stretch."
Further down the leaderboard, Paige Pierce is in sixth place after carding a 3-under par 61 round. A double-bogey on hole 4 and a bogey on hole 9 were her only strokes over par, but a lack of late birdies — she only managed to shoot 3-under par on the back nine — kept her from a hotter start. Jessica Weese had a strong round going, sitting in the top five at 3-under par through the front nine, but three bogeys and a triple-bogey on the back nine pushed her into a 13th place tie with a 2-over par 66.
The field heads to the W.R. Jackson Memorial Course for today and tomorrow's rounds, and Hokom is looking forward to the challenge of again taking on the course the hosted two days at this year's PDGA Professional Disc Golf World Championships.
"I feel like I know the course really, really well," Hokom said. "I did change my game plan on a couple holes from Worlds. I've made some improvements in a couple different areas in my game, specifically fairway turnover shots and backhand upshots, so I feel more confident than I did at Worlds.
"In addition, I have my rig with me now, and for Worlds I had to fly in and rent a car and it was just like I was out of my element a little bit having to be away from all my things," Hokom continued. "Now I'm kind of more comfortable, and I have a good handle on my game. So I'm just taking my normal attitude on the course: to do the best I can, hit my lines, and make hard decisions out there."
Waibel, meanwhile, was anticipating her appearance on today's lead card and was especially excited to play with longtime friend and touring partner Hokom. She was also keenly focused on retaining the same positive attitude she carried yesterday and trying to cash in on her strengths.
"That's my main M.O. right now, is just kind of stay confident and not do anything too aggressive," Waibel said. "Just play smart and go for the putts that I think I can make and lay up the rest of them. Being positive and just give everything a chance, but not trying for too much, is usually a good thing for me."
The lead card of Allen, Waibel, Hokom and Widboom tee off at 11:50 a.m. local time, with real-time scoring available via PDGA Live.