First A-Tier title since 2012 comes after fierce battle with Johansen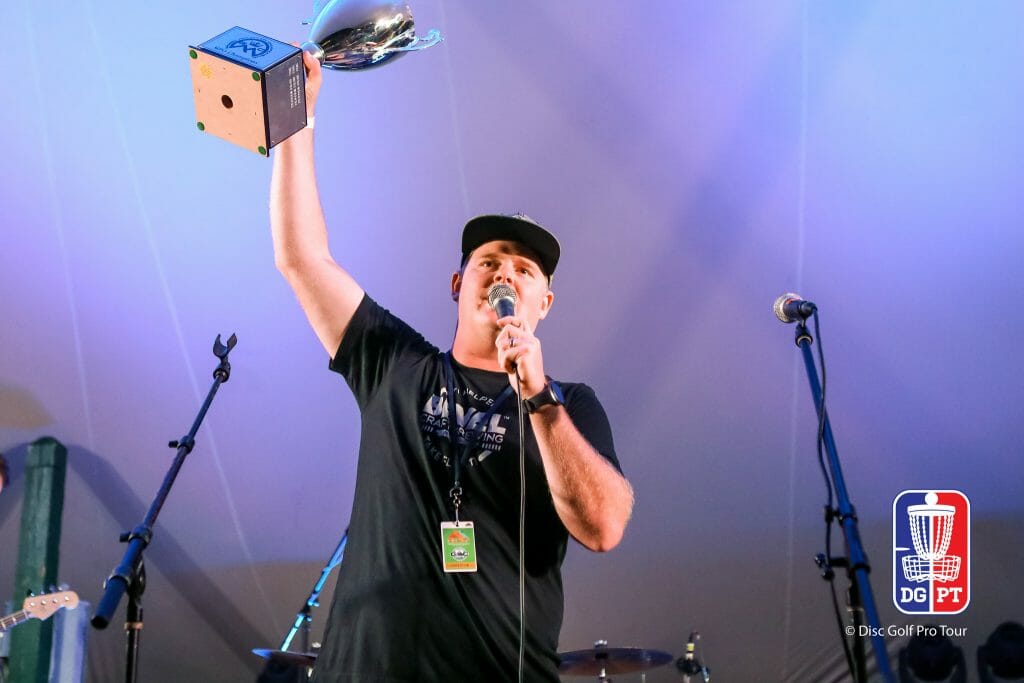 Ultiworld Disc Golf's coverage of the 2017 Green Mountain Championship is presented by Smugglers' Notch Resort; all opinions are those of the authors. With three disc golf courses on site, plus a fun zone and numerous outdoor activities, Smugglers' Notch has staked its claim as "America's Family Resort." Learn more about the facility and book your next vacation here.
One thousand, eight hundred and thirty-three days. Seventy-five tournaments. Thousands of throws, countless miles traveled, and 12 second place finishes.
Suffice to say, this one was a long time coming.
It took a hair-raising effort, but Nate Doss finally broke his A-Tier victory drought Saturday at the Green Mountain Championship, holding off a surging Michael Johansen to stand atop the podium for the first time since 2012. And after the trophies had been handed out, but before the celebration had truly begun, Doss was not afraid to express how much the win meant to him.
"This might as well have been the World Championships to me," the California native said with a characteristic reverence in his voice. "While the last, whatever it's been, five years I've thought no less of myself — I go into every tournament thinking I'm gonna win, my game has been in a position to win many, many, many, many times — I just haven't been able to put it together. And that's OK. That is OK. This might as well be the Worlds for me because we had the best players in the world…and my game finally was what I always think it is."
Doss' 9-under par 53 Saturday at Fox Run Meadows gave him a 44-under par 200 total and kept him just clear of Johansen, who tossed a 10-under par hot round to take second place with a 42-under par 202. Ricky Wysocki struggled early en route to his own 9-under par showing and took home third place with a 41-under par 203, while Cale Leiviska ended the weekend in fourth place with a 40-under par 204.
Doss averaged 1062.25-rated golf over the four-day affair and cleaned up in a number of the Disc Golf Pro Tour's statistical categories: He led the field in hitting circle 2 in regulation (86 percent), and came in second place in fairway hits (86 percent); parked shots (26 percent); circle 1 in regulation (63 percent); birdie percentage (63 percent); and scramble rate (90 percent). While those numbers might make it look like the win, and the final round that accompanied it, was easy, the stiff competition that gave chase made it anything but.
"It was incredibly intense," Doss said. "…It's really hard to predict how these days are gonna go. I just felt like, 'OK, I need to take it to the course.'"
He attempted to do that early, but, like in previous rounds, stumbled a bit out of the blocks. Doss carded a par to open play, then two-putted on the 270-foot 2nd to miss a birdie opportunity. He settled in with a deuce on the uphill, 305-foot 3rd, but offset it with an errant drive on hole 5 that resulted in his first — and only — bogey of the tournament.
"Everything off the tee, every shot I threw felt almost exactly the way I planned it, exactly the way I wanted — except the tee shot on 5," Doss said. "That I just didn't give enough heat, and it went out of bounds."
As Doss left the door open, his competitors couldn't manage their way through. Johansen, who entered play three shots back, took a stroke early with a birdie on hole 1, but then went cold and parred the next four straight. Wysocki's first drive of the day skidded out of bounds and he saved par, but he then went station-to-station with consecutive tree hits on hole 2 to take a bogey. He recovered with a birdie on hole 3, but then ran the green with his drive on the 470-foot 4th and did not get enough bite at the end of his flight, resulting in yet another penalty stroke.
"I started off really bad," Wysocki said. "I knew I was gonna have to get out of the gates firing and have a big birdie streak to have a chance to win. I really killed any momentum I had going in just how I started."
The only player on the lead card who came out hot was Leiviska, who sliced and diced his way to four birdies in the first six holes. But just as he hit the wall with a bogey on the 1,275-foot hole 7, the sleeping giant awoke, and Doss started clicking. On hole 8, Doss unleashed a towering turnover shot that cleared the first corner of the s-shaped fairway, much like he did during round two at Fox Run. His next shot, with a yellow Huk Lab-stamped Discraft Predator, sailed toward the pin with deadly accuracy, and he connected from 15 feet for the birdie. He strung together two more, and it seemed like victory might indeed be within his grasp.
Hole 11, though, proved that any celebration might be premature. After a clean drive, Doss started his walk-up for his approach to the rock-lined green, but a spotter in the distance distracted him and he was forced to pull up. He still executed a line drive that landed 15 feet past the bucket, but he was squeezed by some skinny trees and was forced to straddle for his birdie attempt, which he missed. Wysocki also took a par after a rare miss from inside the circle, and Johansen, whose putter was already scalding after 40-foot connections on 9 and 10, made good on his birdie attempt through the trees to pin Doss' lead back to three.
The 380-foot 12th, meanwhile, was essentially where Wysocki's run met its end. With the three main contenders all parked for birdie, Wysocki's 10-footer hit the pole and spit back to him. The bad break put him five shots back of Doss and, more importantly, out of contention in the mental game as he aimed for his fifth straight GMC title.
"That really kind of put me over the edge to where I didn't really think I could come back," Wysocki admitted. "It's a tough loss, trying to keep the streak alive, of course. I'll always get the chance next year, but I felt like I wanted to do as much as I could to keep the streak alive."
The race was whittled to two competitors, and Johansen continued to push Doss with each passing hole. The duo traded pars on 13 before Johansen put his drive on the 350-foot 14th to within 15 feet. Doss, meanwhile, hit a telephone pole down the fairway and settled for par, bringing the difference to two strokes.
Johansen would not relent. His hyzer flip drive on hole 15 hit a late tree and got a kick away from the pin. Sitting at 40 feet and with seemingly no line to the basket, Johansen continued his decisive putting with an anhyzer step shot that hit the top of the chainset and dropped in for an improbable birdie. Doss answered with his own, but the message had been received.
"I'm not gonna lie to you: I thought he was gonna make it before he even putted it," Doss said. "It had gotten to that point. He was putting more pressure on my drives so that I could put it close [more] than anything. I knew he was gonna make the putts. I knew I was gonna have to make whatever putt I had."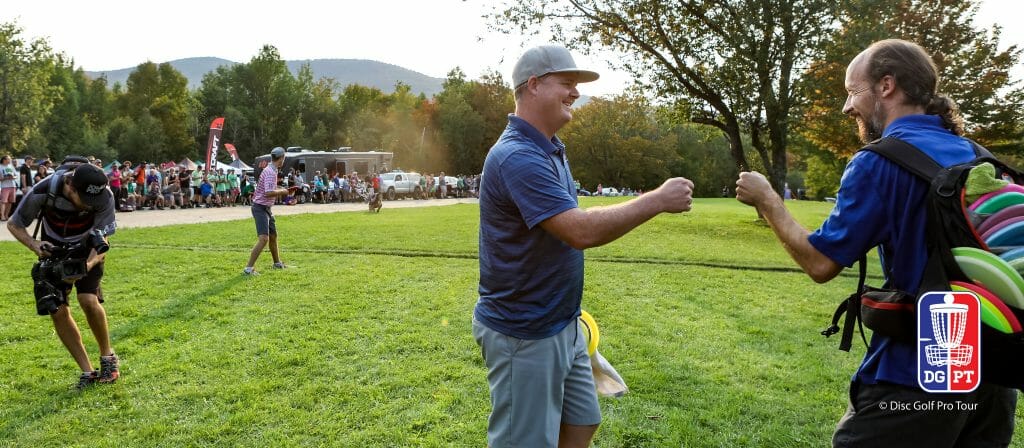 What he had was another 15-foot birdie look on hole 16 that would have kept the gap at two shots. Instead, nerves kicked in and he missed high off the band of the Discatcher Pro. Johansen took his easy three, and Doss was now clutching a one-shot lead with two holes to play.
"I certainly was tight on the putting greens," Doss said. "I'm not going to deny that or not admit that, because it was quite obvious. That's part of the process of winning big tournaments, is you have to overcome that and you've got to put the disc closer to the basket and you've got to make a putt once or twice down the stretch."
Doss took his own advice and converted on his 15-footer on hole 17, and he and Johansen were still separated by one shot heading into the 775-foot, downhill 18th. And though Johansen had made most of his moves during the round on the green, he saved one last flourish for the fairway. After both players drove safely, Johansen needed a long throw-in for eagle to force a playoff or take the win outright. He launched a flex shot with a Discraft Undertaker that swarmed the pin and elicited a gasp from the crowd, but ended up sailing long and bouncing off the border wall lining the green.
"In his very unassuming way he went at that shot on 18, and he nearly put it in," Doss said. "He buzzed the tower, for sure, and I looked over at him and I said, 'You're going — come on!' He chuckled, and I executed my shot."
Doss lined up a forehand with a Discraft Force and, with his first significant win in five years on the line, gave himself one last pep talk.
"I knew at that point, 'Nate, just dig deep,'" he said. "'Execute the shot like you want to park the hole. Don't try to hope that the disc goes close. Park the hole.' And as soon as I released, I said to myself in my head, I said, 'If that's more than 10 feet away from the basket, I'll be surprised.' And it all worked out for the best."
Afterward, the man who had won the tournament every year of its existence until Saturday heaped praise upon the new champion.
"It doesn't happen often to where I say people straight up win, but [Doss] played very solid and he won from wire-to-wire," Wysocki said. "There's not many people who can do that these days, so that's really impressive in my eyes."
Beyond the increase to his pocketbook, the win also helped Doss in the Disc Golf Pro Tour's points standings. He is now seeded 13th heading into next month's Tour Championship in Jacksonville, Florida, and has a bye to the quarterfinals. There were no major changes to players who earned a bye to the semifinals, but a handful of GMC finishes caused shakeups further down the board: Grady Shue's 11th place showing secured his place in the Championship with the 40th seed, while Jordan Castro clinched the 48th seed with his 15th place performance in Vermont.
Before the Tour Championship, though, Doss has his eyes on a bigger prize.
"I told [Green Mountain Championship Tournament Director] Jeff Spring earlier this week, 'You know, I'm definitely looking forward to your tournament, but I wanna win the USDGC,'" Doss said. "I think my game is there.
"The confidence has never been lost in my personal space, but it certainly means the world [to win this week], and it's fun to have that feeling for even just a moment in time, even though I've accepted at this point," Doss continued. "I've been practicing a game of acceptance for years now, that whatever happens, happens."
As it just so happens, this time he was accepting the winner's trophy.