The California pro put on a four-round clinic and produced some gaudy statistics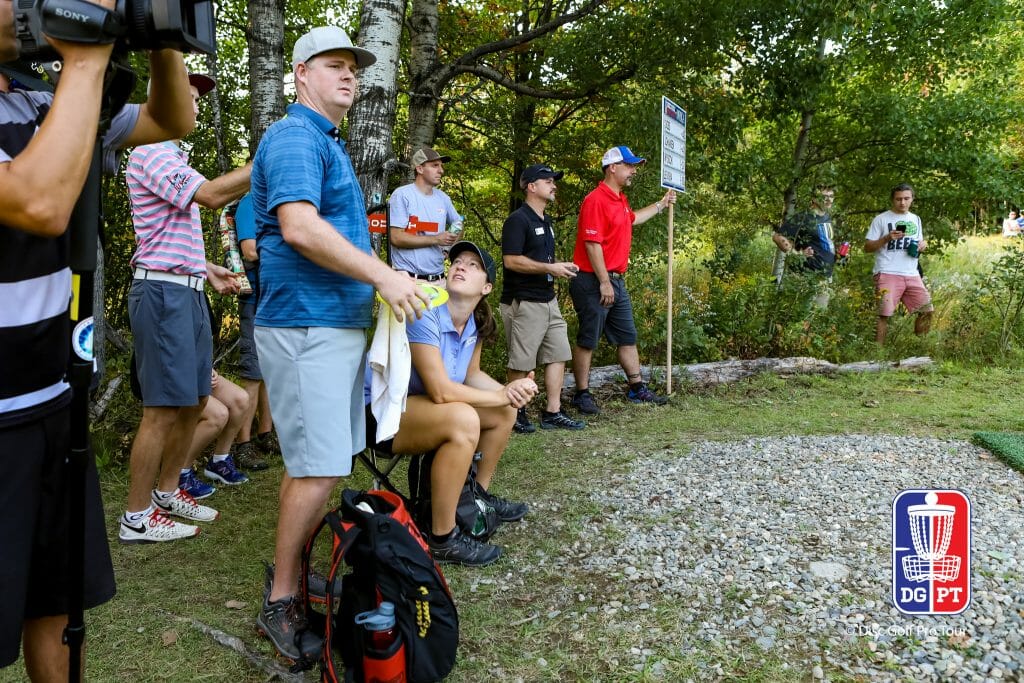 Ultiworld Disc Golf's coverage of the 2017 Green Mountain Championship is presented by Smugglers' Notch Resort; all opinions are those of the authors. With three disc golf courses on site, plus a fun zone and numerous outdoor activities, Smugglers' Notch has staked its claim as "America's Family Resort." Learn more about the facility and book your next vacation here.
◊◊◊
"I feel so comfortable with my game this week that really nothing — I don't think anything can bother me at this point."
That was Nate Doss after the third round of the Green Mountain Championship. At that moment, he was nursing a three-shot lead, being chased by Ricky Wysocki and Michael Johansen, and on the cusp of his first premier victory in more than five years.
And yet, he was completely calm.
The rest is history, as Doss went on to take the GMC in dramatic fashion after holding off a late-round flurry of putting prowess from Johansen. And while looking back at the event, it was difficult not to think of that seemingly innocuous quote from the longtime California pro and just how true it held — not only during the third and fourth rounds, but really all weekend.
Doss' performance in Vermont was a master class in both focus and precision. He not only fended off furious pursuits from his competition, but he was able to shrug off distractions, bad breaks, and his own (very few) mistakes. All the while, he loaded the stat sheet with gaudy numbers that proved his physical talent was in perfect harmony with his mental strength.
True, disc golfers are always going to experience adversity on the course, but some of what Doss endured was just fluky or ill-timed. Take, for example, a two-hole sequence during round three at Brewster Ridge on Friday. Doss slipped on hole 2's teepad during his drive, attributing his lack of traction to swampy conditions. Every player battled the same elements, but for Doss the shot resulted in an early tree hit, one of his few misfires throughout the event. Undaunted, he took an awkward stance for his second shot and lofted a smooth turnover with a Ti Buzzz that put him in line for an easy par save.
Just as he was trying to get the birdie train back on track, he was faced with the most unnatural of hazards while he lined up his tee shot on hole 3: a car alarm blaring in the not-so distance. But instead of getting frustrated, or even turning to his cardmates for some friendly commiseration and a "What the heck?" chuckle, Doss simply lowered his disc from its original aim, took a breath, and waited. When the noise ceased, he got back to work and tossed another Buzzz shot to 30 feet. Though that putt slipped off the right side of the chains and he took another par, it was evident that he wasn't rattled.
We won't even get into the spotter who nearly spoiled his approach on hole 11 during the final round. Suffice to say, Doss handled it with aplomb.
And if those situations weren't enough proof that Doss' middle name was Composure, then handling the pressure of being chased by Wysocki for two rounds ought to cover it. Four-time GMC Winner? Check. Defending PDGA World Champion? Check. Three come-from-behind victories in 2017 alone? Check. Wysocki's mere presence has been known to crack a player or five over the years, but Doss — to borrow a phrase from British Tour de France commentator Phil Liggett — dug deep into his suitcase of courage and kept clear of his hunter.
Wysocki, though, wasn't Doss' only problem. Johansen and his Discraft Ringer were not messing around, as the North Carolina pro's putter was working in magnetic fashion from 50 feet and in. Every time it seemed Doss might be able to pull away for a victory lap, Johansen was there to make sure it didn't happen. The tidal shifts that come with the kind of shots Johansen was sinking don't allow for any emotional breaks, and instead of fretting, Doss simply made sure to keep it close — literally.
"It had gotten to that point. He was putting more pressure on my drives so that I could put it close [more] than anything," Doss said after the final. "I knew he was gonna make the putts. I knew I was gonna have to make whatever putt I had."
The thing is, though, this wasn't a monumental shift in Doss' strategy. Instead, he'd been leaving his discs close to the basket all weekend. Just take a look at where he ranked in the field in UDisc's accuracy-based statistics:
| | Percentage | Rank |
| --- | --- | --- |
| Fairway Hits | 86 % | 2nd |
| Parked Shots | 26 % | 2nd |
| Circle 1 In Regulation (10 m) | 72 % | 1st |
| Circle 2 In Regulation (20 m) | 89 % | 2nd |
The real story, though, lies in his average throw-in distance. In the final round, Doss holed out from an average of nine feet, with a long of 16. Sure, he missed a couple from outside the circle, but leaving 10-foot clean-up putts is generally a recipe for success.
Even more impressive was his average throw-in distance over four rounds: 13.5 feet, which included an 80-footer for birdie on hole 9 during the second round. Remove that highlight from the tournament, and his mean drops to 12.25 feet. Doss took the heavy lifting away from the green and left it for the awards ceremony. Gotta keep those arms fresh for holding up a trophy.
It all gelled for an exciting, well-executed victory for the veteran professional. After four days of laser-like concentration and surgical exactitude, it's time to add the title "Green Mountain Champion" to the list of things that certainly won't bother Doss, either.