Wysocki, Johansen three shots back heading into today's final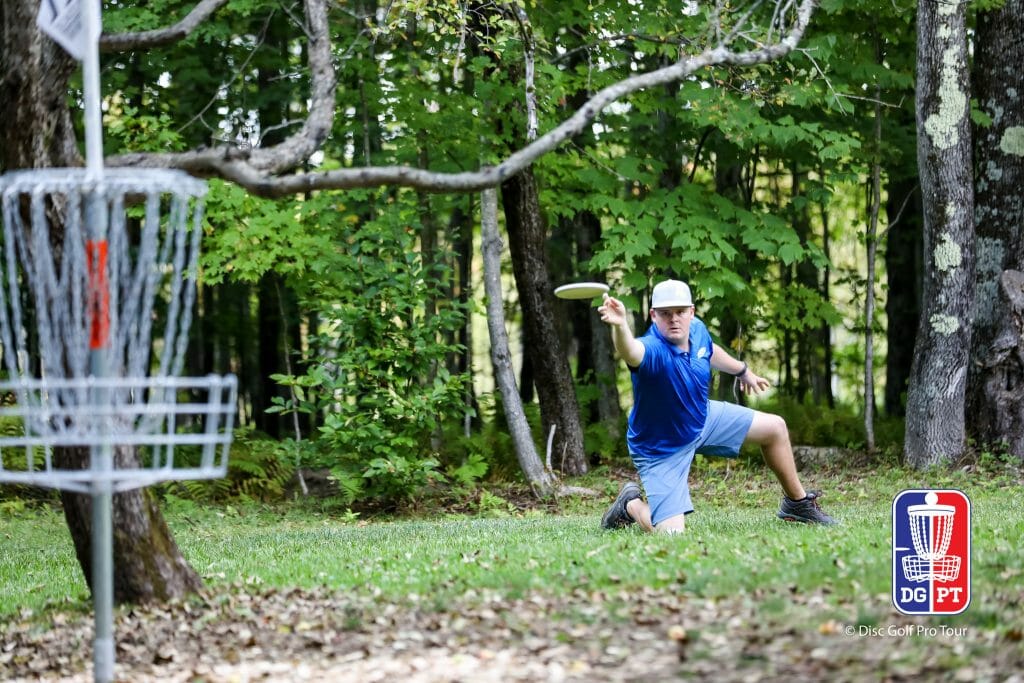 Ultiworld Disc Golf's coverage of the 2017 Green Mountain Championship is presented by Smugglers' Notch Resort; all opinions are those of the authors. With three disc golf courses on site, plus a fun zone and numerous outdoor activities, Smugglers' Notch has staked its claim as "America's Family Resort." Learn more about the facility and book your next vacation here.
Nate Doss struggled to find much of a rhythm through the first half of yesterday's third round at the Green Mountain Championship, as some missed putts conspired with a moist playing surface — and a poorly-timed car alarm, even — to find him steadily bleeding shots to his competitors. He was still at the top of the leaderboard, but he wasn't keeping pace with the field as much as he was treading water.
"Really the first 10 holes or so I was — I would use the term swimming — on the teepads," Doss said. "The teepads had — there was just a little bit of mud and moisture. It was very humid today, and I just didn't have my feet under me.
"I was just happy to be able to make saves on those holes," Doss continued. "For the first nine holes I was really grinding along, and Rick [Wysocki] was playing well. So was Michael Jo[hansen], and I was happy to be able to just pick up a birdie here, birdie there. Then the back nine came along, and things really cranked up at that point."
Doss indeed dove headfirst into Brewster Ridge's closing stretch, notching seven birdies on the back nine to turn the tide and end the day with another 11-under par performance. The three-time PDGA World Champion takes a three-shot lead and a 35-under par 147 into today's final round at Fox Run Meadows, where Wysocki and Johansen will give chase with their 32-under par 150s. Cale Leiviska's 11-under showing dropped him one slot and into fourth place at a 31-under par 151, while Nate Sexton and Paul Ulibarri round out the top 5 with some ground to cover, as the pair sit with 26-under par 156s.
Doss has yet to card a bogey during the tournament's 54 holes. Johansen, meanwhile, registered his second hot score of the event with a 1064-rated 12-under par.
In a round rife with turning points, one of the first came on the 410-foot 10th hole. Faced with a birdie look from just inside the circle, Doss took to a knee to avoid a low-hanging, scraggly branch. Wysocki, who had already clawed back four strokes to tie for the lead, was in line for a par, and connecting for the deuce would help Doss stop the bleeding. With a fluid flip of the wrist, he fired a putt straight into the heart of the chains, then let out a big sigh as he plucked his Discraft Challenger from the basket.
"I think I probably just let that out because, I mean, it was a tough fight and a tough situation, and I really needed that one," Doss said. "Rick had — at that point he had parred, and that just gave me a good opportunity to get that one stroke back. Maybe it was just a part of the whole thing, but I don't remember being under any extra pressure or any stress at that moment."
Even if Doss was feeling the push from his competitors, he didn't show it, as he went on to connect for birdies on the next three holes to make it five straight. Johansen matched that run by twice hitting from 40 feet and otherwise rarely leaving himself with anything more than a tap-in. Wysocki also continued his strong play, and he was bogey-free and again tied with Doss up until hole 15.
That's when Wysocki made what Doss characterized as a "surprising play," lining up a forehand on the 360-foot par 3 that most tackle with a backhand. Wysocki's putter drive ricocheted off a tree and carried over the out-of-bounds rock wall that borders the left side of the fairway, and he was left to pitch up and settle for a bogey. Doss, meanwhile, put his drive to 15 feet and made the birdie for a valuable two-shot swing on the scorecard.
"That was a big turning point for the round," Wysocki said. "I think I was tied going into that hole…The bad part about it was I wasn't even trying to attack the hole. I was trying to lay up, that's why I went with the sidearm. That's what was really frustrating — I wasn't trying to get a birdie, I was trying to play for a 3. That hole's tricky, and I always seem to have trouble with it. It's definitely annoying to be getting punished for a lay-up shot."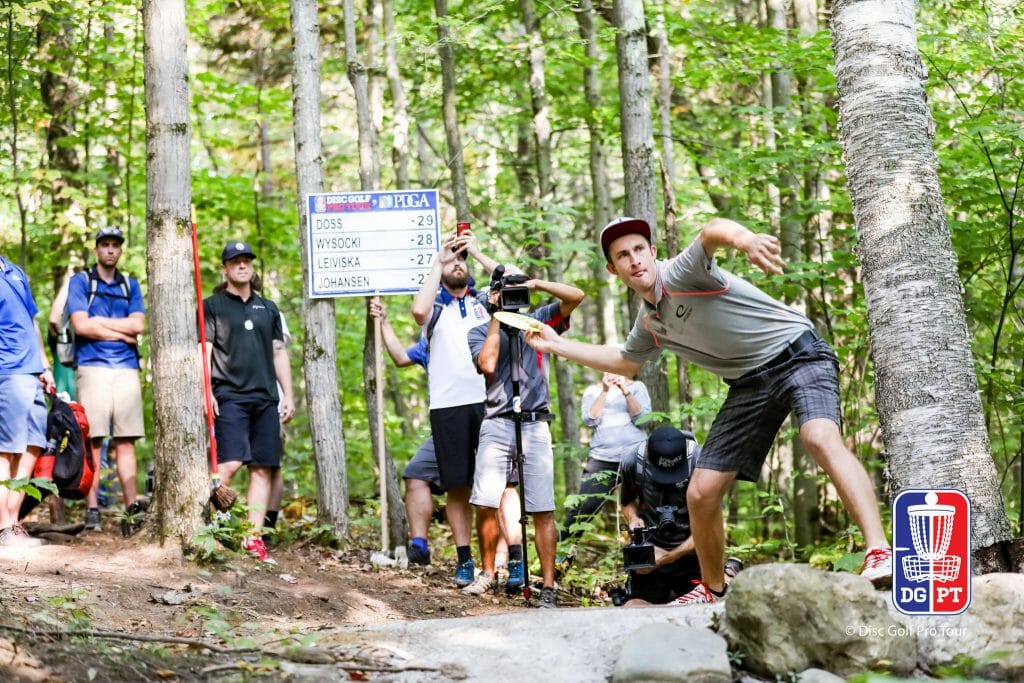 After the lead card parred hole 16, Doss and Johansen took birdies on hole 17, while Wysocki lost a stroke to the pair despite hitting a 60-foot par save around a tree. And as the top three competitors cleaned up their deuces to close out the round, Doss emerged unscathed, still holding the three-shot lead with which he entered play.
"I think that this course was one where strokes could have been lost in bunches, just not birdieing and another guy gets on a roll and you get a few tree hits here and there," Doss said. "I just kind of stemmed off some of those bad moments and was able to just hang in there. I mean, man, tomorrow's gonna be an intense 18 holes, and I'm looking forward to it."
Moving day at the GMC was good to Sexton, who jumped up six spots in the standings thanks to another day of perfect putting — he's leading the field with a 100 percent rate inside 10 meters — and a 75-footer for birdie on the par 4 8th. Zach Melton canned seven putts from beyond the arc to move up four spots and into a tie for eighth place, while Weston Issacs scrambled his way into 10th place.
Facing a final round deficit at the tournament he's won four years running, Wysocki sounded comfortable with chasing down the lead today at Fox Run Meadows. And that winning streak was providing extra security.
"That helps the confidence stepping into the final round," Wysocki said. "If you could tell me I'd be within five strokes every tournament going into the final round, then I would take it."
Still, he wasn't taking the competition lightly. He said he couldn't depend on Doss faltering down the stretch and instead would have to earn the win.
"[Doss] is a great competitor, he's very genuine, he's got a lot of integrity," Wysocki said. "I've looked up to him since I first started playing, and I still do."
After a strong round at Fox Run on Thursday, Doss wasn't looking to make any specific adjustments during the final other than aiming for an extra birdie or two in the first six holes. Instead, he was simply looking to keep the Vermont vibes flowing as he aims for his first A-Tier win since the 2012 Toronto Island Maple Leaf.
"It's keeping the mental game where it's been," Doss said. "Allow the round to happen the way that it's gonna happen. This is the type of course that no lead is safe by any means, and so I'm not really thinking about it that I have a lead, or if it's two, or three, or one, or four, or whatever it is. It's just go out, execute the game plan."
The lead card tees off at 2:30 p.m. ET and will be streamed live on the Disc Golf Pro Tour's YouTube channel. Real-time scoring and statistics will be available at UDisc Live.