Fall colors welcome fierce competition in Vermont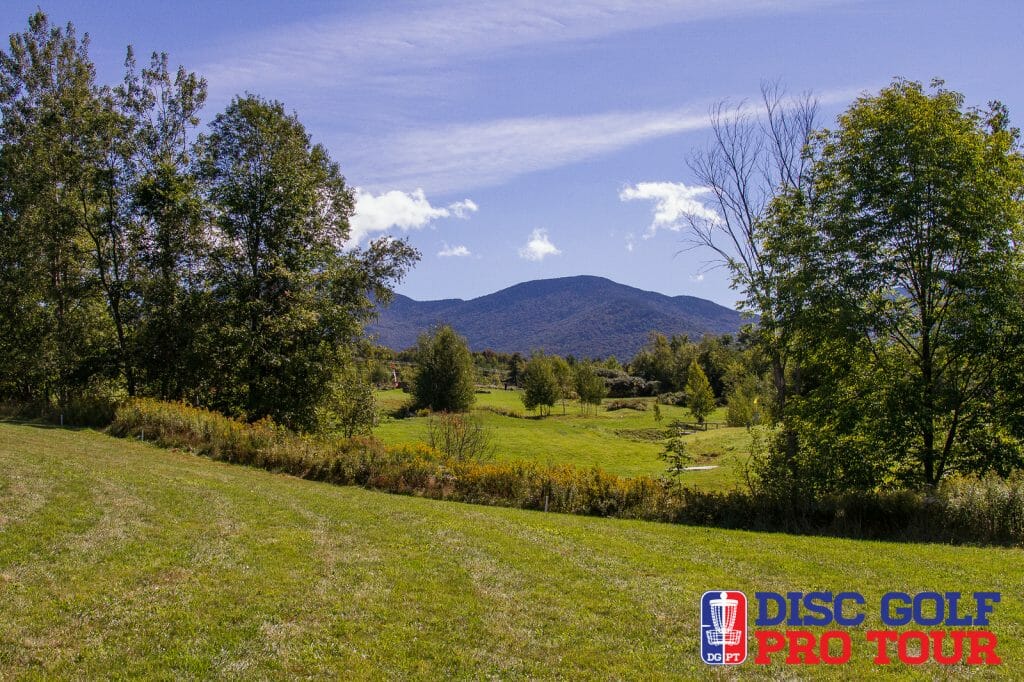 Ultiworld Disc Golf's coverage of the 2017 Green Mountain Championship is presented by Smugglers' Notch Resort; all opinions are those of the authors. With three disc golf courses on site, plus a fun zone and numerous outdoor activities, Smugglers' Notch has staked its claim as "America's Family Resort." Learn more about the facility and book your next vacation here.
Picturesque, turning leaves on mountain slopes highlight the Green Mountain Championship at Smugglers' Notch resort in Jeffersonville, Vermont, where the Disc Golf Pro Tour's ninth event of the season takes place today through Saturday. This is the final stop for the series before its Tour Championship in Jacksonville, Florida, in late October.
Storylines
The post-Worlds pro touring landscape has been anything but predictable for the Open and Open Women's division. There hasn't been a back-to-back winner in either division since the PDGA World Champions were crowned, even as play has meandered through a series of high-profile events.
Paul McBeth, Paige Pierce, and Catrina Allen are the only three to win more than once during this stretch, and if you want to throw winning performances from Austin Turner and a recently reinstated Bradley Williams into the mix, that just makes for all the more parity. Josh Anthon's double-digit win and Valarie Jenkins' playoff defeat of Jessica Weese at the Ledgestone Insurance Open, along with James Conrad's upset win at Idlewild, were just some of the more unexpected results over the last two months.
With a multitude of deep fields pushing those at the top of the sport each weekend, it's been some time since both divisions felt this wide open. This is all the more evident when considering that we've seen entire seasons of dominance in the recent past, including McBeth's PDGA Major sweep in 2015 and Allen's 2016 campaign.
Depending on one's perspective on what they believe is better for capturing the attention of fans of this growing sport — a Tiger Woods-style stronghold on the competition, or a weekly grab bag of talented performers — the last few months have either been the best or worst of times. But if there's any event on the upcoming calendar that threatens to buck the recent trend, it's the GMC.
Ricky Wysocki, who won the Vibram Open two weeks ago, is the only player in the Open division to take down this event in its four years of existence. Likewise, Allen has won the past two seasons, when the event began drawing a sizable Open Women's field. Smugglers' Notch's Fox Run Meadows course hosted the 2016 Disc Golf Pro Tour Championship, with McBeth and Allen going home with the hardware. So will this week in Vermont provide a platform for the sport's upper echelon to continue dominating, or will the recent pattern of upsets continue?
Courses


Brewster Ridge Gold – (Open: Wednesday & Friday; Open Women: Thursday & Saturday): 18 Holes, Par 60. 7,160 feet – Brewster Ridge features both open and more wooded terrain, with elevation changes in play on about half of the track's holes. Spectators will note the course's similarity in setting to recent stops like Maple Hill and Moraine State Park. Like those venue, accuracy and scrambling are key here, with the ability of navigate the trees serving as a main scoring separator.


Fox Run Meadows Gold – (Open: Thursday & Saturday; Open Women: Wednesday & Friday): 18 Holes, Par 63. Open Layout: 9,320 feet; Open Women's Layout: 8,545 feet – Fox Run is the newer of the two championship-level courses at Smugglers' Notch, having been expanded to 18 holes in 2015 by course designers Jeff Spring and Steve Brinster. It's more expansive than its predecessor and makes up for the comparative lack of trees with plenty of out-of-bounds danger. With the threat of penalty strokes adding up on many holes, competitors will constantly be assessing the risk of gaining a stroke on the field versus the security of playing for par.
After the third round on Friday both pro fields will be cut to 40 percent for Saturday's final.
Past Green Mountain Championship Winners
| | Tier | Open | Open Women |
| --- | --- | --- | --- |
| 2021 | DGPT ES | Chris Dickerson | Hailey King |
| 2020 | DGPT/A-tier | Kevin Jones | Paige Pierce |
| 2019 | DGPT/A-tier | Paul McBeth | Sarah Hokom |
| 2018 | n/a | n/a | n/a |
| 2017 | DGPT/A-tier | Nate Doss | Paige Pierce |
| 2016 | DGPT/A-tier | Ricky Wysocki | Catrina Allen |
| 2015 | A-tier | Ricky Wysocki | Catrina Allen |
| 2014 | A-tier | Ricky Wysocki | Anne Lewis |
| 2013 | B-tier | Ricky Wysocki | n/a |
Extended Forecast
Wednesday: Not a bad way at all to start out a tournament, as some morning fog should clear out to present partly cloudy skies. Temperatures around 57° at 8 a.m. should rebound nicely to around 77° by the afternoon. Calm wind in the morning hours should lead to a light southwest breeze during the afternoon.
8 a.m.: Patchy fog with temperatures around 57°. Calm winds likely.
2 p.m.: Mostly sunny with temperatures around 77°. Southwest wind around 5 mph.
Hole to Watch: Wednesday looks like it may be the day with the most wind. As such, hole 11 at Brewster Ridge should play into a slight headwind. The 615-foot par 4 is tightly wooded, so any amount of wind could lead to rough kicks. The Open Women's field will be at Fox Run, where hole 7 is worth a peek. This 1,115-foot par 5 may play into a headwind, and any hole that long that plays into a headwind will only make it feel longer.
Thursday: A similar forecast to Wednesday, but some models introduce the idea of a few afternoon showers or thunderstorms. Given the tournament's mountain setting, there is potential for isolated showers to pop up. Temperatures should start out around 62° before climbing into the upper 70s once again. Winds should remain light, and as such shouldn't have a major impact on specific holes.
8 a.m.: Partly cloudy with temperatures around 62°. Calm wind likely.
2 p.m.: Isolated showers or storms with a temperature around 78°. A variable breeze may be possible.
Friday: Temperatures will remain mild thanks to the influx of moisture into the region from the remnants of Hurricane Irma. However, little upper level forcing will result in only isolated showers and storms. Temperatures in the morning will be around 64° and should increase to around 75° by the afternoon. Rather stagnant, light winds should remain in place.
8 a.m.: Partly cloudy with a temperature around 64°. Calm wind likely.
2 p.m.: Isolated showers or storms with a temperature around 75°. A variable breeze may be possible.
Saturday: High pressure should move into the region on Saturday. This will squander any chances of precipitation, leading to a very nice championship round. Temperatures will start out in the low-to-mid 60s, but could end up in the low 80s by the time the final putt falls. Wind will once again remain calm.
8 a.m.: Partly cloudy with a temperature around 63°. Calm wind likely.
2 p.m.: Partly cloudy with a temperature around 79°. Calm wind likely.
How To Follow
The final three rounds from Thursday through Saturday will be live on the Disc Golf Pro Tour YouTube Channel. Jomez Productions is on hand for post-production video of today's Open feature card, which is comprised of McBeth, Turner, Brinster, and Gregg Barsby, as well as each round's lead cards. Real-time scoring for the entire event can be found on UDisc Live, while Ultiworld Disc Golf will provide recaps, player insights, and other news throughout the tournament.