The young pro just needs that elusive moment of clarity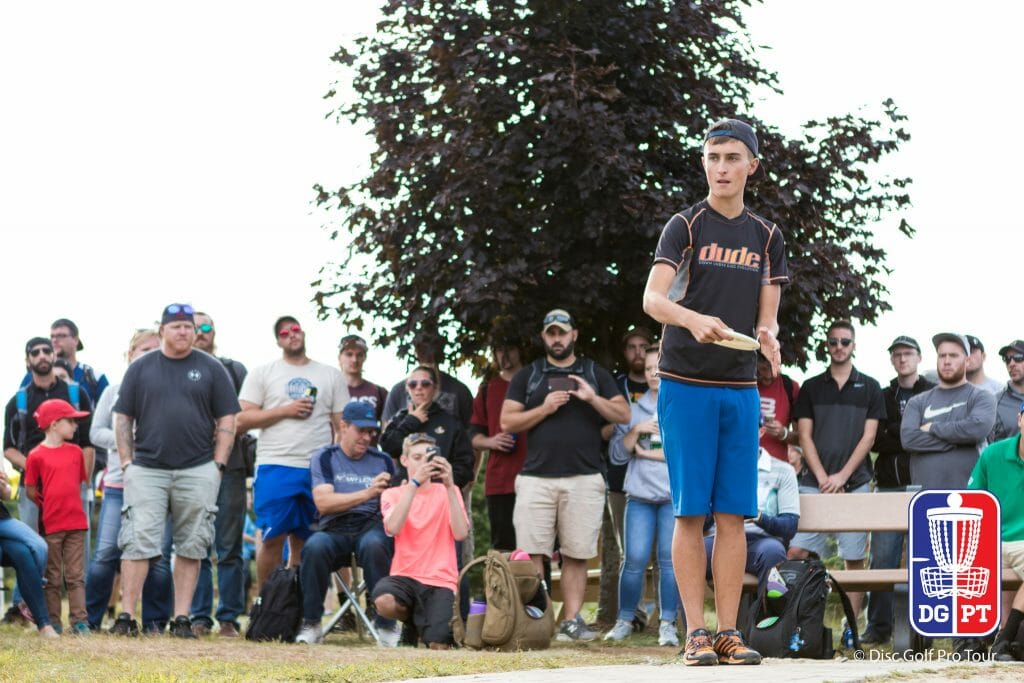 I've been thinking a lot about Chris Farley lately.
Depending on your age, he was a comedic icon who was gone far too soon. Even if he was before your time, he left behind a plethora of memorable performances for his, and future, generations to enjoy. "Living in a van down by the river?" Farley. "Da Bears?" Farley. Beverly Hills Ninja?
OK, so they weren't all winners.
There's been one particular Farley moment, though, that my brain has been playing on repeat since the end of the Vibram Open, and it came to mind because of a player who wasn't even born when Farley died.
Eagle McMahon has all of the physical tools any disc golfer could dream of. His superhuman distance puts him in the top one percent of the sport, and his ability to unleash every type of shot regularly puts him at, or near, the upper end the leaderboard. And he did it again at the Vibram, where he clawed back a six-shot deficit and tied for the lead late in the tournament.
But, as we saw when the pressure was ratcheted up at the Aussie Open in January, and even in the third round of last year's United States Disc Golf Championship, McMahon faltered when it came time to deliver in the clutch. It may not have been as devastating as the 10 he took after multiple OBs on Winthrop Gold's famed "888," or even as egregious as the drive he shanked on hole 18 at Mundaring DiscGolfPark when he was tied for the lead. But McMahon's inability to hit the green on Maple Hill's final hole allowed Ricky Wysocki to cruise to a victory, where a birdie may have put the screws to a leader who had struggled with the same shot earlier in his career.
And this isn't just me turning on the hot take machine for a scathing takedown of one of the sport's brightest young stars, mind you. McMahon himself admitted that, for whatever reason, he just can't get over the hump.
"Just putting myself in that position, I crumble under pressure for some reason," he said after the Vibram Open. "I get into my head so bad just because I've been there. I've put [myself in striking distance] in five-plus events over the last year, to where if I were able to capitalize I would have had a good chance of winning any one of those events…
"It's starting to get — I'm starting to get sick of that every time that happens," he said later. "It'd be really cool to push through, because I'm tired of hearing the same old pep talk every time."
With that in mind, then, I've come with a different pep talk. Which is where we get back to Chris Farley. Or, rather, Tommy Callahan.
On the surface, it would seem that Farley's eponymous character from the 1995 film Tommy Boy would have nothing in common with McMahon. Indeed, the Discmania star is a skinny vegan who works hard to remain at the top of the sport. Tommy Callahan, on the other hand, was an obese party boy who hoped to luck into the family business, Callahan Auto Parts, until circumstances conspired to threaten put the company out of business and ruin the Ohio town it largely kept afloat.
A closer look, though, shows that the similarities between the two are plentiful. Both are gregarious and fun-loving – see McMahon's voluminous vlog series for evidence of the kid's personality – and have a tendency to wear their hearts on their sleeve. This brings us to one of Tommy Boy's most instrumental, and hilarious, scenes: After being repeatedly turned down for sales while out on the road, Tommy is despondent. And he lays it all out for an unassuming waitress who shut down his humble request for some chicken wings:
Just as Tommy obliterates his sale, crushing an unsuspecting biscuit beyond recognition, McMahon loses his grip on the mental game. Just like Tommy, though, McMahon has that kind of 180-degree shift in him that can yield greatness. He just needs to find his "chicken wings" moment.
Where and when that moment comes, though, isn't always clear. Tommy Callahan wasn't expecting his desire for some fried food to lend itself to an epiphany, because he wasn't worried about not landing the chicken wings – he had a meat lover's pizza in the trunk. And while that's a delicacy that McMahon, — ironically or not — would never stomach, he needs a replacement, or some other metaphor. He has to find that zone where he can just relax and not worry about taking the win. Both he and Tommy almost care too much, and they needed a reminder that it is OK to let go sometimes.
Tommy got that reminder from his sidekick Richard, who, in the next instance of a sale breaking down, simply uttered two words: "chicken wings." That simple mantra washed away Tommy's stress, and he went on to save the company.
Sure, it sounds simplistic. And I don't expect that chicken wings moment to come at the next tournament, or even next year, for McMahon. Disc golf doesn't follow convenient Hollywood storylines, doesn't so readily allow someone an escape route from the prison of the mind. As McMahon said in a recent vlog, it will probably take some combination of time, patience, and luck for the young pro to finally achieve such great heights.
Or maybe it will just take him stepping up to his next big throw, taking a deep breath, and saying "chicken wings." It's so ridiculous, it just might work.
Whatever it is, we already know McMahon is chasing that magic bullet. He's not content with losing, not just happy to be collecting top 5 finishes. That's why he's going to be just fine. He wants the moment, and just isn't quite sure where to find it yet. Once he does? Look out. He's going to close some sales.