Sexton moves to third place heading into today's final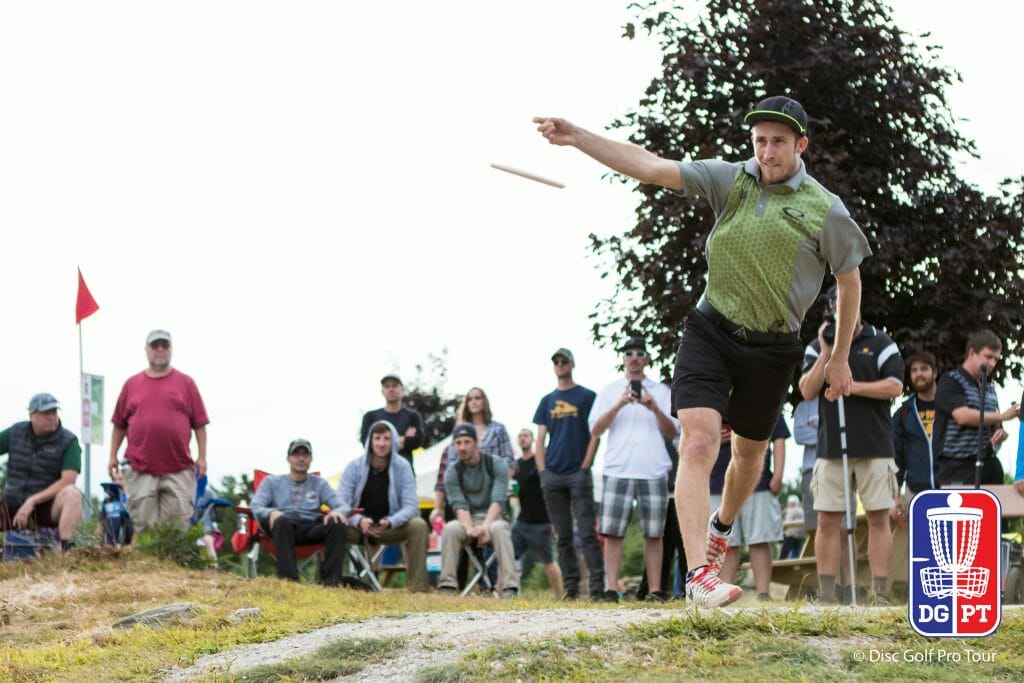 Ultiworld Disc Golf's coverage of the 2017 Vibram Open is presented by the Disc Golf Pro Tour; all opinions are those of the authors. Catch up on everything DGPT here.
Though it wasn't fourth and goal from the one-yard line, or even the two-minute warning, yesterday was disc golf's equivalent of the end of the third quarter at the Vibram Open. And Ricky Wysocki was feeling the pressure.
"I knew I had to do something," Wysocki said. "It was so tight, and I knew I needed to make the move."
Pack up the vans and bring in the muscle, because Wysocki delivered.
The reigning PDGA World Champion unleashed the best score of the tournament during round three at Maple Hill, getting hot late to fire off a 10-under par 50 and move into a tie for first place with Gregg Barsby, who brought his own fireworks during a 6-under par 54 performance. The pair currently sit with 20-under par 160s heading into today's final tilt, with Nate Sexton in third place with an 18-under par 162 after his 8-under par 52 Saturday. James Conrad matched Barsby's 6-under and fell to fourth place with a 17-under par 163 total, while Nate Doss and Paul McBeth climbed into a fifth place tie at 15-under par.
Though disc golf is a sport that requires one to stay in the moment, Wysocki looked both ahead and to the past during his 1070-rated round.
The sense of urgency he felt yesterday came not only from a day two showing that saw him slip to seventh place on the leaderboard, but also from the uncertain weather forecast for the final. So when he kicked on the afterburners during a six-birdie run to close out round three, it was with one eye on the future.
"Really any round you have to finish strong to separate yourself, especially at this course where the stroke separation is so tight," Wysocki said. "I just knew that I had to put myself in position come tomorrow. There's gonna be some bad weather coming in. If you're four or five strokes out it's gonna be tough. You can't really be as aggressive in the rain. Tomorrow is not the conditions you want to be trying to chase from four or five back."
Instead, he started his pursuit on the tournament's 39th hole. Maple Hill's 410-foot 3rd features a slight incline and a gauntlet of guardian trees blocking the basket. It ranked as the sixth most difficult during round three, yielding only 17 birdies to the 142-player field. Wysocki was one of those 17, as he put a backhand flex shot with a Latitude 64 Stiletto 30 feet from the pin before converting for the deuce.
"It's a tough hole, but that's kind of the start of the course where you have to start scoring," Wysocki said. "I was able to hit that hole, and then that really kind of sparked my round."
It almost went off the rails just as quickly as it started, though, as Wysocki tossed his forehand drive with on hole 4 higher than he intended. His Westside Discs Harp sailed past the basket and toward the OB water that serves as the shot's backdrop, but was rescued from a murky fate when it hit the Keen-branded border wall that lined the backside of the green. Again, he connected from circle's edge.
"I was trying to throw a little bit into the ground and slide it up there, but I threw it a little bit too high," Wysocki said. "Luckily there was a board there that saved me, and I took advantage of the course."
As Wysocki was finding good fortune on the chase card, Barsby was about the make his own on the lead. His round started with a bang as he parked his approach on hole 1 for a tap-in birdie, but he scuffled to a bogey on hole 3 after missing a straddle putt from 30 feet. He was able to stop the bleeding with a par on hole 4, then stepped up to hole 5 and threw a forehand hyzer with an Innova Firebird. The disc carried out over the pond, then smashed down into the chains for an ace.
"Whatever," Barsby joked, pretending to play down the feat. "The ace was cool, man. It was a sweet moment, for sure, bro. I threw it, and I don't know. You know when it just — I literally felt it on the hand, and I was like, 'come on.'"
Barsby followed with a birdie on hole 6 after flexing a pre-flight numbers Star Firebird through the wooded corridor on the round's second most difficult hole. After carving a similar line Friday but missing the connection for 2, he made up for it by hitting from circle's edge yesterday.
"Typically I don't ever really think about deucing hole 6," Barsby said. "I just really want to put my disc out of my hand in a good spot off the tee and make the initial gap. That hole can be a real monster, so the fact that I've gotten through there three times just means I have the right disc, I think, that's working at the right time. It's not bending a little earlier or a little later. There have been other years where I haven't had the line that I'm throwing this year."
Though he erased that bonus with a bogey on hole 7, and added another stroke over par on 17, Barsby was pleased with how he managed Maple Hill.
"This course can just have such gnarly teeth," Barsby said. "I was really happy with the 4 I took on [hole] 7 after the kick on the second shot. And I was also pretty happy with the 5 I had after my second shot on 17, where I was buried. It was brutal."
Those bad kicks stood in stark contrast to how Wysocki's discs flew. Hit he 78 percent of his fairways during the round, a mark that matched his Thursday pace and bested his second round struggles by 34 percent. And while his drives were more precise — he parked holes 15 and 16, with the latter being a 530-foot poke downhill — it was his play on hole 14 that had him digging into his past Vibram Open performances for inspiration. The signature shot carries over water for more than 300 feet, and Wysocki opted to play to the left-hand side of the green.
"It's hard to really get yourself to try and park that hole because of the water on the right," Wysocki said. "If you're 10 feet right of the basket you're in the water, but if you're 10 feet left of the basket you're gonna hit and skip to 40 feet. It's such a touchy hole, and green, that I just try to play 30 to 40 feet to the left of the basket."
Facing the pond with a death putt from outside the circle, Wysocki channeled his 2015 Vibram Open win, in which he connected from the same spot during a final round comeback. And just like two years ago, he sank the birdie.
"I feel comfortable because I've hit a lot of putts on that hole," Wysocki said. "I've hit like three of them from a similar spot. It's weird. When I make a big putt in the tournament I kinda feel like I'm confident in that spot, and that's exactly what happened today."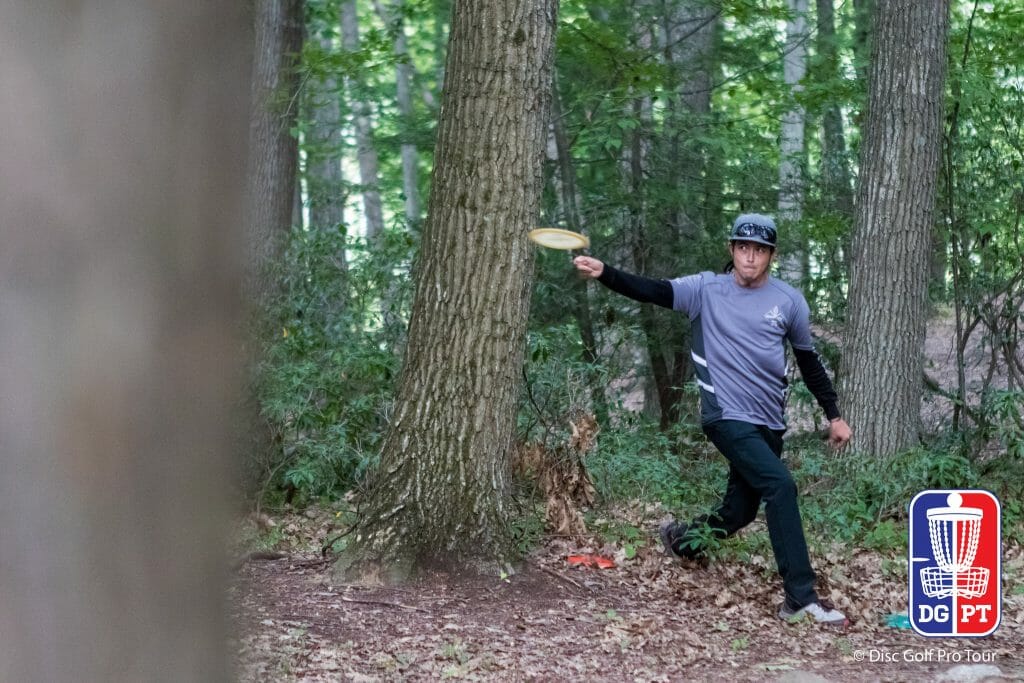 That won't be the only parallel to 2015 as action kicks off this afternoon. Both Wysocki and Barsby were on that year's final round lead card, as well, with the 30-year-old Californian holding a two-shot lead as late as hole 13. Blustery conditions also impacted play that day, and the similarities were not lost on Barsby.
"Isn't that crazy?" he asked.
Still, he was reluctant to gaze too far back as he aimed for a signature win at a signature event.
"Yeah, I've thought about it a couple times," Barsby admitted. "Last time was a different story, and I played a really hot front nine and ran Paul [McBeth] and Rick down again after the third round, and then didn't finish the way I know I could. It just comes down to playing the best I can. We have history here, and it just comes down to both of us being focused and playing the course."
The pair will have more than just Maple Hill, or each other, to worry about. Sexton notched his best showing of the tournament with his bogey-free round, scrambling with 100 percent success and connecting on all of his putts inside the 10-meter circle. That's easy to do when you're second in the field in parked shots (22 percent), which has made his average distance on successful putts just over 12 feet. Doss employed a similar strategy during his 1062-rated affair, as his longest putt came from a mere 27 feet.
Conrad, on the other hand, brings the ability to connect from long distance, as he nailed an 80-foot throw-in for birdie on hole 1 yesterday and followed up with a 50-footer on hole 2. McBeth also converted two 50-footers, and the 2014 Vibram Open Champion has comebacks in his blood.
Barsby, though, was simply focused on getting the most out of his game as he tries to clear the hurdle he couldn't jump at the 2015 Vibram and, more recently, the European Open in July.
"I gotta go out there and play the best that I can, and I don't think I've done that yet," Barsby said. "I don't think I've played to my potential, fully, on the course, as far as what I'm truly capable of. I've gotta get the putter rolling — the putter's been really slow."
Wysocki used the same word — potential — to describe his final round goal, as he's made some adjustments to his putting mechanics throughout the tournament to get some longer shots to drop. And with the weather set to turn, he was ready to embrace the chaos as the tournament entered the fourth quarter.
"Some people are like, 'Oh, I hate the rain,'" Wysocki said. "But me? I'm like, 'Yeah.' I've kind of convinced myself to like it. That way, I have a good mindset."
The lead card tees off today at 3 p.m. Eastern and will be broadcast on the Disc Golf Pro Tour's YouTube channel, with real-time scoring and statistics available on UDisc Live.