Pierce, Allen remain within striking distance with rain in the forecast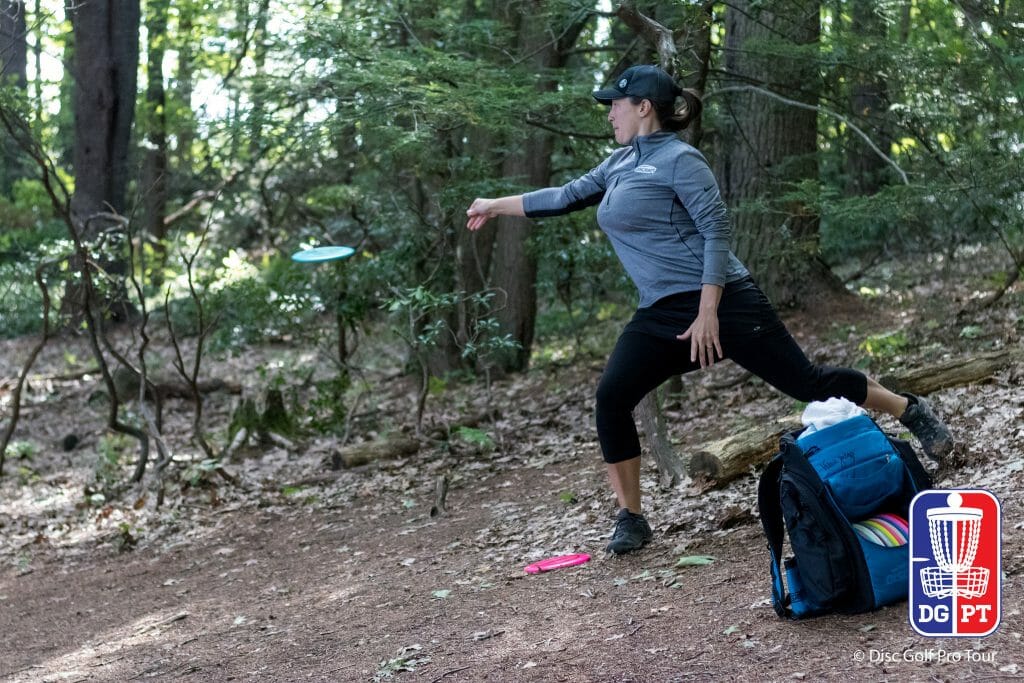 Ultiworld Disc Golf's coverage of the 2017 Vibram Open is presented by the Disc Golf Pro Tour; all opinions are those of the authors. Catch up on everything DGPT here.
Valarie Jenkins' lead at the Vibram Open was down to three strokes at the halfway point, but after a 980-rated third round she's doubled that total and looked nearly untouchable in the process.
Jenkins carded the hot round on yesterday with a 4-under par 58 performance that brought her three-day total to a 5-under par 181. Paige Pierce and Catrina Allen both managed 1-under par 61 rounds in their attempts to chase down Jenkins; Pierce now sits in second place at a 1-under par 187, and Allen is in third with a 2-over par 188. Jessica Weese also carded a 1-under par 61 to move up two spots into fourth with a 5-over par 191 total. Vanessa Van Dyken dropped one spot to fifth after a 1-over par 63 round took her total to a 6-over par 192.
Jenkins' dominance to this point hasn't been a matter of out-pacing the field by scoring birdies, as one might expect. Instead, her success can largely be attributed to clean play that has resulted in the best par percentage and lowest bogey-or-worse percentage of anyone inside the top 5. Indeed, Jenkins has accounted for just 1.8% of the 455 holes over par out of the 1,188 total holes played by the field through three rounds.
Unlike her second round, there was no inauspicious start to Jenkins' performance yesterday. She opened the day with six straight pars and a birdie on hole 7, hitting from 40 feet to go 1-under par through the front nine. Jenkins birdied hole 10 for the third straight round, and didn't log the lone imperfection on her card until missing a putt on hole 13.
But just like after every small mistake on this event, Jenkins responded quickly. She picked up three straight birdies from holes 15 through 17, parking each one for tap-in putts. Her success has also been repeatable: In addition to hole 10, Jenkins has also birdied holes 16 and 17 in all three rounds.
While Jenkins put up another consistent scorecard, Pierce and Allen were again plagued by relatively strong variance in their results. The pair carded near equal amounts of birdie and bogey strokes on both the front and back nines, with missed putts erasing what was were otherwise solid greens in regulation percentages.
Further down the leaderboard, Melody Waibel carded the second hottest score on the day, as her 3-under par 59 moved her total to a 10-over par 196. That result helped the Oregon pro stay well clear of the cut line, which sees just the top 12 players in the field continue to the final day. Local New England pro Nicole Dionisio, from Maine, was the final player to make the cut after her 4-over par 66 was good enough to move up one spot with a 19-over par 205 total. Notable names to miss Sunday are Hannah Leatherman, Courtney McCoy, and Haley Childs.
Cool temperatures, rain, and significant winds are expected throughout today's round, which could make scoring under par all the more difficult at Maple Hill. The final round lead card of Jenkins, Pierce and Allen tee off at 9:30 a.m. local time. Follow all the real-time scoring at UDisc Live, and watch for video coverage of the final round played throughout the Open broadcast at 3:00 p.m. on the Disc Golf Pro Tour's YouTube channel.