Four-time PDGA World Champ keeps her lead; Pierce, Allen, and Van Dyken battle cool temperatures with hot rounds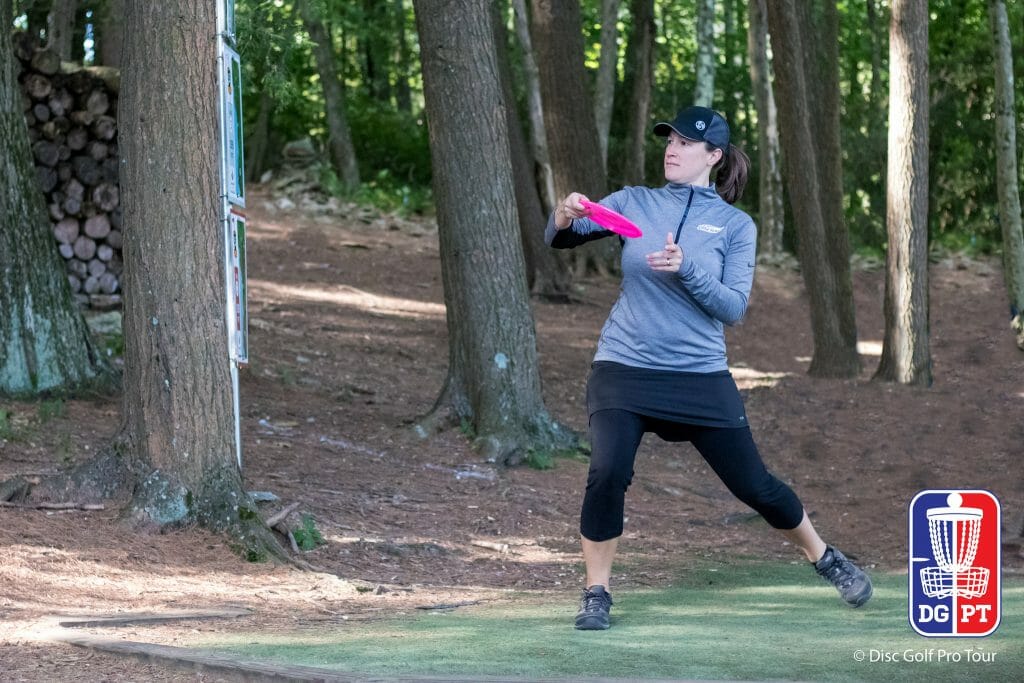 Ultiworld Disc Golf's coverage of the 2017 Vibram Open is presented by the Disc Golf Pro Tour; all opinions are those of the authors. Catch up on everything DGPT here.
The difficult Maple Hill course wasn't the only challenge facing the Open Women's competitors during the second round of the Vibram Open yesterday: Their early morning tee times featured temperatures in the 40s and strong winds that even penetrated the heavily wooded section of the course.
Despite the difficult conditions, Valarie Jenkins was able to maintain her lead, though it narrowed from five strokes to three after her 2-over par 64 brought her to a 1-under par 123 total. She leads Paige Pierce, who tossed an even-par hot round to give her a 2-over par 126 at the tournament's halfway point. Catrina Allen and Vanessa Van Dyken matched Pierce's round two pace, which moved Allen into third place with a 3-over par 127 and Van Dyken into a fourth place tie with Zoe Andyke at a 5-over par 129.
In contrast with her first round, Jenkins had difficulty off the bat in round two. She bogeyed the first hole, missing a putt inside the circle for par, and missed a birdie putt from outside the circle on hole 2, which she had parked on the first day.
"I felt like I threw pretty good shots, but today the deciding factor was the wind," Jenkins said. "Again, we're still teeing off at 8:40 in the morning. It was about 45 degrees and wind was just swirling. It was pretty strong. Even off the very first tee this morning you knew the wind was going to have something to do with it. I think I did pretty well taking the wind into account, given how difficult the course was playing today."
Jenkins bogeyed holes 5 and 6 after missed scramble attempts but, just like on day one, she battled back after the adversity. The four-time PDGA World Champion carded her first birdie of the round on hole 7, canning an anhyzer putt around guardian trees from 50 feet. She then corrected her lone error from round one, finding the green and a par — instead of the water and a bogey — on hole 8. After another birdie on the uphill 10th, Jenkins was challenged with a number of difficult looks after inaccurate drives throughout the back nine.
"There's a lot of par 4s out there, so I did have some tougher lies," Jenkins said. "But I think once I got into those positions and knew I had to hit a harder shot, my game plan was to go for par. So I saved a few shots that were maybe off the fairway, or my second shot wasn't so good. But I knew saving par was good and, whatever — I was losing a stroke on that hole, maybe, but I knew I was getting par and playing steady still."
Jenkins' lone penalty stroke on the day came on hole 14, on the demanding tee shot that requires an extended water carry.
"I hit basically where the basket is, just really low," Jenkins said. "My shot was wider than it should've been, so it didn't come back in bounds. I made a good upshot from the drop zone and saved my 4. Just one of those holes. I was just thinking in my mind, like, 'Oh I just kind of flip-flopped with hole 8 [from round one].'"
Again Jenkins rebounded, carding birdies on holes 16 and 17 and a par on 18 to finish out her round with a three stroke advantage.
Pierce opened with an out-of-bounds penalty trying to attack the heavily guarded green on hole 1, which resulted in a bogey. Her drive on hole 2 had too much turn and flipped right, sailing over the OB rock wall early before reaching the green. Still, she was able to save par by sinking a 50-footer.
Pierce's only other blemish on the front 9 came in the form of a missed-putt bogey on hole 5, as she parred her way through hole 10 thanks to a number of successful scramble attempts. Her approach shot on hole 11 stayed barely above the Christmas tree tops and landed inside 10 feet for her first birdie of the day. After her final bogey of the day on hole 13, Pierce added birdies on 16 and 18, putting her approach on the final hole under the pin.
Allen's second day of competition was a tale of two halves. She began the front nine with two straight bogeys, then added three more after having difficulty finding the fairway on the early run of par 3s. Allen turned things around on the back nine, though, parking her approach for birdie on hole 10, and hitting circle 1 in regulation for another on hole 11. Her approach accuracy was through the roof down the stretch, as she birdied the final three holes with drop-in putts.
Slovakian pro Katka Bodová, who has jumped across the pond for an extended tour through New England and to compete in the United States Women's Disc Golf Championship, made the biggest move in the standings yesterday. She jumped six spots, clear of the cut line and into eighth place after a 4-over par 66 round moved her total to a 12-over par 136. Andyke was one shot away from staying on the lead card for a second day in a row before her missed putt inside the circle on 18.
With one round left to make the cut — only the top 12 players in the field advance to Sunday's final — a few well-known players are in danger. Lisa Fajkus, Melody Waibel, Sarah Hokom, and Hannah Leatherman are all flirting with the line, as they are tied for ninth place with 13-over par 137s. Nicole Dionisio and Haley Childs currently are on the outside looking in with their 15-over par 139 and 17-over par 141, respectively, but can see Sunday with strong showings today.
Wind and cool temperatures are again in store for the third round, with rain forecast for Sunday. With the inclement weather all but certain, Jenkins said she plans to stick with the same approach on the course: playing for pars and taking the opportunities to score when they come. The lead card of Jenkins, Pierce, Allen, and Van Dyken tees off at 8:40 a.m. local time, with real-time scoring available on UDisc Live.