Masters, Conrad tied for second at tournament's midway point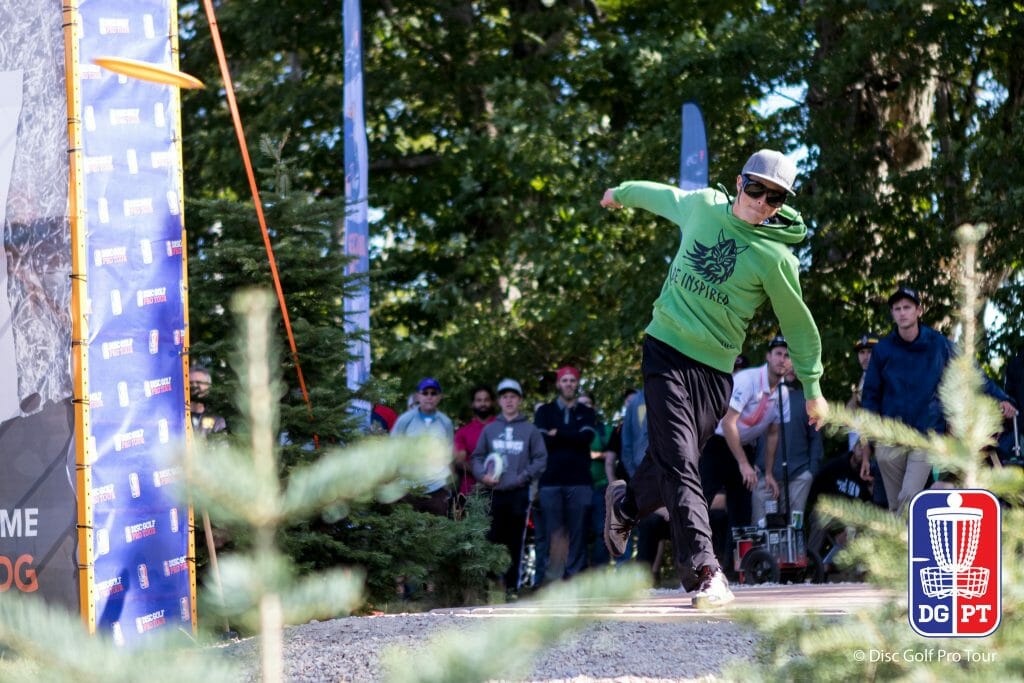 Ultiworld Disc Golf's coverage of the 2017 Vibram Open is presented by the Disc Golf Pro Tour; all opinions are those of the authors. Catch up on everything DGPT here.
Now in his 15th season as a pro, Gregg Barsby more than qualified as the most senior player on yesterday's Vibram Open lead card. At only 30 years old, though, he's not old, by any stretch of the imagination. He's just experienced.
"I feel like the elder guy in a sense, just because they know [how long I've played], and I know," Barsby said. "But it's not like that."
Indeed, the California native proved the only byproduct of his age is some veteran savvy, which he used to deftly maneuver through the woods of Maple Hill and put down an 8-under par 52 hot round. The performance found Barsby opening up a three-shot lead through 36 holes at the Vibram Open, as he moved to the top of the leaderboard with a 14-under par 106 total. Nicholas Masters, the Florida pro who is 10 years Barsby's junior, hung tough on the lead card with a 4-under par 56 to bring his two-day total to an 11-under par 109. He shares second place with James Conrad, who tossed a 5-under par 55 to move up one place in the standings, while Nikko Locastro, Nate Sexton, and Ricky Wysocki are tied for fourth place with 10-under par 110 totals.
Barsby's 1072-rated showing matched his best round of the season, which he logged during the opening day of the European Open in July. He's currently leading the Vibram field in three crucial statistical categories — fairway hits (75 percent), parked shots (28 percent), and circle 2 green hits in regulation (69 percent) — and attributed his strong start to the extra time he spent at Maple Hill prior to the event.
"I feel comfortable on the course, been here since last Tuesday," Barsby said. "I took a few days off, but feeling comfortable, I think, is the most important thing."
The extra practice was evident as early as hole 4, where Barsby was the only player on the card to put his tee shot on the downhill 250-footer next to the pin. He followed that by lofting a forehand out over the pond that runs along hole 5, leaving the shot parked next to the elevated basket for another easy deuce. By hole 6, which played as the course's most difficult at 0.98 strokes over par, it was clear he was on fire. He bent another forehand through the wooded corridor that defends the basket from unwanted birdies and was left with a 20-foot look for 2.
That's where Barsby experienced his first real adversity of the round, though. With an increasing tailwind to contend with, he tossed his putter toward the upper half of the chainset. The disc spit onto the ground, quickly turning a bonus birdie into a disheartening par.
"Obviously that's a frustrating moment, [to] throw the best drive anyone can imagine [and still par]," Barsby said. "I mean, I've just got to remind myself I'm one of the best putters, and I have been for a long time. So, you know, gotta stay on it. Luckily, I had a few that I put close after that so that I didn't really have to putt. That makes a big difference, when you're really accurate and you can get it right by the pin and you don't have to earn as many."
Case in point: Barsby's drive across the water on hole 8 caromed off a branch and nearly landed in the basket for an ace, leaving him with an easy clean-up putt. Though he couldn't convert from a knee to save par on hole 9 — that hole accounts for his only bogeys during the tournament — he flawlessly executed a standstill forehand approach on hole 10 to leave yet another short conversion. It was the same story through the rest of the back nine: Aside from hitting a 40-footer to gather some raucous applause on hole 12, Barsby simply sliced and diced his way around the track and rarely left himself with anything more than the most routine of putts.
Masters, on the other hand, had a performance replete with the highs and lows to be expected from a 20-year-old making his Disc Golf Pro Tour lead card debut. Wearing a Sockibomb-branded polo as he stepped up to hole 1, Masters teed after his mentor and pulled his drive too hard right, flipping it into the out-of-bounds pond.
"I was so nervous coming up on the first hole," Masters admitted. "I'm playing with someone [in Wysocki] who sponsors me and has really helped me out a lot. Barsby's a great friend. Nikko's really cool, I played with him at Worlds. I was just very nervous the first hole, and it kinda showed."
The jitters carried into the next couple shots, as Masters struggled to find the fairway on holes 2 and 3 but managed to scramble for pars. He finally hit his stride at the same spot Barsby did, canning a 45-foot putt as he challenged the water on hole 4.
"I had an old coach tell me by hole 3 you should probably have the nerves shook off, so by hole 3 I was feeling good," Masters said. "Hole 4, it showed."
As he waited to tee on hole 5, Masters truly started to look like he was in his element, as cameras caught him casually twirling a red driver on his finger just behind Barsby.
"At that point I just kinda had to find myself in the group," Masters said. "They're kinda stylish and all personality, so I was just kinda finding my way through. And I finally did, you know?"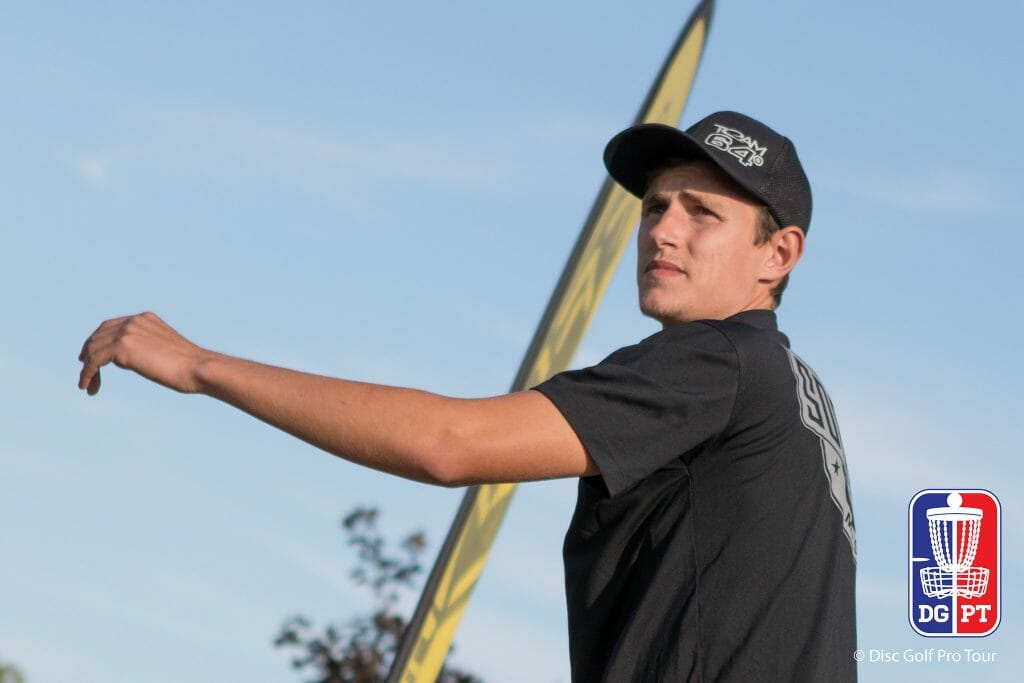 That's not to say that Masters didn't bring his own flair to the card. He smashed a 60-footer for birdie on hole 7, then parked his drive across the pond on 8. He fired another highlight reel shot on the downhill, 405-foot 13th, when his drive with a Dynamic Discs Judge hit the pole.
"The first round yesterday I didn't flip that Judge enough," Masters said. "…I was just happy to hit my shot, honestly. It hit the pole — that's like a bonus, you know, and everyone gets kinda excited about it. It would have been nice to go in, but I'm happy with a birdie there."
Masters did hit some late struggles, bogeying holes 16 and 18 to drop him further off the lead. Nonetheless, Barsby was impressed with what he saw from the up-and-comer.
"It was great to play with him," Barsby said. "I looked up at the scoreboard once and saw we were tied and it was cool, just thinking, 'Nice, man.' This young kid's really put the time in. I talked to him earlier in the year, we played some rounds. He's in for the game. He loves the game, so that's what really comes through."
Wysocki started strongly on the lead card, parking a forehand approach for a tap-in birdie on hole 1 before getting a lucky tree kick to stay in bounds on hole 2. That good fortune quickly turned south, though, as Wysocki spent much of the round spraying off the fairway and scrambling to score. He recovered with three straight birdies to close the round, though, salvaging what could have been a disastrous performance.
Though it was only day two at Maple Hill, a look at other scores could have it confused for moving day. Chris Clemons jumped up two slots and into seventh place with his 4-under round, while Grady Shue rocketed from 37th to eighth with an 8-down. He shares that spot with Paul McBeth, who improved by four strokes over his round one showing with a 6-under par 54.
"Just smarter decisions, I'd say, smarter choices," McBeth said. "A lot of my bogeys [Thursday] were just off of easy, easy upshots and I just made mistakes, so this round I cleaned it up. I actually had more opportunities for birdie today, but I missed quite a few that I could have had."
McBeth also closed the round with a flourish, throwing in his Nova for a 130-foot eagle on the same 18th green as he did during round three of the 2016 Vibram Open.
"Just showing that it wasn't a fluke, you know?" McBeth said with a laugh. "…I did say I was gonna do it. I called it going in. I told Simon [Lizotte] walking up, because he hit the tree…I was like, 'It looks like you're gonna have to watch me put this one in now.'"
The day's biggest move went to A.J. Risley, who climbed 34 places in the standings with a 6-under par 54. He now sits in a 16th place tie with Jeremy Koling at a 5-under par 115 overall.
Heading into round three, Barsby said he would look to sharpen up his putting in an effort to remain at the top of the podium. And as the cacophony behind him grew and he described the cheerful celebration that is the Vibram Open, he almost seemed to give himself some advice on how to do that.
"The vibe's great," Barsby said. "People are enjoying the environment, enjoying playing the game, which is awesome. People are really – it seems like everyone's just living in the moment, which is awesome."
That moment starts today at 3:30 p.m. Eastern, when Barsby, Masters, Conrad, and Locastro take to Maple Hill for the lead card on the Disc Golf Pro Tour's YouTube Channel.