McBeth two shots back after strong opening round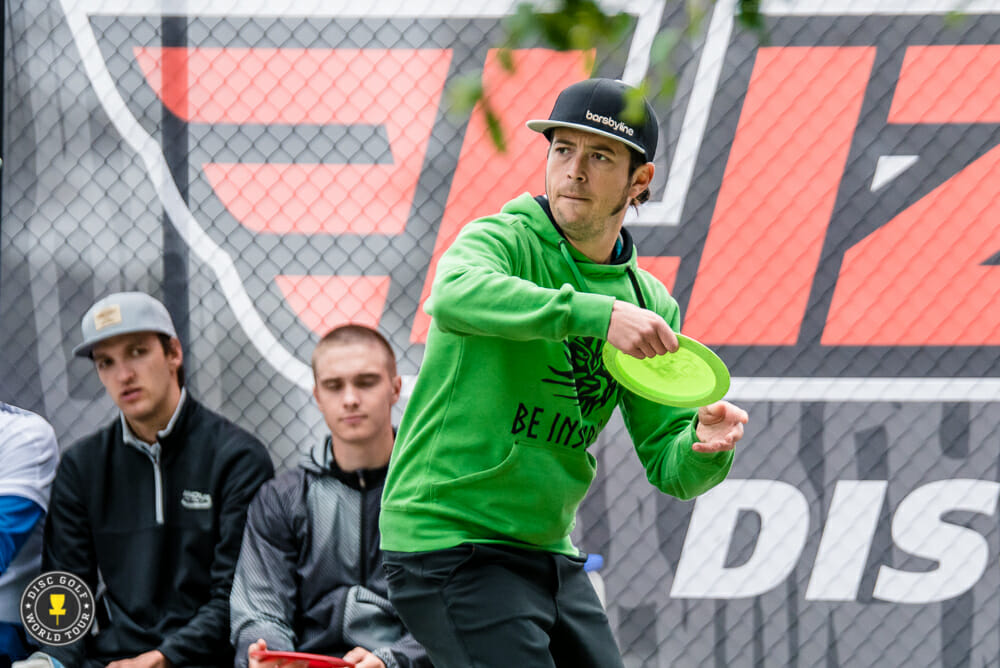 Of the 28 players who are rated 1000 or better at this weekend's European Open, Gregg Barsby and his current 1015 clip sit squarely in the middle of the pack. So while the Northern California pro may not always fall into the same conversation as contenders like Paul McBeth, Ricky Wysocki, and Simon Lizotte, he's not exactly flying under the radar. And he knows it.
"I don't think any of the guys that I play with on the regular — I don't think they feel like I'm sneaking up on them," Barsby said. "They know who I am, and when I play well I'm playing right with them."
Barsby proved that yesterday, taking an early two-shot lead after one round in Nokia, Finland, with an 11-under par 53 at The Beast. He'll share second round lead card honors with McBeth, who tossed a 9-under par 55 to land in second place, and K.J. Nybo, whose 8-under par 56 finds him in third overall. Nate Doss headlines a three-player group who finished tied for fourth place with 7-under par 57s and will round out the premier group.
Barsby's hot round clocked in at a 1071 rating, his best of the 2017 season. He hit the green in regulation on 44 percent of The Beast's holes and strung together two separate three-birdie streaks on the way to his bogey-free finish, which featured a mere two penalty strokes on the Open's notoriously OB-lined fairways.
"Yeah man, crazy. I just tried to play a good round," Barsby said. "The course is manageable, but then again [if] things start going wrong they can go wrong in a hurry. Just tried to keep the wheels on."
He did that in particular on the putting green, where he connected on 90 percent of his attempts from inside the 10-meter circle. Three outside-the-circle makes added to the mix, even on a day where Barsby admitted that his stroke wasn't up to snuff.
"There's a ton of stuff running through my mind — most of it's trying to stay within myself and play my game," Barsby said. "My putting doesn't feel as sharp as it could be, although I did make some conversions today…Tried to slow it down on the green, try to slow time down and really get these ones — send 'em home."
McBeth, meanwhile, also said he hit some putting hiccups. Though he made two from long range, his 80 percent rate from inside the circle was down from the 89 percent pace he has established during this season's two previous Disc Golf World Tour events.
"Missed two birdie putts early in the round inside the circle, and then another one at the end — three in the circle I should have made," McBeth said. Other than that, I played well — minus the last hole."
Indeed, the 211-meter (692-foot), par 4 18th spoiled McBeth's chances at tying Barsby for the day's best score. The defending European Open champion saw his drive on the final hole earn the red OB flag, which contributed to his lone bogey on the scorecard. And McBeth wasn't the only player to experience late-round woes: Wysocki went out-of-bounds twice on the hole — first off the tee, and then again on the approach — en route to a double bogey 6. That crooked number ended a disastrous closing sequence for Wysocki, in which he carded four strokes over par on the final three holes to plummet to 19th place.
Though McBeth wasn't ready to count Wysocki out, he did say that playing from behind in Nokia is a tall order.
"If someone shoots four consistent rounds it'll be tough to come back, because you'd almost have to go double digits [under par] the rest of the way," McBeth said. "It's really hard to get strokes here, but it's really easy to give them away."
Lizotte also hit some late hurdles after beginning the day with four consecutive birdies. The German pro went out-of-bounds three times in the last four holes and carded bogeys on 17 and 18. Still, his 6-under par 58 finds him in a seven-way tie for seventh place and on today's chase card, where he's looking for some better behavior from spectators than he experienced during round one.
"The gallery was tough today," Lizotte said. "It was phones going off more than I've ever heard before. All the time, just people whispering in the background. It was — I don't really get annoyed, but I was a bit irritated."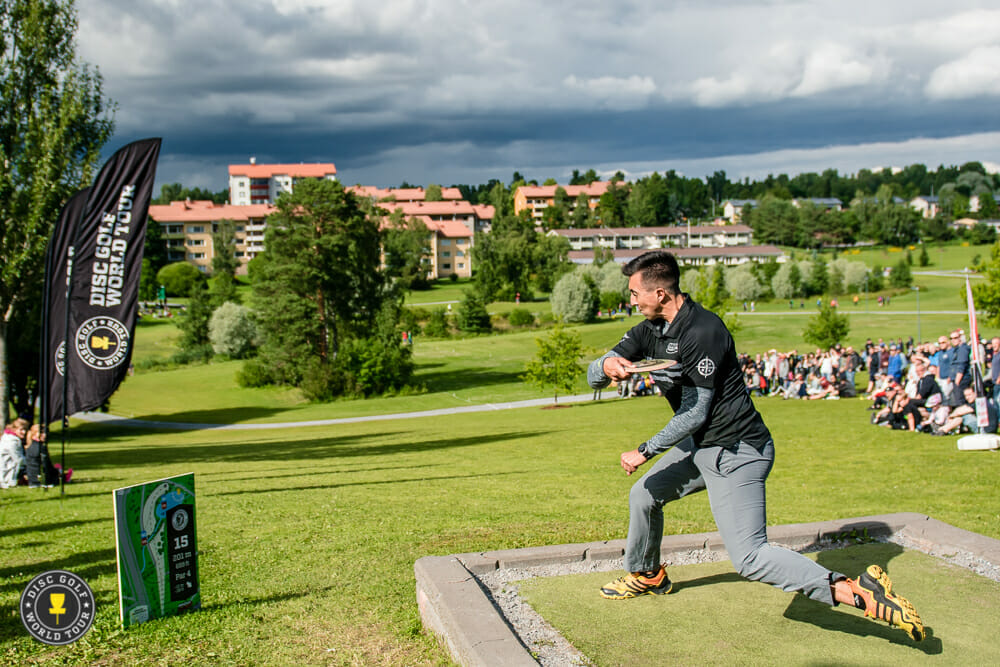 Elsewhere on the leaderboard, seven players — including Jeremy Koling, Dave Feldberg, and Devan Owens — kicked off play with 6-under par 58s to tie for seventh place, while Nate Sexton returned from the birth of his first child with a 4-under par 60 to land in a 19th place tie. Two young Americans with high hopes coming into the tournament, though, struggled to tame The Beast: Eagle McMahon is currently tied for 51st place after an even par 64, while Austin Turner carded a quadruple bogey 9 on hole 3 to contribute to his 6-over par 70. He is tied for 95th place overall.
As he tries to overcome a five-shot deficit, Lizotte admitted he is "feeling a little off" physically. His injured back is still a bit tense, he said, and he hadn't played consistently over the last few weeks as he took some time at home after Worlds.
"I have no game plan right now," Lizotte said. "I'm just throwing Frisbees. Every throw I throw is basically a surprise to me if it ends up good or not."
Barsby, meanwhile, planned to stick to his own blueprint. He said he knew what to do on the ending stretch that had thrown a kink in most players' scores, and that he was ready to lean into the larger crowds he'll experience on the lead card.
"Obviously the energy will be out there, and I just need to learn to cope with it and work with it, I think," Barsby said. "Kinda just embrace the moment, enjoy myself while playing."
And if those wheels Barsby spoke of before do start to come off, he might keep an eye out for some fans who share his affinity for one of Finland's favored styles of music to get him back on track.
"This is the land of metal, man, for sure," Barsby said. "Hopefully — hopefully — there's a few metalheads out there tomorrow. I'll just kind of vibe with them, you know?"