Pierce finishes in second, while Fajkus jumps into third on final hole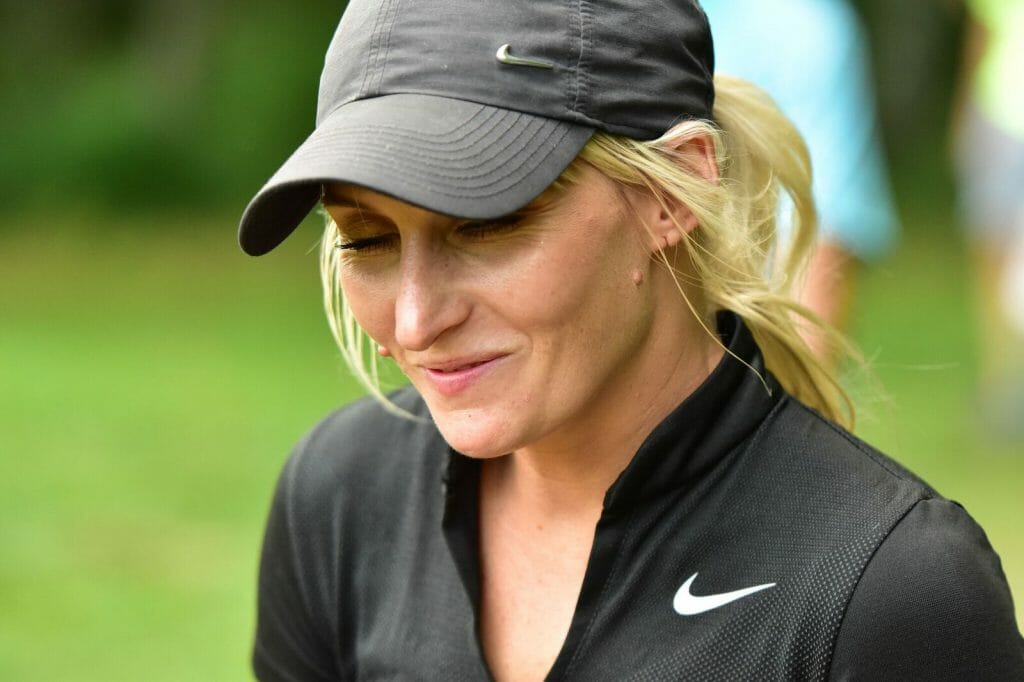 Ultiworld Disc Golf's coverage of the 2017 Pittsburgh Flying Disc Open is presented by the Butler County Sports Commission; all opinions are those of the authors. Find out more about disc golf in Butler County here.
Catrina Allen entered the final round of the Pittsburgh Flying Disc Open with just a two-stroke advantage over Paige Pierce, but left with an eight-stroke win after a 1008-rated performance. The victory is her first on the PDGA National Tour in 2017 and comes just over a month after her biggest win of the season at the European Open.
Allen's final round 9-under par 57 was the best score posted in the division during the event and brought her three-day total to a 19-under par 179. Pierce came up eight strokes short in second place after struggling through some early round errors off the tee. Her final round 3-under par 63 took her total to an 11-under par 187 for the event, while Lisa Fajkus' 2-under par 64  moved her into third place with a 7-under par 64 total. Sarah Hokom's 1-over par 67 Sunday resulted in a 5-under par 193 finish for fourth place.
"It feels amazing," Allen said, letting out a sigh of relief. "I don't feel like I really had an errant tee shot [all round], and even if I kind of did, I felt like I was still getting through. I think I just felt really comfortable off the tee and it really set me up to have looks for birdie and easy pars."
While Allen and Pierce traded the lead throughout the first and second round — they were tied after Friday and just two strokes apart after Saturday — their respective starts to the third round could not have been more different.
Teeing first, Allen went with a backhand roller on hole 1, which carried 30 feet past the pin on the 342-footer. From there she had an easy forehand pitch out for a drop-in par. Pierce turned her backhand drive over too soon, but got a favorable kick left to just beyond halfway to the basket. Her forehand upshot skipped and rolled well past the pin, though, and her par save attempt from 25 feet was low off the cage as she settled for bogey.
Things didn't get any easier for Pierce on the densely wooded, uphill hole 2, which plays at as a par 4 at 381 feet. Her tee shot hit an early tree and kicked far left, leaving a rescue shot toward the fairway as the only option. Her approach to get up and down for a par again caught a tree and was knocked down early, and she pitched up to the green and settled for bogey. Allen got another stroke with a birdie, widening the gap between the two to five strokes.
Pierce got things going on hole 3 with a strong birdie putt from just inside the circle, but couldn't gain any strokes as Allen was in for her own birdie from 10 feet. That pattern continued, as the two matched each other through hole 7 and the margin stayed at five strokes.
Hole 8 ended that run, though, as Pierce's backhand hyzer came up short and left of the gap in the trees halfway to the pin. Allen placed her drive in the ideal landing zone and Pierce rushed a forehand roller that got caught up in the right side rough after gaining roughly 60 feet of distance. Pierce saved par after hitting a jump putt from beyond 40 feet, but still lost a stroke as Allen's forehand upshot landed inside 20 and she converted for birdie.
Going into the final round, Allen said she wanted to begin the day putting well after taking some early misses in round two, and her six birdies on the front nine yesterday proved she made the correction. She only carded a single bogey during the round.
"I might have missed two inside the circle," Allen said of her front nine. "But I felt like I was putting for birdie on almost every hole."
Strong tee shots kept Allen out of trouble as the back nine began, consistently giving her opportunities for easy pars. On hole 14, a heavily wooded, 471-foot par 4, her roller off the tee left her with an easy finish for birdie.
"Mentally I was just here a little better, where yesterday I felt just kind of a little like — I feel like it's never about the form or what I'm doing," Allen said. "It's about getting there mentally, and today I felt I was actually able to focus, and for some reason I felt a little distracted yesterday and that was actually, honestly the difference for me. I felt more confident today."
That poise was on display down the stretch, as Allen birdied three of the final four holes to hold off Pierce, who matched Allen's birdies to close play.
"I know that I can never count Paige out, because she could birdie the last nine holes," Allen said. "So I try not to let go or let up or get lackadaisical, you know? I have to keep pushing. And I feel on this course, because I felt so comfortable, I could do that. I didn't have to change my game plan, or I was never like, 'I've got five strokes, so it's over now.' I tried to keep that as far back in my mind, and just keep focusing on the tee shots and getting myself in position."
But Allen did admit to checking the scores before her final tee shot on 18, where she saved perhaps her most impressive drive of the day for last. Her backhand shot flipped up to flat and finished in the center of the fairway and just short of the OB ditch in front of the basket.
"It was kind of the icing on the cake," Allen said. "And I actually did look [at the leaderboard] to see what I was at and was like, 'That would be really awesome to play a better round on the longer pin positions than I did on the shorts,' because I even felt really great about my 58 on the shorter positions [in round one]. So it was definitely — even though I knew I had like eight strokes, it still felt really good to get that tee shot and just lay up stress-free."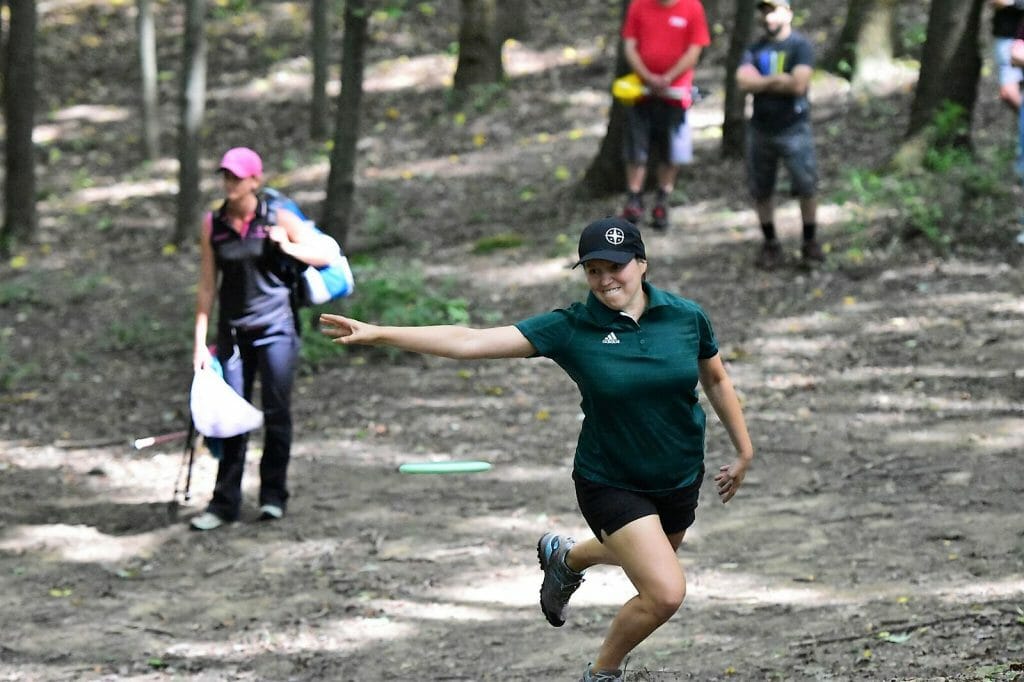 Fajkus recovered from a one-stroke deficit on the final hole after her approach shot slid onto the green to leave her with a 15-foot birdie putt. That allowed the Texas pro to jump ahead of Hokom, after the latter's second approach attempt found the OB right of the green to result in a bogey and a two-shot swing.
"That was probably my number one shot of the day, which is really clutch because it came as my very last shot of the day, minus the putt," Fajkus said. "So just to build up to a shot like that — wow. I mean, I did not know there was OB on the right side where Sarah found it, and then when I saw my lie I was just basically surrounded by OB left and right, and I was in the little strip in the middle and I had a 10-footer. It's such a game of chance, but I'm super happy with how I placed my shot right there where I needed to."
Allen credited her success in Pittsburgh, after a comparatively difficult start to the season, with adjusting expectations for her play and simply enjoying being out on the course.
"I just had to let go of all the pressure I normally put on myself because I have so much other stuff going on," Allen said. "And not even, like, not caring, but not taking it as seriously as I did in, say, 2016, where I wanted to win every weekend and I didn't accept anything but that. Where if I did that to myself right now with what's going on, I would end up being even more stressed."
Allen is set to take her new outlook with her as the pro circuit heads to Massachusetts. There, she can enjoy the similar wooded confines of Maple Hill and the Vibram Open, which begins on Thursday.