Late chain-out bites Pierce, while Hokom and Fajkus spar for third place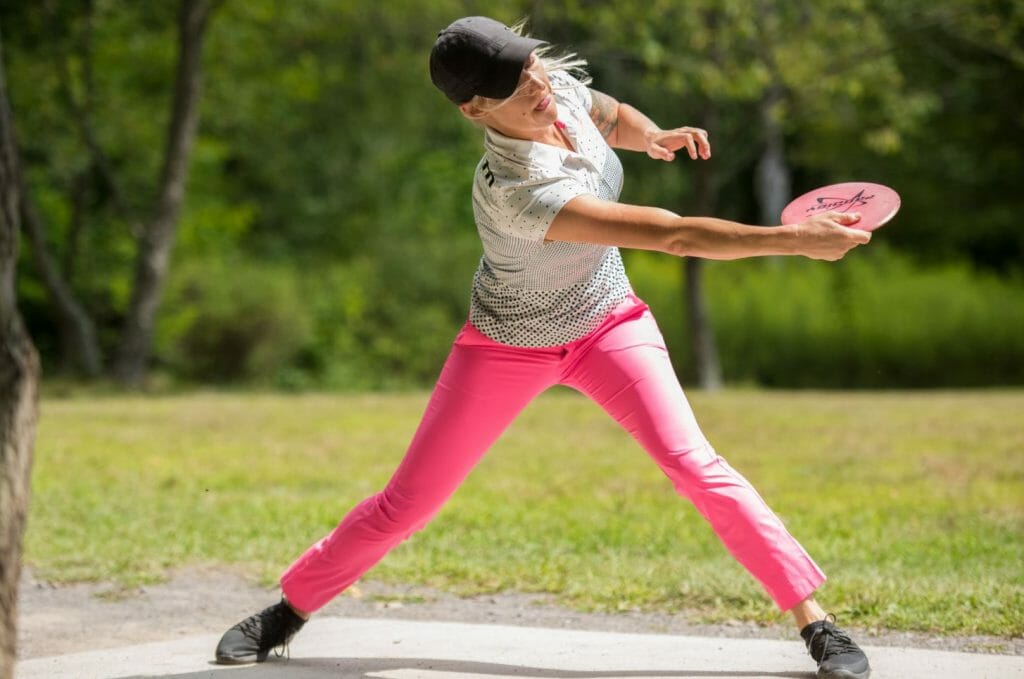 Ultiworld Disc Golf's coverage of the 2017 Pittsburgh Flying Disc Open is presented by the Butler County Sports Commission; all opinions are those of the authors. Find out more about disc golf in Butler County here.
With the pins extended during round two of the Pittsburgh Flying Disc Open, Catrina Allen and Paige Pierce went from coasting on Friday to a roller coaster Saturday, with Allen getting more thrill from the ride.
Allen's second day 2-under par 64 was enough to grab the lead and move her total to a 10-under par 122, while Pierce's even-par 66 brought her total to an 8-under par 124. Sarah Hokom carded the hot score on the day, a 3-under par 63 that took her two-round total to 6-under par 126, and Lisa Fajkus ended the day also at 2-under, putting her in fourth place with a 5-under par 127.
Both Pierce and Allen began the day collecting birdies, but also missing opportunities to score. Pierce's aggressive tee shot on hole 2 went long into the OB ditch, then Allen missed a birdie putt low on hole 3. Allen could not capitalize on two excellent shots to start the par 5 6th, as her upshot went long and she missed her birdie bid low. Pierce struggled to a bogey, and Allen walked away from the hole gaining only one stroke where two were in reach.
The missed opportunity stuck with Allen, as more offline upshots and failed putts derailed the progress she made with quality tee shots through the rest of the course's first half.
"I feel like I'm not doing anything amazing," Allen said. "Just there were four holes in a row on the front nine where I didn't get up and down where I would normally get up and down or I missed the putt."
Allen turned things around with a birdie on hole 10, and Pierce answered with a birdie putt from outside the circle on hole 11. They each carded bogeys on the par 4 12th, and both scrambled with ease on hole 14 after their tee shots found early trees and left them with over 300 wooded feet between them and the green.
"My backhand roller got me far enough up the fairway that I could just lay up for par," Allen said. "I even thought if I threw it really well I could even have a look for a birdie, but I just didn't put it down with enough angle."
On Moraine's signature hole 15, Pierce went big with a long backhand turnover drive as she attempted to beat the corner and make her distance an advantage. Her tee shot came up short of the ideal landing zone, though, and she was forced to make her approach stretched out from under a large bush. She hit an early tree, and her second attempt to make the green faded out early, leaving her with a par-saving putt from 50 feet, which she missed short.
Allen held a one-stroke advantage heading into hole 16, the second par 5 on the course, where a strong scramble game was again on display from both competitors. Allen's drive failed to make the hill, while Pierce turned her tee shot over and only reached the bottom of the hill. Allen opted for another backhand roller that left her with an easy up and down for a birdie putt, while Pierce's air shot did the same.
"I missed a few putts early, but it felt good to have made a few down the stretch," Allen said. "…I feel like, even when I'm out of position, I feel like I know the course well enough. I know where to get to save the par. I just feel comfortable on the course, I guess is the best way to put it."
Both Allen and Pierce opted for backhand turnover shots on the short hole 17, with Allen hitting the circle and converting from 28 feet for deuce. Pierce's bid from 35 feet chained out, but she was in prime position to neutralize that two-stroke swing on hole 18.
Pierce was nearly pin-high off the tee on the day's final hole, then expertly tossed her jump-putt approach to 20 feet. Allen, meanwhile, was sitting at 15 feet out and looking at a bogey putt on the tough par 4 after an OB tee shot and two approaches. With the tie in sight, Pierce's birdie putt was high, then chained out and rolled into the out-of-bounds ditch in front of the green. The misfortune found Pierce in sole possession of second place instead of in a dead heat heading to the final.
The back-and-forth battle for the lead wasn't the only clash on the lead card, as Hokom and Fajkus traded third place throughout the round. The pair were tied through 14 holes before Hokom took a birdie on 15 after Fajkus' second shot found the rough. Fajkus responded on 16, hitting her birdie putt from outside the circle on the dangerously sloping green. Hokom couldn't match, missing her birdie putt wide right.
The duo each hit circle's edge birdie putts on 17, and moved into the final hole still knotted up. Fajkus attempted to throw her drive on 18 across the OB creek in the middle of the fairway, but it faded out into the left side rough. Hokom declined to test the hazard, instead tossing her go-to Prodiscus Jokeri on a forehand line 20 feet short of the line. Fajkus managed to get back to the fairway, then approached to the green for an easy par look, while Hokom's approach shot skipped past the second OB ditch near the green and inside the circle. From there, she cleaned up one of just two birdies from the division on the difficult finishing hole.
"I just lay up because I can get to the basket from my layup, so I don't see the point in being aggressive off the tee because I can still get there," Hokom said. "So I'm going to throw an easier shot, then throw a more technical shot and then play it out as it is, and even if I go OB down by the basket I still have a putt from inside the circle to save par. So I feel like it's a safer play and it matches my game better."
Further down the leaderboard, Jessica Weese closed out her second round with birdies on holes 16 and 18 and remained in fifth place at an even-par 132 total. Melody Waibel finished the day two at with an even-par round and sits in sixth place with a 1-over par 133 overall.
Heading into today's final, Allen is focused on continuing to put herself in position to scramble for par when needed and not worrying about how close or far off the competition is.
"I feel like I have to keep doing what I'm doing, because it's going to go back and forth because I feel like almost every hole is birdieable for us," Allen said. "So you kind of just have to keep going and not get too upset if you lose a stroke here and there."
Hokom is hoping the good vibes continue during the final round as she looks to work her way to the top of the leaderboard.
"It was fun," Hokom said. "Our group was really lighthearted and just hanging out playing golf together. We had a nice little gallery, so that was good, and we had some lead changes there, some separation. I'm a little closer to the top now. It'll be a battle across the board."
Hokom also revealed what she'd be doing on the evening before the final round.
"Go McGregor!" she exclaimed. She was pulling hard for the Irish mixed martial artist to take out Floyd Mayweather in their bout last night.
In true pugilist manner, she quickly reiterated: "It's going to be a battle tomorrow."
Of course, they'll be throwing discs, not fists, out at Moraine.