Jenkins takes home second place trophy after playoff with Blomroos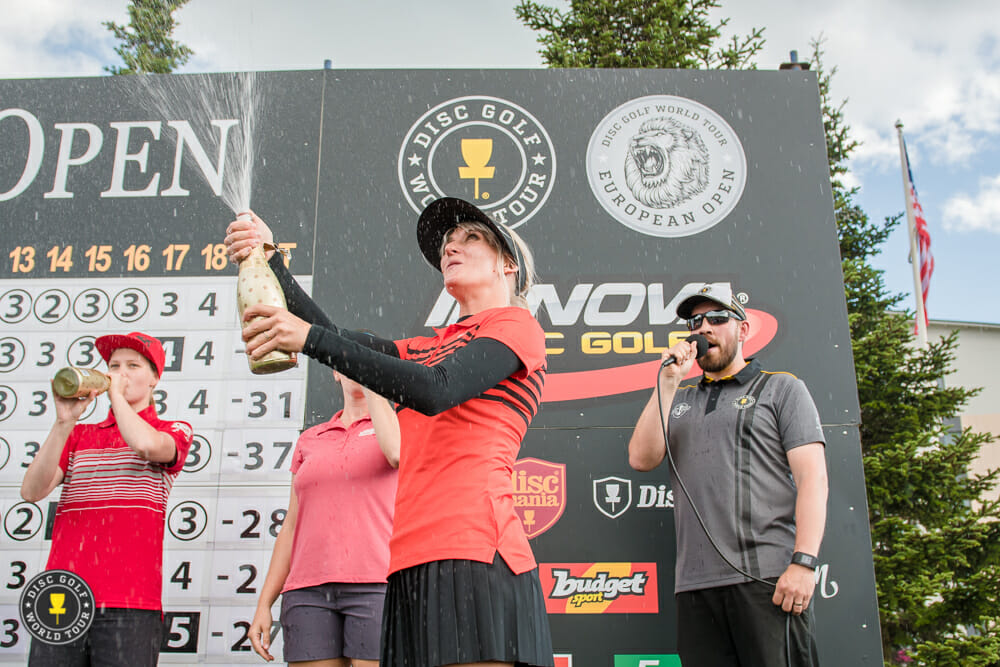 Though she was raised in Minnesota and resides in Arizona, Catrina Allen has enjoyed plenty of career success in Europe. With a résumé that already boasted three PDGA Major victories on the continent, Allen added another to her trophy case this weekend by taking down a wire-to-wire win at the European Open in Nokia, Finland. Not only was it her second straight European Open title, but it was also her first Major since her 2015 triumph on the same turf.
Suffice to say, she's happy for any chance to jump across the pond.
"If I could play in Europe all year, I would," Allen said. "I love it here. This one feels amazing."
Allen finished off the event with a seven-stroke margin, maintaining the same lead she enjoyed after the third round. Her final round 8-over par 72 score moved her finishing total to a 15-over par 271, which was enough to collect $1,200. Valarie Jenkins and Henna Blomroos were both tied in third place behind Eveliina Salonen going into the final round, but leap-frogged her and stayed tied in second. The pair threw matching 6-over par 70s to finish with 22-over par 278s, while Salonen was alone in fourth place after an 11-over par 75 moved her total to a 25-over par 281.
Allen's two European Open titles now join her wins at the 2015 Scandinavian Open and the 2014 Masters in the Majors column. She also has two other career victories overseas.
Entering the final with a significant lead, Allen had a relatively similar performance compared to her previous three rounds. That changed with one "hiccup," as she called it: a quintuple bogey 9 on hole 10.
"I normally only think about one shot and nothing else, but I took the 9 and I was like, 'Oh my gosh, what the heck just happened? What did I do?'" Allen said. "And I hadn't looked at the scoreboard. So I was like, 'Oh my gosh.' After they put in the scores I was still leading by seven or something like that, so I was like, 'OK, back to your game plan. Go back to your game plan and everything will be fine.'"
Still, Allen didn't let the large number move her off of her mark. After playing the course three times through, she was confident in an approach that found her simply taking what The Beast would give.
"It was terrible, horrible, and it sucked," Allen said. "But I was kind of at that moment of, 'Well, this can either make or break it, and you can let this keep going or you can just think' — I don't really like to think about the score or that I'm playing against anybody, but just back to my game plan. If the birdies come, sweet. If not, just par and make people birdie to beat you, because the course is so hard."
That mental regrouping paid dividends down the stretch, as Allen carded just three bogeys to close out in the final eight holes. The rest of the field, meanwhile, could not find the birdies it would take to cut into her lead, and Allen credited her past experience in Nokia with helping her make the correct adjustments.
"I played here last year, and I think I played way too aggressive and I tried to force the birdies," Allen said. "Thankfully I figured out in the Presidents Cup that par is good, and birdies will come, but don't force it. Even a couple times I wasn't in position and I laid up for bogey — pitched here, pitched there, pitched for a bogey, because at worst all you're losing is a stroke. I feel like I know the course well, and I know where to push now and where not to."
While Allen was able to quickly rebound from her mid-round mistake, Salonen was not quite as fortunate. After going just 1-over par through the front nine and easily maintaining her hold on second place, hole 10 proved to be the young Finnish pro's undoing.
Salonen's two out-of-bounds penalty strokes led to a triple-bogey 7 that allowed Jenkins and Blomroos to get right back in the hunt for the runner-up spot, despite inconsistent play from the eventual runners-up. Salonen followed up her triple-bogey with another penalty stroke and bogey on hole 11, and carded three more bogeys and a double-bogey to close out the round.
The second straight birdieless round was enough for Salonen to lose a chance at a podium finish. In addition to the penalty strokes, she was also hampered by missing three putts inside the circle.
On the other hand, a strong putting performance was what propelled Jenkins during the final two rounds in Nokia. In round three she found success from outside the circle, and in round four it was inside 10-meters. Despite only carding one birdie on the day, Jenkins hit all but one of her 19 putts on the day, all from inside the circle.
Likewise, Blomroos was able to stay within striking distance of Salonen, and ultimately match Jenkins, through sheer consistency. After a rocky first four holes, Blomroos had already carded two bogeys and a double-bogey with one penalty stroke. Through the final 14 holes, though, Blomroos missed just two putts and carded two bogeys to 12 pars while putting for par eight times from inside the three-meter bullseye on the challenging track.
While Blomroos and Jenkins remained tied in the final standings — each taking home $650 — the pair had a sudden death playoff for the second place trophy, in which Jenkins came away the victor.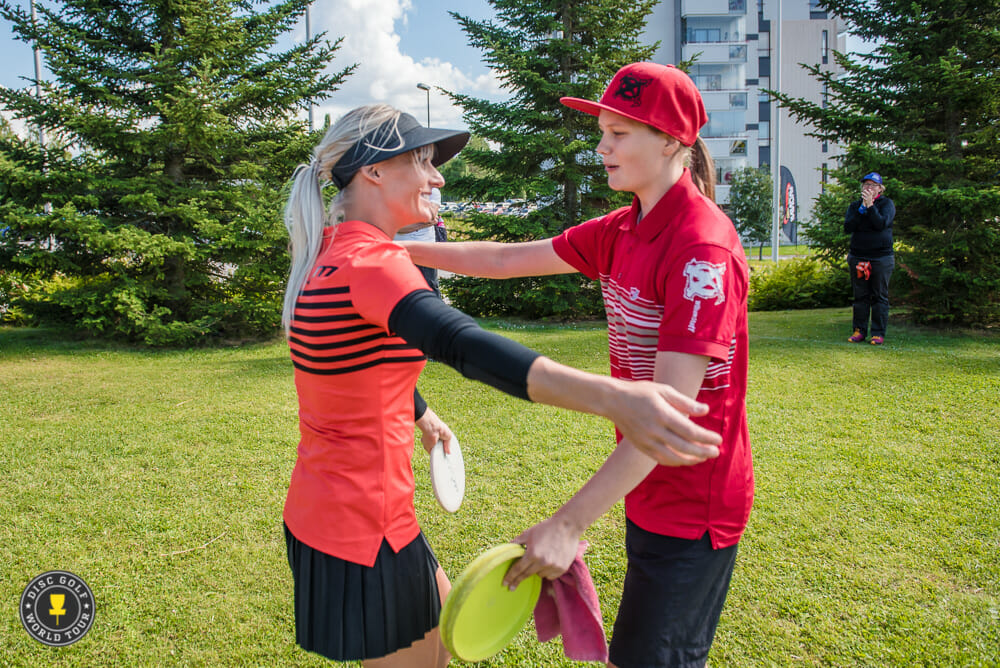 Allen's increasing familiarity and comfort with the course paralleled her enthusiasm for the professionalism of high-profile events in Europe.
"I don't want to put any shame on Worlds, but winning the European Open, or like the European Masters, almost — it's like so close, you know? It feels just as good, or sometimes better," Allen said. "It has a little more meaning for me, I guess."
Allen pointed to the camaraderie she felt not only from the galleries and tournament staff in Finland, but also from her fellow competitors.
"I come here and it just feels so awesome, and I feel like I have a lot of support here and a lot of people pushing me," Allen said. "And playing with Henna and Eveliina – [they] are two of my favorite people to play with. They're always right there with the high-five."
But it's much more than some simple non-verbal communication Allen shares with the two budding Finnish pros. They can also trade playful barbs in the pair's native language.
"It's just awesome because we're not playing against each other," Allen said. "They just want you to do well, I want them to do well. We make some jokes and I speak some Finnish, so we speak some Finnish and we joke around, and it's just so nice to relax and play. So it meant a lot."
While the pleasantries overseas are welcome, Allen continues to prove that her play in Finland is no laughing matter.
Additional reporting contributed by Ultiworld Disc Golf Editor Steve Hill.