Salonen still in second, while Jenkins and Blomroos share third place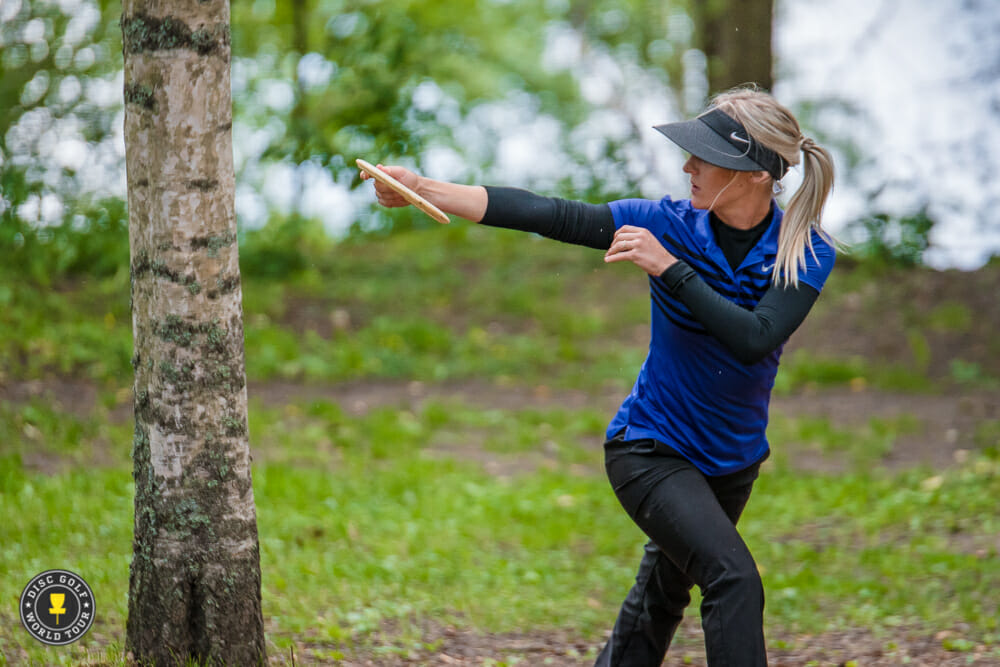 Catrina Allen is on the cusp of her first PDGA Major victory since 2015, as she again increased her advantage at the European Open to take a seven-stroke lead into today's final.
Allen's 967-rated, 2-over par 66 score yesterday in Nokia, Finland, moved her total to a 7-over par 199 through three rounds. Eveliina Salonen remained in second place after a 6-over par 70 brought her total to a 14-over par 206.
Valarie Jenkins tied Allen for the day's hot round to put her at a 16-over par 208 total. Jenkins now shares third place with Henna Blomroos, who, after two impressive rounds to open the tournament, struggled during an 8-over par 72 performance yesterday at The Beast.
Allen's last Major win took place just over two years ago at the same European Open she is currently running away with. Her third round featured the fewest birdies, but also the fewest bogeys of any round this tournament. She began the round with four straight pars before finally snagging a birdie on hole 5 and then cancelling it out with bogey on 7. Two more bogeys followed on the back nine, and Allen again played holes 17 and 18 well to close out the round. She is now averaging 969-rated golf through the event, just a shade above her current 966 rating.
Capitalizing on green hits was one factor in Allen's success through rounds one and two, but she was less effective in that metric on day three. She converted just one of her four green hits into a birdie, missing inside the circle putts on the other three. Staying out of trouble was all she needed to do, though, as her closest competitors had difficulties of their own.
Salonen came into the day tied for second place and was able to retain that position, but her round was marred by mistakes. Two out-of-bounds-induced bogeys opened up her back nine, then after landing her first – and only — green hit of the day on hole 13 she failed to convert the putt for birdie. She closed out her round with five more pars and a double-bogey on 18.
Salonen's Finnish counterpart, Blomroos, had an equally challenging round. The young Finn had a roller coaster front nine, throwing almost perfectly spaced, alternating birdies and bogeys to finish out at even par. She began the back nine well enough, hitting the green for the fourth time and converting for a birdie on hole 10, but her fortunes changed quickly from there.
Blomroos found the OB for the first time on hole 11, and that's when the bogey train gained steam, leading to a string of six bogeys and one double bogey to close out the round. Despite her struggles, Blomroos only missed three putts on the day and tied for the lead with four green hits in regulation.
Jenkins, meanwhile, bounced back from a difficult first two rounds to move into a tie for third. She started off by hitting two outside-the-circle putts for birdie in the first three holes and finished the front half only one shot over par. Jenkins then carded two bogeys to start off the back nine, but she righted the ship by making another putt from beyond 10 meters to save par on hole 13; hitting the green and converting for birdie on 14; and carding four more pars to finish out the round.
The field was cut after round three, meaning the bottom third of the 12-player field will be dropped for today's final. Anne Kettunen and Hannele Määttä were the last two in, as they are tied for seventh place with matching 30-over par 222 totals. Vanessa Van Dyken, though, fell below the cut line by four strokes, Natalie Holloköi, Briana Ainsley, and Niina Turtiainen will join her on the sidelines.
The lead card of Allen, Salonen, Jenkins, and Blomroos tees off at 12:00 p.m. local time for the final round. Follow along with live scoring here, and keep an eye on Disc Golf World Tour social media for updates from the final round.