A brand new event on a beloved course makes for an intriguing combination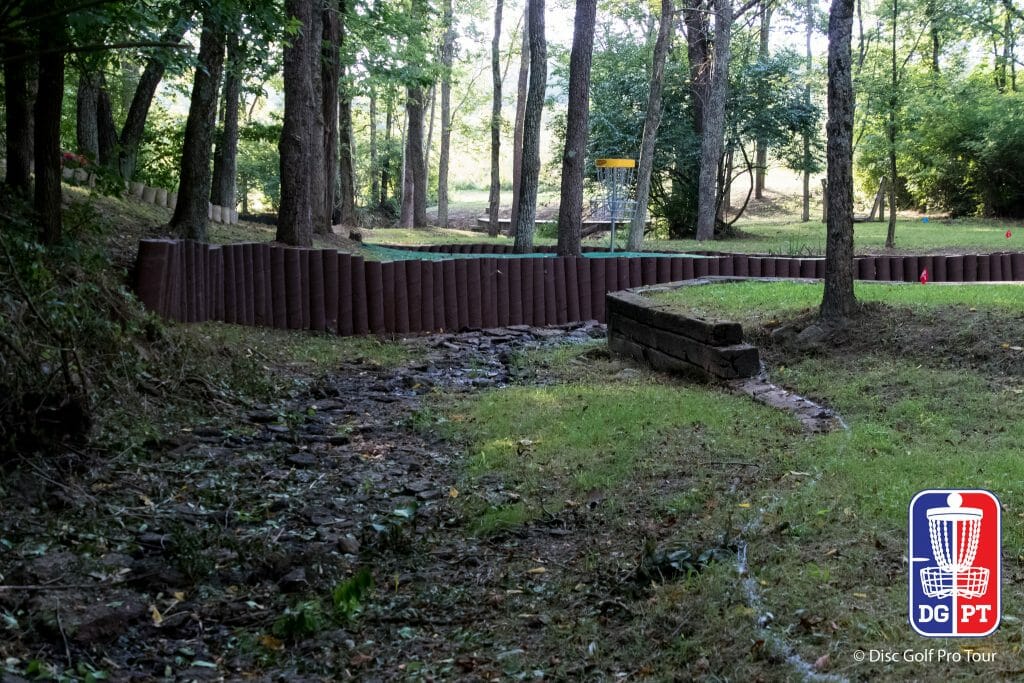 The busy late summer touring schedule is in full swing now, meaning it's another Disc Golf Pro Tour weekend. This time, the circuit introduces another new event just a few miles south of the Ohio River and Cincinnati: the Idlewild Open, which takes place with one round per day from today through Saturday in Burlington, Kentucky.
Storylines
The tour's presence at northern Kentucky's Idlewild Disc Golf Course will be the series' last at a first-time venue until the series finale at the New World Disc Golf Course in Jacksonville, Florida. And, with all the media that comes along with the tour, the wider disc golfing world will finally get a thorough look at what many consider one of the most challenging courses on the continent.
What Idlewild presents in difficulty is sure to be matched with its picturesque setting. Indeed, the landscape on which this track sits is somewhere in the spectrum of Milo McIver, Maple Hill, Brewster Ridge, W.R. Jackson, Iron Hill, and Moraine State Park in terms of combing an ideal setting with a professional caliber challenge. In terms of the DGPT attempting to establish itself in its second season, with three never-before-existing B-Tiers on the schedule, a stop here — at least on paper — appears to be a move in the right direction.
Two names we won't see on paper as scores come in this weekend, though, are Ricky Wysocki and Valarie Jenkins. Wysocki is taking the week off to "regroup mentally" and try to recapture the form that has made him a fixture at the top of leaderboards over the past two seasons. With the pro scene heading next to a PDGA National Tour stop in Pittsburgh and then on to a number of premier events around New England, skipping out on a B-Tier when he has the top spot in the DGPT points standings all but locked up is perfectly reasonable.
Jenkins has been one of the most consistent players in the Open Women's division over the last two months, finally breaking through for a win at the Ledgestone Insurance Open two weeks back. But she's off the tour trail for this one, instead taking some time back home in Oregon to work on Bevel Craft Brewing. She'll rejoin the festivities in Massachusetts for the Vibram Open and the rest of the New England swing in September. In the meantime, that opens the door for Paige Pierce to get back to her winning ways. She's only competed twice since winning her fourth PDGA World Championship in June, notching a win at the Rocky Mountain Women's Championship in early July and struggling – by her standards, at least — to fourth place at Ledgestone.
Course

Idlewild – (Thursday through Saturday): 18 Holes, Par 66, 9,124 feet, 2,773 meters. Average Hole Length: 507 feet – PDGA Hall of Famer Fred Salaz designed the course in 2000 with Bob Herbert, and it has become one of the most well-regarded pro courses in the world. The regular layout features 24 holes, but for the Idlewild Open the tournament directors have chosen the top 18 to challenge the best in the world.
The first six holes are relatively open compared to what comes next, as players venture into some densely tree-lined fairways. There's a brief respite from the foliage on the nearly 1000-foot 16th — perhaps Idlewild's most notable hole — but this behemoth features an undulating fairway with tall out-of-bounds grass on each side and a downhill approach to an island green to finish things off.
Other notable holes are 7, 11, and 13. Hole 7 is when the trees really begin, after a tee shot to a landing area at the bottom of a steep hill. Players' second shots must evade trees as they attempt to throw another few hundred feet up the hill. Hole 11 has already seen plenty of fireworks, with three practice aces earlier this week, and we can expect more ace runs over the next three rounds. Hole 13 presents what is likely the most unique single feature on the course, a Y-shaped double-mandatory tree off the tee. Any good shot that could garner a putt for birdie on this 472-foot par 3 would travel through the Y anyway, and, since the tree itself is on its last legs, this might one of the last times it's seen in high-level competition.
If that wasn't enough, holes 1 and 18 might be two of the best bookend holes the top touring pros will play this season. Hole 1 gets things started with a long downhill crush, while on 18 competitors finally get to punch out of woods through a tunnel fairway that opens to a basket in a field guarded by two bushy trees. The green sits in a bowl and is surrounded by hills, meaning spectators should have excellent viewing options from which to see the winning putts on Saturday.
Past Idlewild Open Winners
None. This is the first time that this specific event has ever happened. Idlewild has played host to larger events in the past though, including the Kentucky State Doubles Championship and The Nati Big 3, an annual event that features each of the Cincinnati area's best courses.
Extended Forecast
Thursday: What's the ideal way to start a disc golf tournament? Calm winds, no rain, sunny skies, mild temperatures? Well, think the opposite for the opening day of the Idlewild Open. A strong area of low pressure will be located to the north of the region, leading to strong southwest winds. Numerous showers and thunderstorms will be possible throughout the day with a concentration in the afternoon. An isolated strong-to-severe storm may be possible with gusty winds, heavy rain, and lightning being the main concern. Afternoon highs will be affected by storms, but should top out around 87°. Gusty southwest winds of 5 to 15 mph are likely.
8 a.m.: Mostly cloudy with isolated showers and a temperature around 74°. Southwesterly wind between 5 and 10 mph likely.
Noon: Isolated showers and storms with a temperature around 83°F. Southwesterly wind between 10 and 15 mph likely.
3 p.m.: Scattered showers and storms with a temperature around 83°F. Southwesterly wind between 10 and 15 mph likely.
Hole to Watch: Hole 16 may play particularly difficult on Thursday thanks to the stout southwest wind. The 969-foot par 5 has OB lining both the left and right sides of the fairway. Couple this with an island green, and you have a treacherous hole. The southwest wind should play as a headwind with a slight right to left component. Thus, discs may be prone to not only fading out of bounds, but also turning over and into trouble.
Friday: The cold front will have pushed through the region by Friday morning, meaning nice and dry conditions can be expected. Partly cloudy to mostly sunny skies will develop after a mostly cloudy morning, while winds will turn a bit more westerly at 5 to 10 mph. The temperature should top out around 84°.
8 a.m.: Mostly cloudy and 70°F. Westerly winds around 7 mph.
3 p.m.: Mostly sunny and 83°F. Westerly winds around 10 mph.
Hole to Watch: Hole 17, a 418-foot par 3, will draw attention on Friday. It plays over an OB creek multiple times, and watching players navigate the hole in a headwind that will likely move the discs left or right off its line should be intriguing.
Saturday: Conditions will once again be nice on Saturday. With higher pressure working into the region, expect mostly sunny skies and subdued winds. The temperature will top out around 85°.
8 a.m.: Partly cloudy and 66°F. Calm wind expected.
3 p.m.: Mostly sunny and 85°F. Calm wind expected.
Hole to Watch: All of 'em. Winds will be subdued quite a bit on Saturday. Thus, it will be nice to sit back and watch the hottest scores of the tournament roll in.
How To Follow
As with all Disc Golf Pro Tour events, Jomez Productions will be on hand providing next-day video coverage of the Open feature and lead cards for all three rounds. Prodigy Disc Video will be filming the Open chase cards during the second and final rounds.
If you don't want to wait for the post-production video, tune in to the Disc Golf Pro Tour's YouTube channel to catch the live broadcast of each of the three rounds at 2:30 p.m. Thursday through Saturday, produced by SmashboxxTV.
The Open Women's feature card of Paige Pierce, Sarah Hokom and Jessica Weese tee off at 8:30 a.m. today, and the Open feature card of Paul McBeth, Nikko Locastro, Michael Johansen, and Matthew Blakely tee off at 2:30 p.m.