Northern California pro takes a nine-shot lead over a pair of Pauls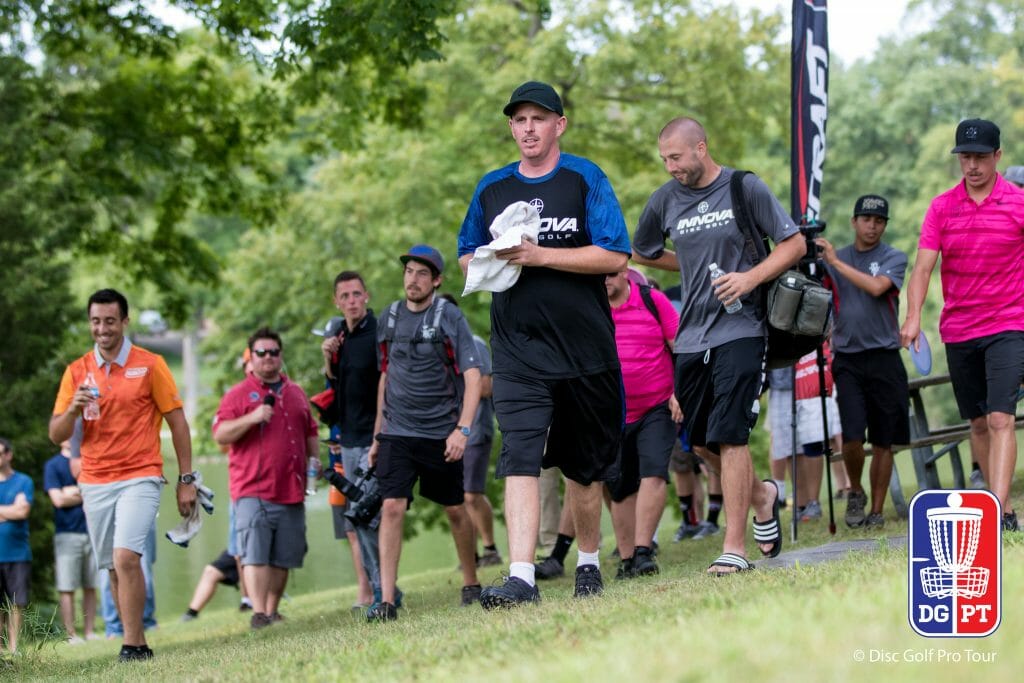 Josh Anthon and the number nine had a good thing going yesterday during the third round of the Ledgestone Insurance Open.
The Northern California pro again put more distance between himself and the rest of the field, as he launched a 1067-rated 9-under par 54 to bring his three-day total to a 26-under par 163 and his lead to nine strokes over a pair of Pauls. One of those, McBeth, stuck his drive into the cage for a 476-foot birdie on the way to his 6-under par 57, while Ulibarri's 5-under par 58 has the namesakes sharing second place with a 17-under par 172s. Ricky Wysocki slipped to fourth place after his 3-under par 60 third round.
For Anthon, the name of the game has been keeping it between the lines. He carded only one OB stroke yesterday as he continued to cement his lead, while McBeth went astray of the ropes six times and Ulibarri did the same three times. Anthon is also pacing the field in green hits in regulation for both circle 1 and circle 2, and has scrawled only three bogeys and one double bogey on his scorecard through 54 holes.
Elsewhere in the field, Cam Colglazier and Nate Doss moved eight and seven spots up the leaderboard, respectively, and into a fifth place tie with James Cole and K.J. Nybo with 13-under par 176 totals. Gregg Barsby and Bobby Musick round out the top 10, as the duo are tied for ninth place at 10-under par overall.
Anthon goes for the wire-to-wire win beginning at 2 p.m. local time today, with the action being streamed live on SmashboxxTV and the Disc Golf Pro Tour's YouTube channel. Live scoring and statistics can be accessed via UDisc Live.