A look at storylines and some atmospheric instability heading into this weekend's Disc Golf Pro Tour event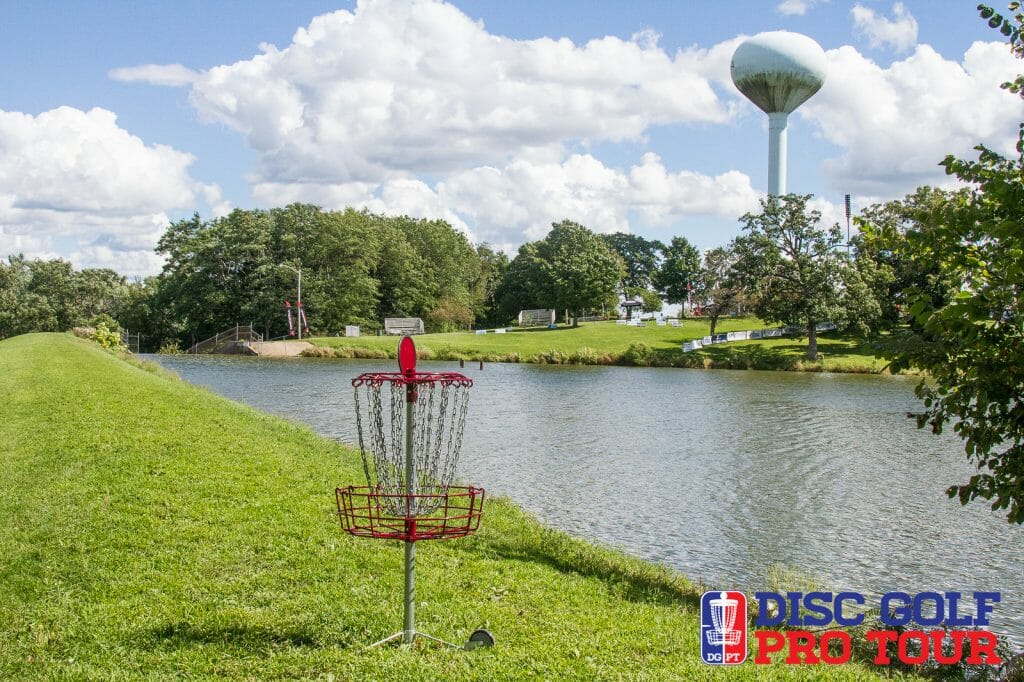 After a trip to Europe for the Presidents Cup and European Open, the professional scene is back in the States to begin the second half of the season. Action picks up in the Midwest corn belt with the Ledgestone Insurance Open in Eureka, Illinois, and one of the largest payouts in disc golf history at $100,000. The event, which covers four rounds from Thursday through Sunday, also marks the return of the Disc Golf Pro Tour after nearly two months off.
Storylines
Just because the Disc Golf Pro Tour is back doesn't mean all the top name players are. Among the notably absent names from the big money event are Nate Sexton, Simon Lizotte, Eagle McMahon, Jeremy Koling, and JohnE McCray. Lizotte currently sits second in the tour series points standings and is realistically the only player with a chance to catch Ricky Wysocki for the season-long points title, but the German star has opted for a "Fantasy Doubles" tour around Finland instead. Since one of the nine DGPT events drops from the 2017 points chase, and Lizotte passed on the Utah Open, this all but assures Wysocki will lock down the number one seed for the Disc Golf Pro Tour Championship in October.
On the Open Women's side, the standings are decidedly closer. Paige Pierce, Sarah Hokom, and Catrina Allen have each used up one dropped event, but Pierce still leads the pack. She has 27.5 points on Hokom and 62 on Allen, but neither margin is insurmountable should the chasing pair out-compete Pierce through the final four events. Allen — who is not currently registered for the next DGPT event, the Idlewild Open — could be looking to make up ground in earnest this week. Coming off a positive trip to Europe in which she won her first PDGA Major since 2015, Allen is looking to translate that momentum into what would be a fifth consecutive Ledgestone win. She has won each of the last four Ledgestones by a combined 33 strokes, including the sudden death playoff she needed to best Pierce in 2015 after four rounds and final nine could not decide the winner.
Closer competition at the top of both fields could be in store, as tournament organizers largely removed the artificial OB lines and widespread punitive, hole-specific rules — such as stroke-and-distance — that have come to define Ledgestone in recent years. What there shouldn't be a question about is the event's propensity for producing highly rated performances: Since 2015, there have been 16 Ledgestone rounds rated at 1070 or higher, with Paul McBeth topping out at 1105 to salt away the win in 2016.
Courses
Unlike in years past, the Open and Open Women's fields will be competing on different courses this year.
Lake Eureka Temporary — Buzzz Course (Open, Thursday through Sunday): 18 Holes, Par 63, 9,608 feet. Average Hole Length: 534 feet – This temporary course set up in a classic park setting has gone through considerable adjustments over the past several iterations of the event. While much of the roped off out-of-bounds area is no more, the walking paths, roads, other park features — plus the venue's namesake lake — offer plenty of penalty stroke danger. Plus, there's always the chance of high winds. It's the Midwest, after all.
Northwood Park — Machete Course (Open Women: Thursday, Saturday): 18 Holes, Par 58, 5,943 feet. Average Hole Length: 330 feet – Park-style golf features prominently for the Open Women's field, too, though the track at Northwood Park is considerably shorter: Only two holes are longer than 500 feet, and there are 14 par 3s. The field will have to navigate mature, deciduous trees and rolling, grassy terrain as they move in and out of canopy cover.
Sunset Hills — Crank Course (Open Women: Friday, Sunday): 18 Holes, Par 57, 7,221 feet. Average Hole Length: 401 feet — Disc golf on a golf course is the name of the game at Sunset Hills. The landscape is comparatively more open than at Northwood, but numerous water hazards, sand traps, and roped out-of-bounds offer their own obstacles.
Past Winners
Ledgestone Open Past Winners
| Year | PDGA Tier | Open | Open Women |
| --- | --- | --- | --- |
| 2022 | DGPT | Ricky Wysocki | Missy Gannon |
| 2021 | DGPT | Ricky Wysocki & Calvin Heimburg (tie) | Paige Pierce |
| 2020 | A/DGPT | Ricky Wysocki | Catrina Allen |
| 2019 | A/DGPT | Paul McBeth | Paige Pierce |
| 2018 | A/DGPT | Nate Sexton | Jessica Weese |
| 2017 | A/DGPT | Josh Anthon | Valarie Jenkins |
| 2016 | A/DGPT | Paul McBeth | Catrina Allen |
| 2015 | NT | Simon Lizotte | Catrina Allen |
| 2014 | A | Nikko Locastro | Catrina Allen |
| 2013 | A | Devan Owens | Catrina Allen |
| 2012 | A | Nikko Locastro | Sarah Hokom |
Extended Forecast
Thursday: A strong cold front will be approaching the Midwest United States on Thursday. As such, isolated showers and thunderstorms will be likely, especially in the afternoon. Some afternoon and evening storms could be strong-to-severe, with damaging winds, small hail, heavy rain, and lightning possible. A non-zero tornado threat may also develop, meaning there is a small chance a twister could show. Highs should top out around 82° thanks to southerly winds of 5-15 mph, but gusts as high as 25 mph are possible.
8:00 a.m.: Mostly sunny skies with calm winds. Temperatures should be around 70°.
Noon: Isolated showers and storms possible. Southerly winds of 5-15 mph likely with gusts as high as 20 mph possible. Temperatures around 79°.
2:00 p.m.: Showers and storms continue to become more numerous. Southerly winds of 5-15 mph likely with gusts as high as 20 mph possible. Temperatures around 81°.
4:00 p.m.: Strong storms possible. Winds will be strongest between 4 p.m. and 6 p.m. Temperatures should top out around 82° before dropping after storms move through the region.
Holes To Watch: While the main story may be the chance of storms, strong winds will make for a fun start to the tournament. The hole to watch on the Open side will be hole 6, an 897-foot par 4 with OB lining both the left and right side of the fairway. Players may have to deal with a headwind as they navigate the right-turning hole. For the Open Women, hole 17 at Northwood Park, a 330-foot, uphill par 3, may find players throwing into a headwind, which will make this tight hole even harder to navigate.
Friday: High pressure should begin to transition into the region on Friday to bring clearing skies, but windy conditions should remain. Afternoon highs will also take a hit as they top out around 71°.
8:00 a.m.: A bit chilly, with temperatures around 58° expected. Partly cloudy skies with westerly winds of 5-10 mph expected. Gusts as high as 20 mph will be possible.
2:00 p.m.: Mostly sunny skies with temperatures around 70°. West-northwest wind around 15 mph with gusts as high as 20 mph possible.
Holes To Watch: With westerly to west-northwest winds in play on Friday, that should make hole 1 a doozy for the Open field. Hole 1 is a 633-foot par 4 with 400 feet of water carry off the tee. A strong headwind could mean a rough start to many players' round. Meanwhile, hole 2 will be the hole to watch for the women's field. Hole 2 at Sunset Hills is a 491-foot par 3 that has OB lining the left side of the fairway and an OB golf green on the right side. At 323 feet to the golf green, it will be interesting to see if anyone turns their disc over into the OB area.
Saturday: High pressure will be well established across the region on Saturday, leading to a great day for disc golf. Mostly sunny skies with high temperatures around 78° will be likely.
8:00 a.m.: Mostly sunny skies with temperatures around 58°. Calm winds are expected.
2:00 p.m.: Mostly sunny skies with temperatures around 76°. Southwest wind around 5 mph possible.
Holes To Watch: Although the wind may be subdued on Saturday, any amount of wind at the Lake Eureka course could make things interesting. Keep an eye on hole 2 for the Open division. Although in a new configuration, the tee shot should remain the same for this hole, which is a basic, low hyzer. Originally a 350-foot par 3, the now 615-foot par 4 requires a second shot to get to the green. Although we've never seen this configuration, a forehand over the OB lake on the left should make for a good approach to the green. The slight left-to-right wind may help this approach. Meanwhile, a tailwind on the 276-foot, par 3, hole 4 at Northwood Park should help Open Women's players' discs fade into the green.
Sunday: The next disturbance will move through on Sunday afternoon and evening. While most of the rain should hold off until late, a few showers and storms may be possible throughout the day. High temperatures should top out around 78°. Southerly winds of 5-10 mph possible.
8:00 a.m.: Partly cloudy with temperatures around 62°. Southeast winds around 5 mph possible.
2:00 p.m.: Mostly cloudy with isolated showers and storms possible. Temperatures around 77° with southerly winds of 5-10 mph likely.
Holes To Watch: Southerly winds will be back in play on Championship Sunday, which may help the Open players as they throw off the bridge on hole 9, a 354-foot island par 3. The island extends to the left from the tee, which means throws that fade to the left of the basket should be safe. A southerly wind will push discs that direction, carrying them to safety or too far to the left and out of bounds. The women's field will be back at Sunset Hills, and hole 1 — a 738-foot par 4 with OB lining the fairway to the left, right, and long of the basket – could make for a consequential start. Players looking to make a move early may see their tee shots turn over into the OB to the right, as they will be throwing into a headwind.
How To Follow
The return of the Disc Golf Pro Tour means the return of UDisc Live, where you can keep up with real-time scores and a host of other statistics. Jomez Productions, Central Coast Disc Golf, and Prodigy Disc  Video will all be on hand for post-produced coverage of varying cards, and SmashboxxTV will live stream rounds 2-4 on their YouTube channel and the Disc Golf Pro Tour YouTube channel.
An earlier version of this article stated that the $100,000 pro payout for this year would be the largest in history. The 2016 PDGA Professional Disc Golf World Championships awarded $129,882 to the pro field.