There's a shuffle at the top after the latest PDGA Major!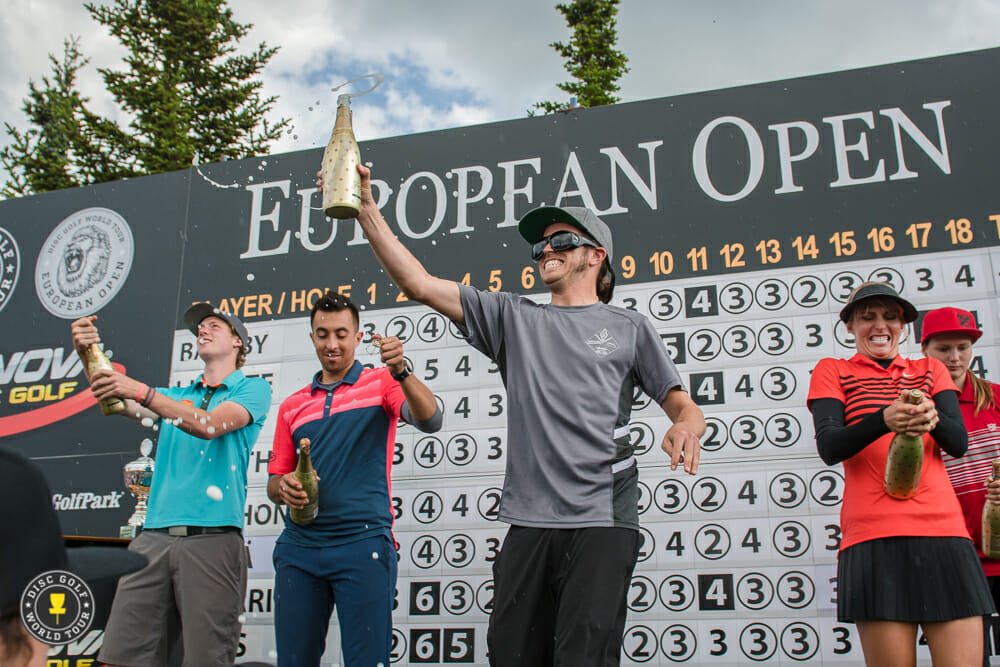 Gregg Barsby's second place finish at the European Open — in which he held the lead, or a share of it, through 71 of 72 holes — registered as the surprise showing of the most recent PDGA Major. But perhaps we shouldn't have let the longtime pro sneak up on us so easily.
Outside of a 47th place finish at Worlds, Barsby's play has been trending upward since May. He notched two B-Tier wins that month, playing five of seven rounds at those events above his rating. And though he has sprinkled in some sub-1000 rounds — he tumbled to seventh place at the Tennessee State Disc Golf Championships with a 994 third round and a 970 fourth round — he finally put it all together in time to tackle The Beast.
There, he showed the skills he has long possessed, all in one bundle of energy. Employing a deft mix of forehand and backhand shots, Barbsy took advantage of the veteran savvy needed to attack a course like the one in Nokia, which doesn't require aggression so much as it does execution. And, most importantly, he never let the moment get too big. Sure, his drive during the final round on hole 18 was not great, but it looked more like a physical error than a choke job. And he only drove that point home by canning a 50-footer to keep the pressure on Paul McBeth.
Though it would have been a tremendous underdog story to see Barsby take home the win, it was still a statement. In an era that has seen younger players flourish on pure power, Barsby's third career runner-up finish at a Major proved that the sport still thrives on finesse. Here's to hoping we get to see him on more lead cards the rest of the season.
1) Amazing fact: Paul McBeth still has not finished lower than third place this season, and he's only finished that low once: at the Aussie Open, in January.
2) It was a toss-up here between Simon Lizotte and Ricky Wysocki, but Lizotte gets the nod for the higher European Open finish.
3) A couple odd weeks for Ricky Wysocki, as he finished a combined 20 strokes behind McBeth between the European Open and the Estonian Open.
4) Nate Doss will be the third highest rated player in attendance at the Ledgestone Open and has finished in fourth and third place, respectively, at the last two versions of the event.
5) Gregg Barsby sliced and diced his way to his best Major showing since 2008. What a ride.
6) Nate Sexton gradually improved during each round of the EO to climb to a seventh place tie. He'll look to best that at the Pittsburgh Flying Disc Open at the end of August.
7) A good way for Paul Ulibarri to get back on the big board? Playing eight of his last 10 rounds above his rating.
8) Eagle McMahon's rebound from an even-par opening round was one of the best stories of the European Open.
9) Cale Leiviska has won four in a row and five of his last six tournaments.
10) JohnE McCray played in the Masters division at the Silver Cup, but he would have won the Open division by an eye-popping nine strokes. He'd be higher on the list if he were playing more frequently.
11) It wasn't quite his Worlds showing, but an ace-fueled 12th place at the European Open for Devan Owens is solid.
12) While he didn't make the trip overseas, Chris Dickerson continues to win in the States.
13) Dave Feldberg logged yet another successful trip across the pond, following up his fourth place Estonian Open finish with a 13th place tie at the EO.
14) Double that for Philo Brathwaite, who also came in 13th in Nokia and has been a clinic machine as he and Barsby's "High Energy Tour" spreads the good word.
15) After a lead card showing at the EO, will we see more of K.J. Nybo near the top of the leaderboard at the Ledgestone Open? He's making the trip in search of the big payout.
16) Jeremy Koling takes a tumble in the rankings after tossing two rounds in the 900s while in Europe. Still, his commentary during the final round of the EO was on point.
17) Austin Turner got cut at the European Open in more ways than one: He took a disc to the forehead right before the first round, which likely led to his lowest performance of the season.
18) Väinö Mäkelä makes his debut on the big board after a third place finish at the Skelleftea Open and a tie for seventh at The Beast. Doubt he'll be 997-rated for much longer.
19) Teemu Nissinen averaged 1026-rated golf at the EO, 21 points above his current rating.
20) Fortunate son? James Conrad followed up a third place Silver Cup finish with a win at the CCR Open.
1) A post-Worlds Rocky Mountain Women's Championships win keeps Paige Pierce at the top.
2) Catrina Allen took the win at the Majestic before her first Major since 2015 at the European Open.
3) Valarie Jenkins finished in second place at both the Rocky Mountain Women's Championships and the European Open.
4) Sarah Hokom got her first international win at the BC Open.
5) Henna Blomroos played well above her rating for two weekends in a row, taking the win in Estonia and second in Nokia.
6) Hannah Leatherman followed a third place finish at the Rocky Mountain Women's Championships with a B-Tier win in Pennsylvania last weekend.
7) Lisa Fajkus grabbed fourth place at the Rocky Mountain Women's Championships.
8) After a solid Worlds performance, Ragna Bygde Lewis got a win in Sweden at the Skellefteå Open.
9) Eveliina Salonen had a tough time at the Estonian Open, but bounced back with a top four finish at the European Open.
10) A month of solid finishes across Europe gets top Estonian pro Kristin Tattar into the top 10.