McBeth looks to make it four EOs in a row, while Wysocki eyes the next step in a Major sweep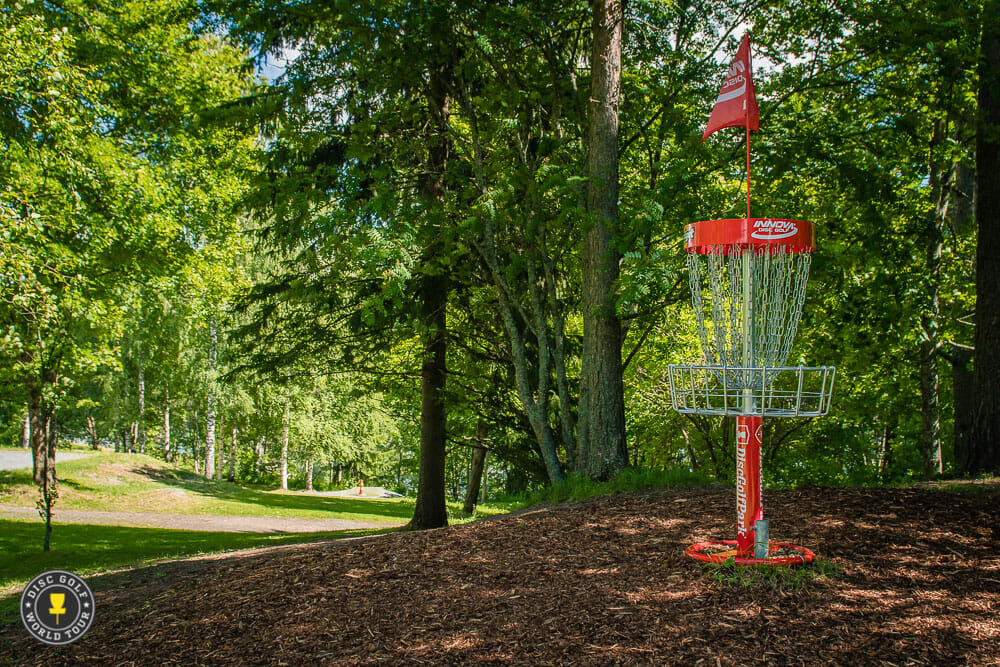 The relative post-PDGA Professional Disc Golf World Championship hibernation is over, and a large portion of the professional field has headed to Nokia, Finland, for the eighth European Open, which doubles as this season's third Disc Golf World Tour event. Expect large galleries in Europe's original disc golf hotbed today through Sunday at one of the planet's most challenging courses: The Beast.
Storylines
With two PDGA Majors down and two to go, the winner of the first two, Ricky Wysocki, is looking to get back on track after losing by nine strokes to Paul McBeth in last weekend's Estonian Open. But another nine stroke win for McBeth, Wysocki, or anyone else in the field doesn't seem likely.
Dating back to 2011, the margin of victory at the last four European Opens has been two, one, one, and one strokes in the Open division. In 2016 and 2015, it was McBeth defeating Wysocki. In 2013 it was McBeth over Dave Feldberg, and in 2011 Feldberg triumphed ahead of Paul Ulibarri. With 28 players in the Open field rated at 1000 or better — and a significant proportion of them at 1015 or higher — the possibility of at least a handful of others outside the familiar top two being able to challenge for the win over three rounds is a distinct one. Particularly, take notice of a pair of lefties coming off of impressive performances in recent weeks: Devan Owens and Austin Turner.
In the Open Women's division, it's finally time that someone not named Paige Pierce can snag a win — specifically because she hasn't made the trip to Europe, despite winning the prior two PDGA Majors this season: Worlds and the Aussie Open. While sweeping the Majors won't be a possibility for Pierce this season, it leaves the door open for a trio of top talent to get one of their own.
Catrina Allen is the only player in the field with a European Open win, and her victory there in 2015 was the last time she topped the podium at a Major. The two-year dry spell for Allen saw her play excellent golf in 2016 but miss out on winning either of the two Majors that season. A W this week could turn around what, to this point, has been a rather disappointing season.
Even though Allen is the highest rated player in the field, Valarie Jenkins and Eveliina Salonen are favorites to push her for the win. Jenkins last won the European Open in 2011 and comes into the event playing hot: In the 11 rounds she has played since June 1, Jenkins' average rating is 972, compared to Allen's 955 clip in the same time span. Jenkins finished second to Pierce at the Beaver State Fling, Pro Worlds, and Rocky Mountain Women's Championships, and given her recent pace of play it seems clear it's time to get a win of her own.
Salonen is the reigning European Champion and one of the few competitors to beat Allen in 2016. She's playing in her home country on a course that could reward her exceptional distance off the tee. Count her as a contender if her putt is on point.
Course
The Beast is one of the most revered courses in the world. A temporary course set up on park land where the permanent Nokia Frisbee Golf Park is located, it's just a three-minute drive east of Nokia's city center.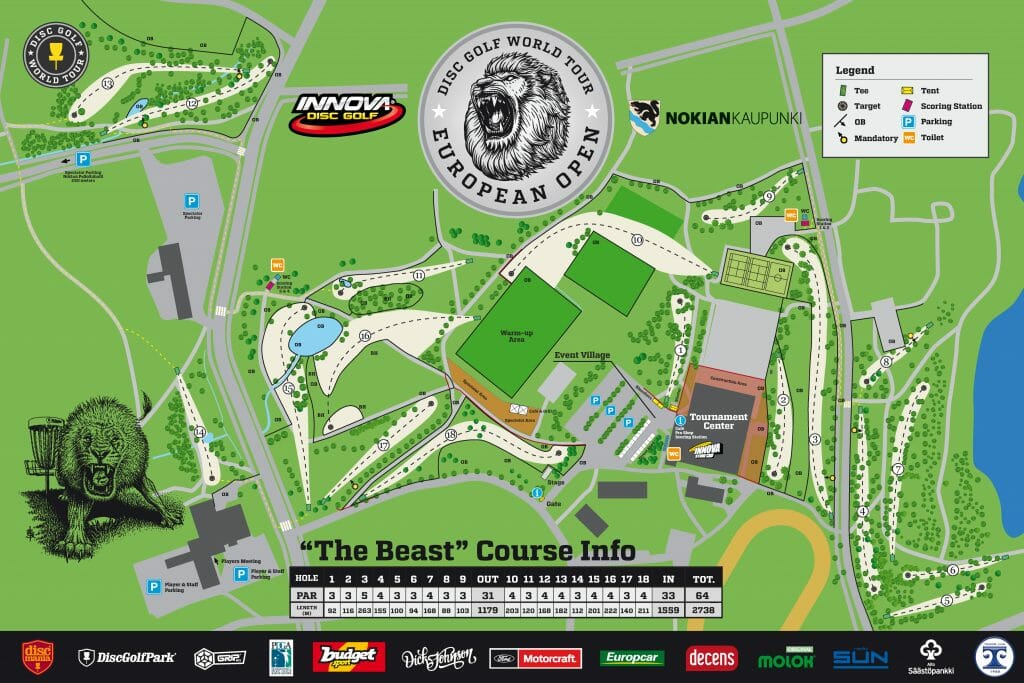 For all of its challenges, this difficult course begins rather innocuously with relatively simple right-to-left and left-to-right shots on the 300-foot hole 1 and 380-foot hole 2. But that relative ease doesn't last for long: The par 5, hole 3 is perhaps the most notable on the front half, featuring a long, narrow, OB-lined fairway with trees down the right side. The rest of the front nine plays through tight woods with elevation changes coming into play on nearly every hole.
After the turn, though, is where The Beast can show its teeth. At 5,115 total feet, the back nine is 1,247-feet longer than the front and features a significantly greater amount of out-of-bounds. The 660-foot hole 15 and 728-foot hole 16 stand out: The pair of par 4s finds players debating how much distance to bite off from the tee, with the specter of water hazards and roped OB should they err. The island green on 16, which is surrounded by hay bales, presents an extra challenge on approach, and this year the stroke-and-distance that was in play in previous years is out of the equation, but a new "Buncr Hazard" rule is.
Here's the explanation from "The Beast: Specific Ground Rules" document:
Island hole with Buncr Hazard rule. Shots that come to rest in a buncr hazard [BH] must be re-thrown from the previous lie. Re-Throws must be made prior to subsequent play by others in the group…Throws that land in the buncr hazard count towards player's score, but unlike OB, there is no extra penalty throw.
What we take this explanation to mean is that the buncr hazard areas on hole 16 (which surround the entire perimeter for the holes) play as a hybrid of the hazard areas seen on some holes at the USDGC's Winthrop Gold Course and the stroke-and-distance rule. Players who land their disc in a buncr hazard must re-throw from their previous lie, but without an added penalty stroke.
Past European Open Winners
| | PDGA Tier | Open | Open Women |
| --- | --- | --- | --- |
| 2022 | M | Eagle McMahon | Paige Pierce |
| 2019 | M | Paul McBeth | Paige Pierce |
| 2017 | M | Paul McBeth | Catrina Allen |
| 2016 | A | Paul McBeth | N/A |
| 2015 | M | Paul McBeth | Catrina Allen |
| 2013 | M | Paul McBeth | Paige Pierce |
| 2011 | M | Dave Feldberg | Valarie Jenkins |
| 2009 | M | Jesper Lundmark | Valarie Jenkins |
| 2007 | M | Ken Climo | Carrie Berlogar |
| 2006 | M | Dave Feldberg | Carrie Berlogar |
Extended Forecast
Thursday: An upper level low-pressure system will settle into the region on Thursday. This will bring cool conditions to the area, as well as cloudy skies. Wind shouldn't be too much of a factor on the opening day of the tournament, though.]
9:00 a.m.: Mostly cloudy with temperatures around 12°C (55°F). Northerly winds of 5 to 10 mph expected.
3:00 p.m.: Partly cloudy with temperatures around 16°C (61°F). Northerly winds of 5 to 10 mph expected.
Hole To Watch: Although the opening hole is a bit of a wooded one, it will be playing downhill and into a headwind. This may cause players to turn over their first shot of the tournament as they try to navigate the 92-meter par 3.
Friday: The upper level low will remain parked over much of Finland. Northwest flow aloft should continue to usher in cooler temperatures, as well as drier air, which may lead to a few less clouds in the sky. Overall, conditions on Friday should be very similar to those of Thursday.
9:00 a.m.: Mostly sunny and 13°C (56°F). Light northerly wind.
3:00 p.m.: Partly cloudy, with a temperature around 17°C (62°F). Light northwesterly wind.
Hole To Watch: Hole 3 might have some teeth on it Friday. Although the wind should be subdued, any amount of headwind on the slightly uphill, 263-meter par 5 is quite unwelcome. Since the hole runs south to north the entire way, players won't see much of a break.
Saturday: A bit more moisture may work into the region on Saturday, which will increase clouds, as well as rain chances, in the forecast. A few showers may develop during the afternoon hours, but the best chance for precipitation should come as players finish the day. Wind will remain light and out of the north.
9:00 a.m.: Mostly sunny and 13°C (56°F). Light northerly wind.
3:00 p.m.: Mostly cloudy with isolated showers. Temperatures around 17°C (62°F). Calm wind expected unless a shower moves through the region.
Hole To Watch: Players will be faced with another headwind on hole 15, a downhill, 201-meter par 5 with a water hazard to the right off the tee. With it being moving day, and a chance of showers in the forecast for the final day of the tournament, will players regret being greedy off the tee?
Sunday: The upper level low will slowly drift south on Sunday. With the moisture sticking around in the region, a few showers are again likely. Highs will once again be chilly, with relatively calm winds expected.
9:00 a.m.: Partly cloudy and 13°C (56°F). Light northerly wind.
3:00 p.m.: Mostly cloudy with isolated showers possible. Temperatures around 17°C (62°F). Northwesterly winds may kick up some if showers move through the region.
Hole To Watch: All the holes mentioned above will see the same hazards on Sunday. The bigger story might be the increasing rain chances. A few days ago, the forecast for the European Open looked perfectly fine, so maybe we'll see some more changes in the days to come.
How To Follow
Live scoring from the event will be available on the Disc Golf World Tour website, with video clips throughout each round popping up on the Tour's social media outlets. Post-production video of each round will be available on the SpinTV channel, as the crew from Jomez Productions has hopped across the pond to film. Check in here at Ultiworld Disc Golf for next-day recaps of each round.