Leiviska makes it four straight with Silver Cup win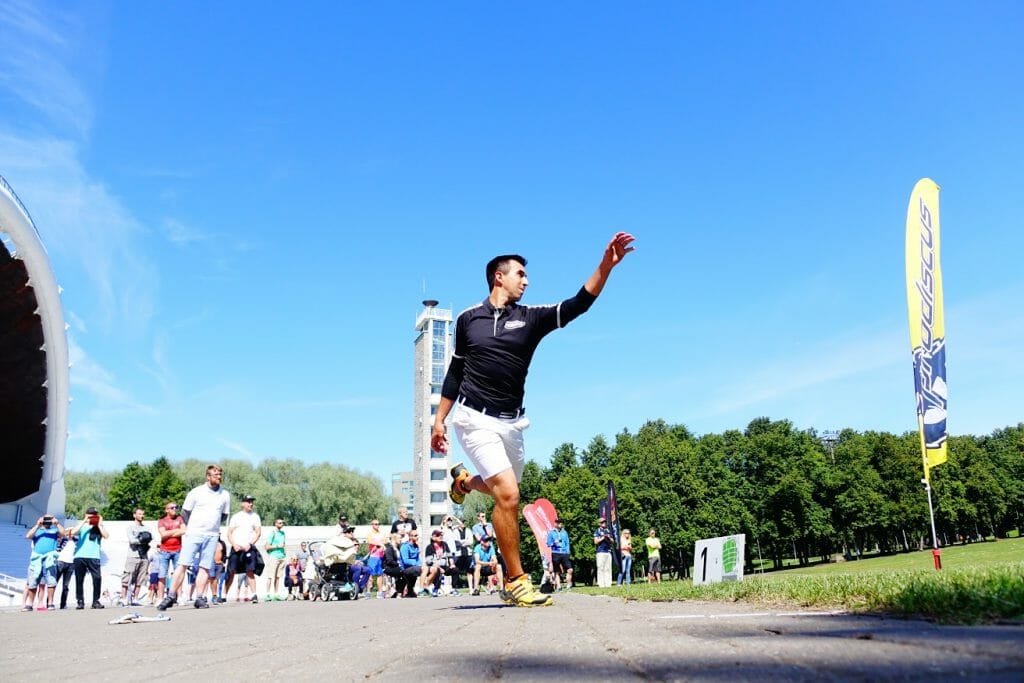 With many top professionals heading across the pond ahead of this week's European Open, a deep field stopped over in an up-and-coming disc golf hotbed not only as a warm-up for the impending PDGA Major, but also as a jumping off point for the second half of the season.
Paul McBeth took full advantage of the chance to gain some momentum, rolling to a nine-shot win at the Estonian Open. McBeth's 27-under par 153 had him well ahead of defending Estonian Open champion Ricky Wysocki and Eagle McMahon, who tied for second place with matching 18-under par 162s. Dave Feldberg finished in fourth place with a 14-under par 165, while Austin Turner and Simon Lizotte tied in fifth place with 14-under par 166s.
The first day of competition at the Tallinn Festival Grounds temporary course saw windy conditions and ended with a four-way tie for first place between Wysocki, McBeth, McMahon, and 963-rated Finnish pro Tomas Koskelainen. Wysocki experienced some adversity with the conditions — as well as a number of unfortunate spit-outs — in round one, and the reigning PDGA World Champion's prospects for defending his Estonia title grew increasingly difficult after a 971-rated second round.
McBeth, meanwhile, thrived in the warmer and less windy conditions on day two. Despite throwing a 1050-rated hot round, though, McBeth said he was not pleased with how he finished, pointing to a number of out-of-bounds penalties on the back nine while voicing his familiar desire for constant improvement and more consistency.
Wysocki made a final round charge from the chase card, but it wasn't enough: He and McBeth threw matching 1045-rated 50s, and McBeth cruised to the win. Feldberg also matched their final day tally to climb the leaderboard.
Though his margin of victory was comfortable, McBeth still lamented his lack of success on the putting green.
"A lot of putts missed inside the circle — I think there were like four," McBeth said in a post-round interview with Estonia's Rockstick Production. "I just need to work on putting a lot. I'm scrambling around without making all the putts I should be making and still coming out with victories. So if I can clean that up, I think I can play a lot better."
While Wysocki and McMahon remained officially tied in the final standings, the two played a closest-to-the-pin playoff for the trophy. McMahon won it throwing a 360-backhand roller and getting pin-high on the uphill 156-meter (541 feet) hole.
Jeremy Koling rebounded from a 5-over par first round to finish in tenth place with a 10-under par 170 total. Top Estonian pro Silver Lätt ended the weekend in 13th place, while Jalle Stoor and Juho Parviainen — both of whom will be representing Team Europe in Wednesday's Presidents Cup — finished in 23rd and 47th place, respectively.
Henna Blomroos won the Open Women's division with a 16-over par 196 total, four strokes clear of Estonian pro Kristin Tatter. Sini Lindholm rounded out the top three with a 22-over par 202.
Katka Bodová finished fourth with a 27-over par 207 total, while Hannah Croke cashed for the first time as a professional by finishing in fifth place with a 30-over par 210. Reigning European Champion Eveliina Salonen, after first and third rounds played well below her rating, finished tied for sixth place with Anne Kettunen at a 31-over par 211 total.
The Open division final round was live streamed and can be viewed here, while all other video coverage from the event can be seen at Rockstick Production's YouTube channel.
Back in the States, Cale Leiviska won the 17th Silver Cup in Manitowoc, Wisconsin, taking the three round A-Tier by two strokes with a 30-under par 199. The result gave Leiviska his fourth consecutive win and fifth in his last six tournaments.
Illinois-based pro Brian Earhart finished in second place with a 28-under par 201 total, while James Conrad took third with a 25-under par 204. Calvin Heimburg rebounded from a 968-rated first round to finish in fourth place with a 21-under par 208.
Lesli Todd averaged 919-rated golf and got her second Open Women's win of the month by throwing a 5-over par 232 for the weekend. Holly Finley finished in second place with a 12-over par 239, while Lindsay Fish rounded out the top three with a 31-over par 258.