Our final round of news and notes from Augusta, with more on Fajkus, Bodová, and how PDGA staff monitored the weather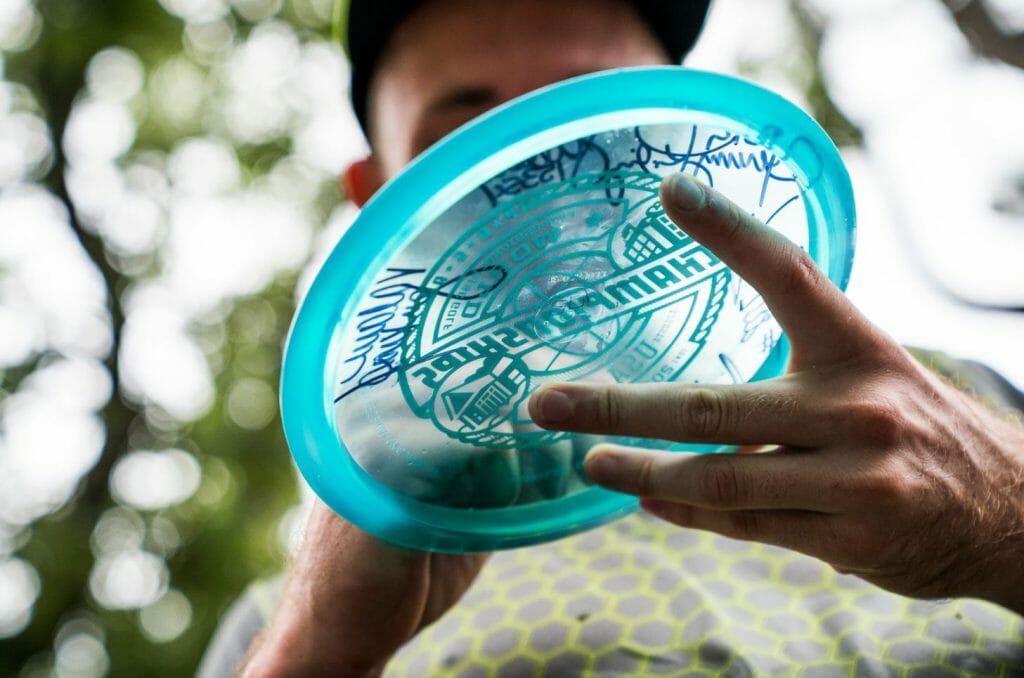 Our final dispatch after a busy week in Augusta, Georgia, for the PDGA Professional Disc Golf World Championships brings news from the game's brightest stars and a couple of international travelers. Let's kick things off with a celebration.
Sockidad Soaks It In
Family patriarch Rick Wysocki, now the father of a two-time PDGA World Champion, stood quietly behind the crowd that had gathered around his son and took it all in. He'd already given out his back pats and bear hugs, and it was time for his progeny to bask in the moment.
That didn't stop him from basking in it, too.
"I'm in heaven," the elder Wysocki said. "I'm so happy to be able to be here to see him do this. I missed it last year and watched him online as much as I could last year, so you can't beat it being on the course with him."
He said the family planned to go out to dinner to celebrate the achievement, but they hadn't yet nailed down a location. He was certain of one thing, though: His champion son, who had just pocketed a cool $12,000, would be footing the bill.
"Oh yeah, there's no question about that," he said with a laugh. "So it'll be somewhere nice." — SH
Valarie Jenkins' Bag
Jenkins' move from Innova to Discraft was arguably the biggest story of the disc golf offseason. Coming off her fourth world championship with Innova, many were somewhat surprised to see her make a move after so many years throwing the same discs, but Jenkins was pleased with how her transition has been going.
"The discs are flying great, and I'm really excited to throw them," Jenkins said. "When I look at both the bags that I've had, I'm not sure I would have played as well with my other discs. I'm just a little more confident in them and I know how they fly a little bit better, which is weird for throwing those [other] discs all those years. I'm in a good place."
We know she's putting with Jawbreaker Roaches, and throwing her 4x Thrasher, as well. And for those wanting to know what else she's using, it appears an in the bag video is coming soon.
Whatever she's throwing, not only did it help her finish a close second to Paige Pierce, but she and husband Nate Doss won the Mixed Doubles World Championship on Sunday, after finishing second in each of their prior four attempts. — AC
The Closer
Ricky Wysocki's dominant stretch of seven straight birdies during Saturday's final rounds was reminiscent of a closer coming in and shutting the door in the ninth inning. So I asked Wysocki, who grew up playing baseball, who his favorite closer was.
"Let's see," Wysocki said. "I've gotta go with — that's a good question."
He thought for a moment longer before making an unconventional choice.
"Fernando Rodney," Wysocki said. "He is [my favorite], he's shooting the arrows up."
Though the two-time champion gets a kick out of Rodney's strikeout celebration, he won't be implementing it into his victory routine. Instead, he was content with tossing free gear to fans."
"I shot some discs up and we celebrated some discs," Wysocki said with a large grin. — SH
Body By Simon?
After blowing out his knee last July and had surgery, he moved to Switzerland for grueling rehabilitation. It worked to get him back on the road this season, but the grind of traveling, he thinks, has found him letting his health again take a back seat. He threw out his back last week and was able to play after receiving a cortisone injection, but he lamented the fact that he hadn't put himself in the best position to succeed.
"I've gotta take better care of my body," Lizotte said. "Lessons learned again, once again."
So that clearly means he'll be implementing a new workout routine the rest of the season, right? Planks, bridges, the works?
"Everything," Lizotte said. "Sex. Great core workout. You can quote that."
Fajkus' Favorites
If there's one thing that caught spectators' attention during Lisa Fajkus' run to third place last week, it was her exemplary putting and accurate upshots. Her short game was so consistent that I had to ask her how she was getting it done. Turns out it's Innova KC Pro Aviars for all the putts and a combination of a Discmania S-Line P2 and a "watermelon" Innova Nova, with a green overmold and pinkish-red flight plate, for approaches.
Fajkus also impressed from the tee and fairway, being one of the few Open Women's players to birdie the 1060-foot 9th hole at Fort Gordon's Marine/Navy course. She used two different star Shrykes to get in position for a 45-foot jump, and she said that mold had bumped the Tern out of her bag in recent months. When I asked her what she was throwing for forehands—another shot she utilized regularly throughout the weekend—one of her go-to discs was a surprise: the infrequently used Monarch.
The Monarch only comes in Champion plastic, and Fajkus said they've been a long time favorite of hers and that she regularly collects pre-flight numbers Monarchs. They only re-entered her bag for Worlds after practicing the Fort Gordon course in the days before the event, specifically because of hole 13. The neon yellow Monarch she used to park that shot during the final round helped Fajkus get her seventh of nine birdies on the day en route to the highest rated round of her career. — AC
PDGA Staff Gets A Helping Hand With The Forecast
A big shout out to Jacob Wilkins, Ultiworld Disc Golf's resident meteorologist. After corresponding with PDGA officials via Twitter, he was consulted regularly through the weather issues that delayed Worlds' final round. Tournament director Zach Shafer, in particular, marveled at Wilkins' accuracy, noting that the Western Kentucky University grad was able to help event organizers stay three to four minutes ahead of the weather and get everyone to safety efficiently. – SH
Ultimate Degrees
Elaine King isn't just one of the most accomplished disc golfers on the course: Off it, she holds a Ph.D. and for many years worked at GlaxoSmithKline.
It turns out the five-time world champion isn't the only one in the Women's Open division with an advanced degree, though: Slovakian pro Katka Bodová holds a Ph.D. in Mathematics from the University of Michigan. She played on club and collegiate Ultimate Frisbee teams for all seven years of her time in Ann Arbor.
She put her Ultimate background to good use during the field events portion of the World Championship, winning the SkillShot Challenge. As Bodová transitions jobs as a Mathematician in Slovakia this summer, she will have some time off to tour again in the U.S. in September. She plans to enjoy the cooler temperatures and lower humidity levels during the Vibram Open, Green Mountain Championship, and United States Women's Disc Golf Championship in Tennessee. — AC
Kiwi Discs
Hayley Flintoft from Wanaka, New Zealand, was competing for just her second time ever outside of Kiwi country. The longtime snowboarder played in last year's PDGA/WFDF Team World Championship in Vancouver, British Columbia.
The excursion out of Oceania and to a larger field of women was a welcome one, as she said there's only one other female professional in New Zealand that she is regularly competitive with. Even then, that player lives on the other of the country's islands, and so the only compete roughly twice a year.
While she finished outside of the cash, Flintoft won't be returning to the southern hemisphere empty-handed: She worked out a deal with Innova for hundreds of discs to use as prizes for women's leagues and tournaments she will begin organizing throughout the country. — AC
2X Problems
After his sterling round three performance that saw him open up an eight-shot lead, I asked Ricky Wysocki if he'd thought about writing 2X instead of 1X next to his signature. He said he had, but when the time finally came to start scrawling a new digit on Saturday evening, he hadn't quite made the adjustment.
"Sounds weird," Wysocki said. "Sounds weird saying [2X], but it feels even more weird signing the discs. I signed a few of them one-time just because I've signed so many of them like that. And it's just — its awkward. It's just so muscle memory that I've done it [that] after I [wrote 2X] like 10 or 20 of them I still did one-time randomly, just because it's ingrained in my head."
He'll get used to it. — SH