McBeth surges into second place, while Lizotte and McCray tie for third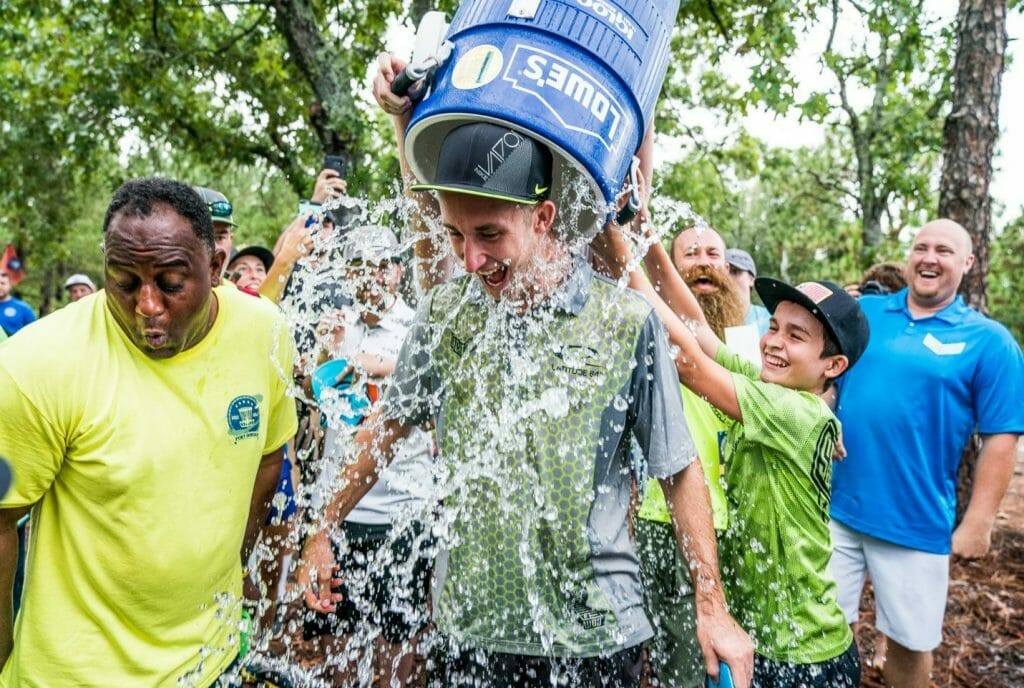 FORT GORDON, Ga. — At 2:53 p.m. Saturday, as competitors on the lead card at the PDGA Professional Disc Golf World Championships completed their second throw on the Marine/Navy course's 1,060-foot 9th hole, a tailwind grew into a gale and the sky took on an ominous, charcoal gray hue. Off in the distance, a three-horn blast sounded, an indication that players were to mark their lie and clear the course as tournament director Zach Shafer announced that lightning had been detected eight miles away.
Paces quickened into sprints as the skies opened and players sought shelter inside the lobby of the Fort Gordon Holiday Inn that was conveniently located just east of hole 9's fairway. As spectators followed and previously dry vinyl floors grew moist from dripping umbrellas, Ricky Wysocki walked over to a television and calmly flipped through the channels.
"I'm a SportsCenter guy," he said, flashing a relaxed smile.
He sat down in a lime green easy chair and took in a skateboarding montage before surfing the stations again and settling on golf highlights. Eagle McMahon soon joined on a loveseat to his right and fired up his Instagram account for a live update, while Simon Lizotte sat on the other side of a partition and snacked on some peanut M&Ms.
Wysocki, sitting with a seven-shot lead with nine and a half holes left in his quest for a repeat PDGA World Championship, handled the delay with aplomb. He politely chatted up approaching fans, signing a mini for a two-year-old admirer who toddled over in streaked blue and green Crocs and taking group photos before mingling with his younger brother and brother-in-law, who waited in a nearby corner of the room. All was well for the reigning world champion.
But the delay dragged on, with continued lightning strikes flashing in the sky as players continued to peer outside in hopes that the weather would break. 3:25 was the first call for play to resume. Next, it was bumped to 4:10. Hotel staff brought out fresh carafes of coffee as JohnE McCray lounged along a wall with his wife and older brother, the latter of whom traveled down from the Charlotte area for the big day. Newly crowned women's world champion Paige Pierce sat at a nearby table and split a ham and cheese Hot Pocket with Zach Melton, while the tournament's various media crews swapped trade secrets and checked their fantasy baseball scores.
And then, as the interruption crept closer to the 60-minute mark, Wysocki was a ghost. Done with the small talk and smiles, he retreated to the building's third floor and isolated himself in a hallway as he sought to mentally rehash his uneven first half showing and regain the fire he needed to seal the win.
"It was the middle of the round still, and, you know, it's never over till it's over," Wysocki said. "I just didn't want to break my focus, and people were coming up and asking the wrong questions and saying the wrong things, and I didn't want to — nothing against them, but people don't understand the situation and the mindset you have to be in to be able to play at a high level not just one, two, three days, but the four-day event like it was.
"All the pressure mounted," he continued, "and I just felt like I wanted to be by myself and not do anything besides think about what I was gonna do and how I was gonna handle all the different situations I was gonna face."
The self-seclusion paid off. When play resumed at 4:25 p.m. — 92 minutes after the round was initially halted — Wysocki closed the tournament with an unrelenting, dominant display of precision and putting to win his second straight world championship. His final round 8-under par 59 gave him a 41-under par 229 total for the four-round tournament as he kept the eight-shot lead he held coming into play. Paul McBeth jumped into second place with a vintage McBeast performance, firing off an 11-under par 56 hot round as he valiantly chased his rival. McBeth's 33-under par 237 kept him clear of Lizotte and McCray, who traded volleys on the lead card and ultimately tied for third place with 30-under par 240s. Devan Owens' final round 7-under par 60 secured his highest career finish at Worlds, as his 28-under par 242 total tied him with Chris Dickerson, who also made his own last day push to end up in fifth place.
Wysocki pocketed $12,000 for his 72-hole effort, while McBeth took home $6,000.
After tapping in his final putt — he lamented just missing a 40-footer for birdie on the 1,004-foot 18th hole that would have given him a shot at a signature "raptor leg" run to the crown — Wysocki was swarmed by family members who made the trip from nearby Fort Mill, South Carolina. He then opened boxes of Sockibomb-branded merchandise and unleashed an assault of free gear on the eager crowd that had gathered, showering onlookers with Carolina blue hats and a multicolored array of discs. As he signed autograph after autograph, replacing the 1X he had become so accustomed to with a fresh 2X, his brother snuck up with a cooler of ice water and gave him a Super Bowl-style drenching to complete the celebration.
"It wouldn't be possible without all their support," Wysocki said of his built-in cheering section. "My brother-in-law helps me with all the off-the-course stuff, managed everything. I'm able to go out and practice and travel the world and play at the highest level. He's just one of them, but all of them mean something and have their own place. It's really awesome to be able to share the experience with them because last year was so far away. I feel like I just kinda made up for them not being here last year."
And he gave them a show in the process. After cleaning up with an easy approach and tap-in for birdie to finish hole 9 after the delay, Wysocki stepped up to hole 10's tee and launched a towering hyzer wide right over the tree line that leads to a downward-sloping green. His drive landed roughly pin high on the 390-foot par 3, but was 50 feet right of the basket. In typical Wysocki fashion, he canned the putt for birdie to maintain an eight-shot margin over McBeth, who had parred hole 9 prior to the stoppage.
Wysocki then moved to hole 11, a 704-foot par 4 that plays downhill, and attacked the left-bending fairway with a high distance drive that faded into the rough. Faced with a 200-foot approach that was blocked by trees, Wysocki threw a Dynamic Discs Felon on a steep forehand that cleared the obstacles and dive-bombed into the earth five feet from the pin. He was left with a tap-in birdie 3, while the others in his group clawed their way to a 5, 6, and 7 on the scorecard.
Though it came with eight holes to play, the moment felt like the clincher for Wysocki's second career title. He had a nine-stroke margin on McBeth, a 10-shot lead over McCray, and a dozen separating him from Lizotte.
"There was no point that I really let go," Wysocki said. "But at that time, when I got up and down from that tough spot — like you said, there's coming up some tough holes. I think I still had seven or eight strokes at that point. That shot, that particular [one] definitely stuck out in my head…It felt like that was a good momentum shift."
Still, Wysocki would not yield, and he executed his birdie on hole 12 with two pinpoint forehand shots to put him 25 feet from the basket. His touch putter drive on hole 13 sidled up to 15 feet for a deuce, and his tee shot on 14 managed to skirt through the woods before skidding on the dirt path in front of the pin for yet another easy finish. The three tap-ins made it seven consecutive birdies for Wysocki, and he was able to cruise to the finish.
With McBeth going on his own run of four straight birdies from 11 through 15 to lock up the runner-up position, attention turned to McCray and Lizotte's tilt for third place. Both had their fair share of skirmishes down the stretch: Lizotte played his approach too aggressively on 11 and sailed into the downhill rough before three-putting for a triple bogey 7, while McCray could not convert on an inside the circle birdie putt on 15. The miss allowed Lizotte to take a one-shot lead, as he demonstrated his underrated woods proficiency with a technical forehand drive that paved the way for a birdie.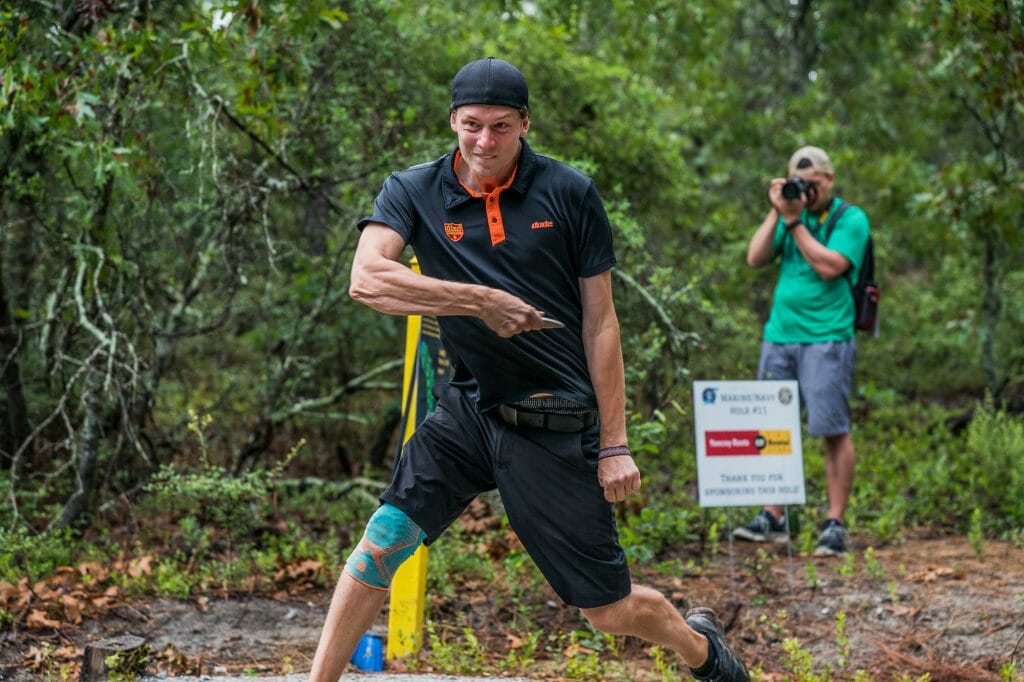 Lizotte then drilled a 35-foot straddle spin putt to save par after his birdie bid on hole 16 rolled away into the brush, while McCray smartly laid up for the easy 3 with an upside-down putter approach. On hole 17, Lizotte hit a mid-fairway bush off the tee and was left with an awkwardly stanced second shot in the middle of a hillside, and McCray repeated his drive from Thursday with a powerful S-curving line that put him on top of the plateau. Lizotte found a skinny tree on his second shot, while McCray buzzed the tower on his to land in range for a tap-in birdie. Undeterred, Lizotte ran his bid from 100 feet out but came up short, and the two carried a stalemate into the final hole.
Spectators were then treated to an air show on the par 5 18th, with McCray lacing his drive clean uphill and into the fairway, while Lizotte trimmed some branches with his skyscraping anhyzer and fell short. His second shot veered offline and to the edge of the rough, while McCray — not to be outdone by the younger competitors on the lead card — threw a long flex shot out around some evergreens, finishing the powerful display with an emphatic grunt and double fist pumps.
Lizotte, looking to keep pace, threw a backhand roller that soared in the air, took a huge bounce, then settled down a curled to within 40 feet of the pin. McCray tossed his approach to 25, and the pressure was on Lizotte if he wanted to stay tied.
As he lined up his birdie putt in front of a hushed gallery, a baby in attendance cried out from the distance. Lizotte took a moment to shake off the distraction, then spun a putt that hugged the left side of the chains to secure his 4. McCray then finished off his birdie, and the two shared third place honors.
The 45-year-old Floridian said he was "pleased" with his finish at Worlds, and his final round was marked by a notably loose, almost jovial demeanor compared to his mood during round three at the International Disc Golf Center on Friday.
"I tell you what — I don't know if you saw yesterday, but I was very upset. I don't want to be upset, you know what I mean?" McCray said. "I'm not traveling around to be upset, not at all. I decided today, no matter what, I was just gonna be happy and have fun. It's what we're here for."
Again wearing an American flag bandana under his hat at this U.S. Army outpost, McCray said that he thought about his now deceased father, an Army veteran to whom he previously said he was dedicating his performance, earlier in the day.
"Actually a couple times, you know, before we started and stuff," McCray said. "But if I think about that while I'm playing I'm gonna blow up and my eyes are gonna be all watery, so I had to block that out. So it feels good now."
Lizotte, who considered not playing Worlds after he injured his back earlier in the week, was disappointed with his showing on hole 11, but elated with his finish on the whole.
"Well, this was a race for second more or less, everyone kinda knew that," Lizotte said. "Paul was playing really good. I was trying to keep up, then I got this amazing 7 on that hole and that kinda crushed my second place dreams. And I was off for third, and I am glad. Tied with JohnE is always nice."
Now almost a year removed from a devastating knee injury, Lizotte said he never doubted that he could return to Worlds and log this kind of performance — or a better one.
"I thought I was gonna win," Lizotte said. "Of course. If anyone's gonna believe, it's gotta be yourself. If you don't believe, then no one will."
The rest of the top 10 was highlighted by two breakout performances. Left-hander Austin Turner took seventh place in his second career Worlds with a 27-under par 243, while Adam Hammes tied for 10th place with Zach Melton at 25-under. Longtime pros Nate Doss and Cameron Colglazier tied for eighth place with their 26-under par 244s after Colglazier padded his score with a final round ace on hole 14.
Though Hammes fell from second place with an even-par showing on Saturday, he still showed flashes of brilliance. His 55-footer for birdie on hole 10 was all confidence, and his well-rounded game leaves him poised for future growth.
"I can't be happier," he said. "Being on lead card final round — dreams come true."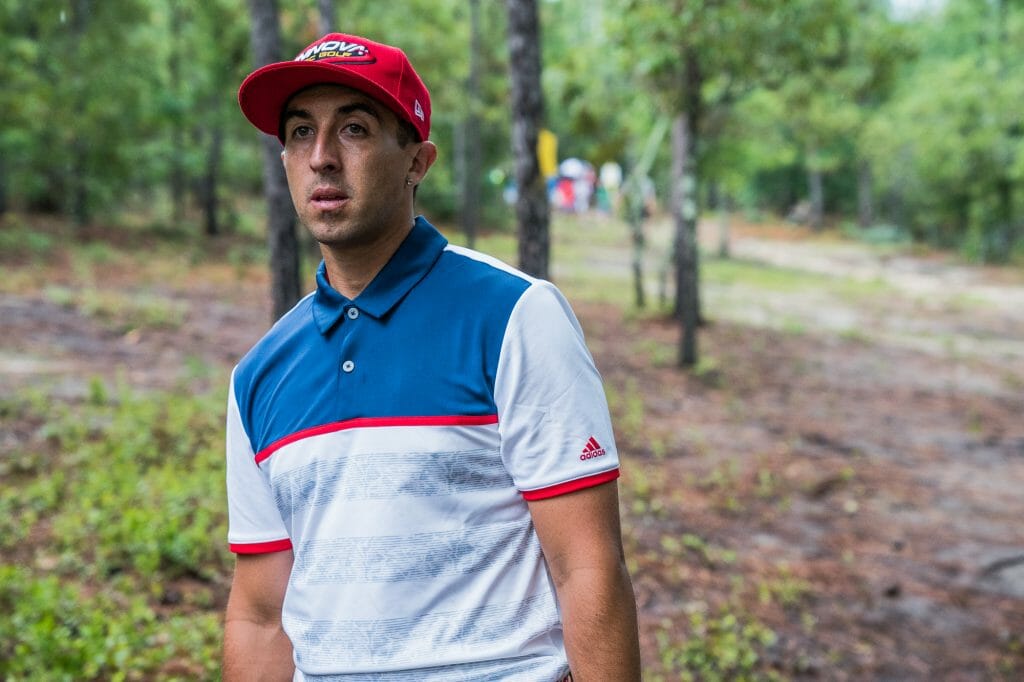 McBeth's second place flurry was another example of his pure talent, but he knew he had dug himself too big a hole with inaccurate tee shots earlier in the week. His putting game was notably more consistent, though, after his full-time switch back to a standard stance.
"Oh boy — I wish I would've showed up day one," McBeth said. "I finally had a good round today. Solid round, bogey-free. Then, when I got opportunities or when I was struggling, I made great par saves, and that's kinda what I didn't do the first few days. Second place, for how I played — I'm not mad about that at all."
Worlds marks the tenth event this season in which Wysocki and McBeth have finished in first and second place, with Wysocki now taking a six to four advantage in the win column. It was just another in their ongoing battle atop the sport, and McBeth said they were driving one another to achieve such heights.
"Rick's definitely stepped it up last year and this year," McBeth said. "It's to the point where, if either of us make mistakes, the other one's gonna capitalize…We're pushing each other, definitely, and he's got the better of me the last few events. Beaver State, I kinda let that one slip away. That kinda motivated me more for this one to make the putting switch. With me making all these putts now, it's definitely gonna push Rick more, and he's gonna have to find new ways to start being on top all the time. It's the same way — when I'm winning, he's getting better. And when he's winning, I'm getting better."
Wysocki has now halved his deficit in the career PDGA World Championship race between he and McBeth. But as he basked in the afterglow of his most recent triumph, Wysocki wistfully entertained the idea of aiming for Ken Climo's record 12 world titles.
"You know, I don't think anyone will ever touch that, but as a player you've gotta be open-minded and think that, you know, it's definitely a possibility," the 24-year-old said. "If I play for as long as I feel like I can in my career, I feel like I'll have a shot at it. I feel like all the Worlds I enter, I feel like I have a good chance for the next 15 or so years. Obviously I'm not gonna win them all, but it's a great feeling."
Wysocki then joined his parents, brother-in-law, and four of his seven siblings behind the 18th basket for a photo, making sure not to let the moment slip away with the setting sun. Perhaps one title for each family member will suffice, instead.