McCray stays loose to hold a share of first place, while Owens moves up to third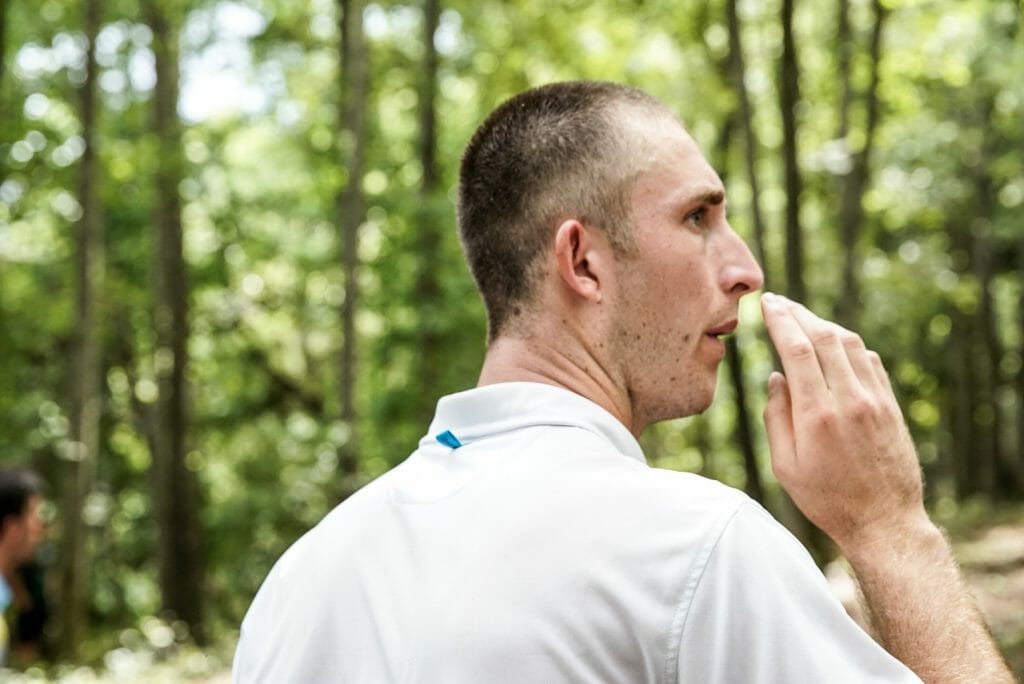 FORT GORDON, Ga. — On a day when the mercury pushed toward triple digits and the Georgia humidity weighed down on competitors like a wet blanket, Ricky Wysocki somehow outdid them both as he set the Marine/Navy Disc Golf Course ablaze.
The defending PDGA World Champion resumed his quest for a second straight title with a 12-under par 55 on this military installment, more than securing the hot round and improving on his day one tally by four strokes. The bogey-free, 1062-rated effort brought Wysocki to the top of the leaderboard at the PDGA Professional Disc Golf World Championships, where he shares first place with JohnE McCray, who tossed a 1034-rated 8-under par 55. Devan Owens also managed to keep a clean sheet en route to his 9-under par 58, which saw him climb two spots and into sole possession of third place.
Six players are currently tied for fourth place, with each taking different paths to their 15-under par 120 totals. Cameron Colglazier and Adam Hammes both moved up from 16th place with their 9-under par rounds, while Simon Lizotte, Paul McBeth, and Eagle McMahon each threw 7-under par 60s. Chris Dickerson rounds out that group after throwing a 6-under par 61 to fall off the lead card.
In order to keep bringing the heat during the round, Wysocki first had to beat it. He took advantage of the course's copious ice chests — one on each hole, restocked throughout the day by tournament staff — to dunk a towel and douse his head and neck as he fought the sweltering conditions.
"I feel like [in] the heat out there you can get into a fog and not really snap out of it," Wysocki said. "And I feel like that's not the mindset you want. I feel like to keep cooling myself off before every hole really refreshed my mindset, and obviously I felt refreshed from cooling down. So it was like a double whammy."
The mental reset came in handy the most on the course's treacherous Navy portion, a demanding back nine that signals a sharp departure from the early, long-bombing holes of Marine. Tight lines, precariously-perched baskets, and loads of elevation turn the second half of the round into the grueling slog reminiscent of mile 20 of a marathon, but that was where Wysocki surged. He dug into his mixed arsenal and deployed both forehand and backhand shots as he aimed to play the slopes correctly, and the attack resulted in him taking birdies on all four of the back nine's par 4s.
"I was playing pretty aggressive," Wysocki said. "I was in position on a lot of drives, so I was able to attack on the second shot. A lot of those are two-shot par holes, par 4s, so I really took advantage of those."
As he is known to do, Wysocki also mixed in a long putt on hole 16, where he laid down the only forehand roller on his card and finished the job by canning a 60-footer uphill. The signature Sockibomb yielded applause from the gallery that could be heard all the way on 18's fairway.
"I obviously want to make them all, but that one especially," Wysocki said. "I feel like coming down the stretch I wanted to make a statement and really close out the round real strong, and I was glad to capitalize on that one."
McCray, meanwhile, kept it loose on the lead card. Even after he took his first bogey of the round on 16, he stood on the tee of hole 17 holding court, entertaining his cardmates with a story from a clinic he held in Oklahoma. When it was go-time, he stepped onto the box and unleashed a crushing drive up the sloping fairway, reasserting command of his score.
"Here I come," McCray then said, with just enough southern swagger. He finished the round with consecutive birdies, showing both power and touch as he tackled the 1,004-foot par 5 that closes play.
McCray said playing on Fort Gordon held special meaning for him. His father served in the military for 22 years, disassembling bombs and flying helicopters in the Vietnam War. And though he has long since passed on, McCray — adorned with an American flag bandana that could be spotted through the mesh backing of his Latitude 64 hat — became emotional as he talked about what was motivating him to win a world championship.
"I'm doing this for my dad," McCray said as he choked up a bit. "I want to give him a Father's Day present."
Wysocki, too, said he felt the impact of performing inside the gates of a military outpost.
"You get the veterans and the active military coming up and congratulating you and saying good luck, and it means a lot coming from [them]," Wysocki said. "It always means a lot, but especially coming from people that are serving our country — you're looking up to them most of the time, and now they're looking up to you."
Owens, playing on the chase card, stole the show early from the likes of McBeth and Lizotte. Even after stepping awkwardly off hole 3's teepad and tweaking his right knee, he continued to unleash precise drives. His dive-bombing shot on hole 5 nearly crashed the chains, and his low line drive under the canopy on hole 8 was one of the card's highlight reel shots.
The Oklahoma pro was on a tear and went seven down through the front nine, but a two-card delay on hole 10 got him out of his flow. He then missed a 25-footer that would have netted him another birdie, and he admitted that the gathering crowd started to rattle his nerves.
"The backup got me on that a bit," Owens admitted.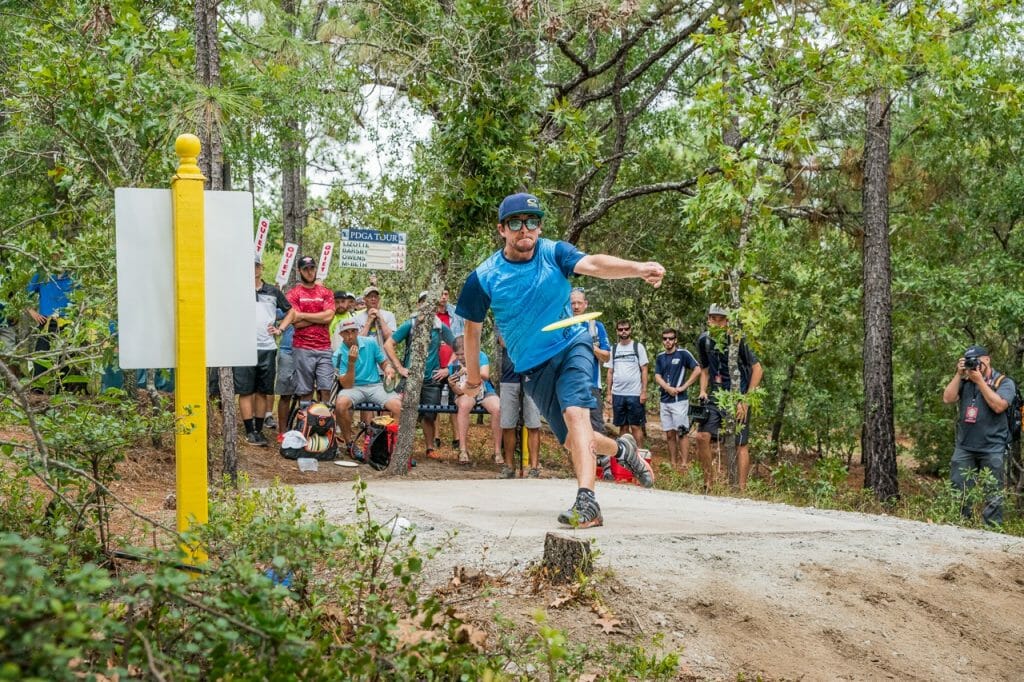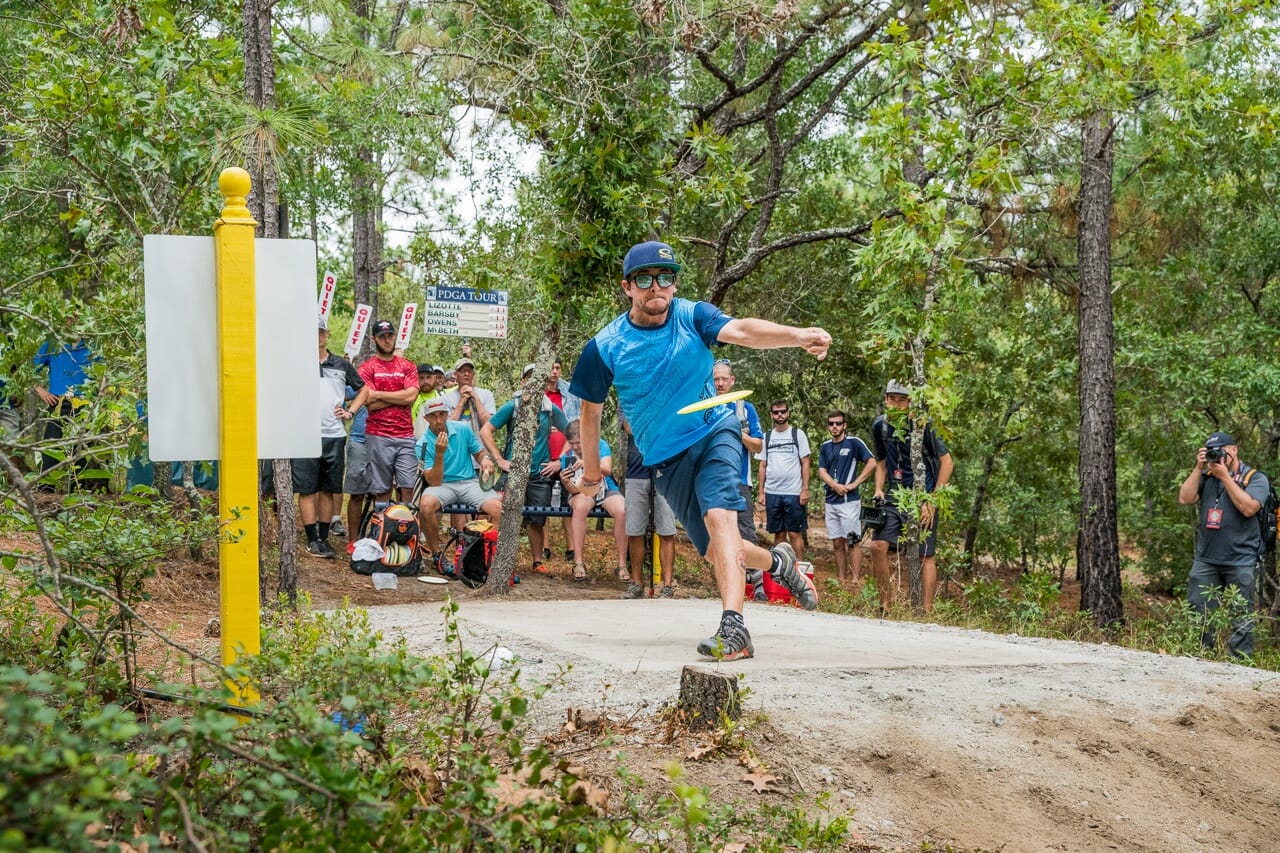 The 28-year-old tends to fly under the radar, yet still has a propensity to show up at big events. He landed on the lead card of last year's Worlds in Emporia, Kansas, before finishing in ninth place, and he pointed to his 2013 Copenhagen Open performance — in which is lost to McBeth by one stroke — as evidence of his potential.
Owens also said he now feels back to his old self after recovering from a broken leg. The 2014 injury led to two surgeries — he still has seven screws in place — and it took him awhile to feel comfortable and regain his full power. Flash forward three years, and he's now a first-time homeowner who is committing to a more healthy lifestyle as he seeks to prove he can make a living in the sport.
"I'm just really dedicating myself to this dream of being a disc golfer and owning something," Owens said.
Further down the leaderboard, Charlie Goodpasture and Drew Gibson both tossed 9-under pars on the 11:30 a.m. card to move from 21st to 10th place. Gibson started off hot, scoring birdies on 11 of the first 13 holes before closing out the round with a double bogey and four straight pars. Even during his slow stretch Gibson relied on strong putting, which he said came from two hours on the basket after Wednesday's round.
"I had a tough little hole there and thought I bounced back," Gibson said. "Still, I made three 40-footers in a row just to save pars, so I didn't even still play that bad. I just didn't get the scores I wanted."
Up to this point, the Open field had been broken into two pools based on player rating, with the top 72-rated players in the A pool and the remaining 89 in the B pool. Those groups were shuffled after round two and players have been reassigned based on scores. As a result, a few top-rated players who hit some snags at Marine/Navy, including Anthony Barela and Lewis Bitney, and were relegated to the lower group.
Play for the A pool now shifts back to the International Disc Golf Center's W.R. Jackson Course, where Wysocki shot an 8-under par opening round on Wednesday. He said today's performance there would hinge on his ability to stay manage the course, and he pointed to his showing on hole 10 during round one — when he got off the fairway and gave up strokes as he aggressively tried to hack his way out of the rough — as a situation to avoid.
"Out there I pushed it a few times when I shouldn't have," Wysocki said. "And obviously looking back hindsight's always 20/20, and I'm gonna use that to my advantage and know that sometimes, after some tee shots out there, par is gonna be the new score you're looking for after a bad drive."
The lead card tees off today at 11:00 a.m. Eastern, with live scoring and updates available from both Ultiworld Disc Golf and PDGA Media.