Todd, Johansen, Dickerson all tied for second; Lizotte battling a back injury in fifth place logjam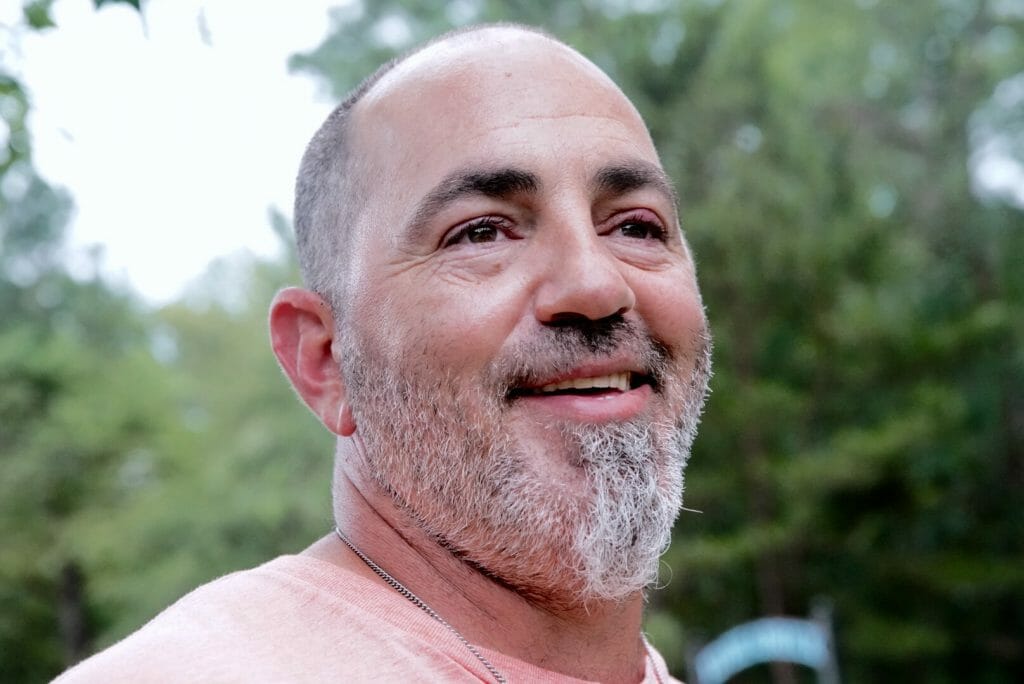 APPLING, Ga. — At 45 years old, JohnE McCray is aware that he's not just playing against the courses at this week's PDGA Professional Disc Golf World Championships. He's also taking on Father Time.
So instead of toiling away for the last month on the pro circuit's West Coast swing, he decamped to Georgia to get a head start on an accomplishment he's been seeking his entire career.
"I've only got a few more years to attempt this in the Open division, so I have to take advantage of everything I can," McCray said. "So I took a little more time and got a little more practice in out here."
That strategy paid immediate dividends yesterday during round one of Pro Worlds at the International Disc Golf Center's W.R. Jackson Memorial Course, as McCray shot a 1066-rated 12-under par 56 to jump out to an early lead. The performance has him three strokes clear of Cam Todd, Michael Johansen, and Chris Dickerson, who all tossed a 9-under par 59s under murky Augusta skies to tie for second place. A veritable murderer's row of players makes up fifth place, as Paul McBeth, Ricky Wysocki, Eagle McMahon, Simon Lizotte, Devan Owens, and Gregg Barsby all fired off 8-under par 58s.
The performance earned McCray his second best round rating of the season, just shy of his 1070-rated third round at the Memorial Championship. It was his fifth round of the 2017 season that has surpassed 1060.
Though the day ended with him triumphantly thrusting his umbrella into the air as he walked through the parking lot, it started inauspiciously. McCray had spent countless hours in the last few weeks preparing to tackle Jackson's fairways, but found himself off of those fairways and deep in the rough after a his drive on hole 1 kicked off a tree. It could have been a moment of despair, but the veteran buckled down to save par.
From there, it was off to the races. McCray birdied the next five consecutive holes, a stretch that included three par 4s. His run slowed a bit as he took pars on holes 7 and 8 before adding another deuce to go 6-under through the front nine. McCray then took two birdies on the leg of short par 3s through the course's midsection before closing out his bogey-free round with four more birdies.
"[On the] first hole I was so deep in the woods it was like, 'Oh, this is not gonna be a good day,'" McCray said. "But no, I kept it together and stuck with my game plan and threw the shots I knew I could throw, and they were working. I had to hit a couple putts and make a couple really tight lines out there, which luckily I did on four of the five that I had to. And it all worked out really good."
McCray was not the only Masters-aged player to shred Jackson, though. Todd, who won the PDGA World Championships in 2001, also cleanly navigated the woods with his own bogey-free performance. And while clean drives are key during any round, Todd — who has been battling an elbow injury much of this year — relied on his savvy on the green. He said he made a change to his putting mechanics, opting to roll his wrist over his release point instead of driving with the elbow as he deals with lingering pain.
"It's been a struggle with a tennis elbow and golfer's elbow for the whole season," Todd said. "Driving's fine, but after a few hard drives I'm not making putts. So I had to change up the putter a little bit, and today it was pick a routine, pick a style, and believe in it, and it worked for me."
That malleability was something Todd said came easily, even if it not an everyday necessity.
"Absolutely," he said. "You have anhyzer putts, you have out-of-the-woods putts. You have all kinds of putts you're gonna have to adapt to. So it was something that was definitely in the arsenal, but not practiced as much."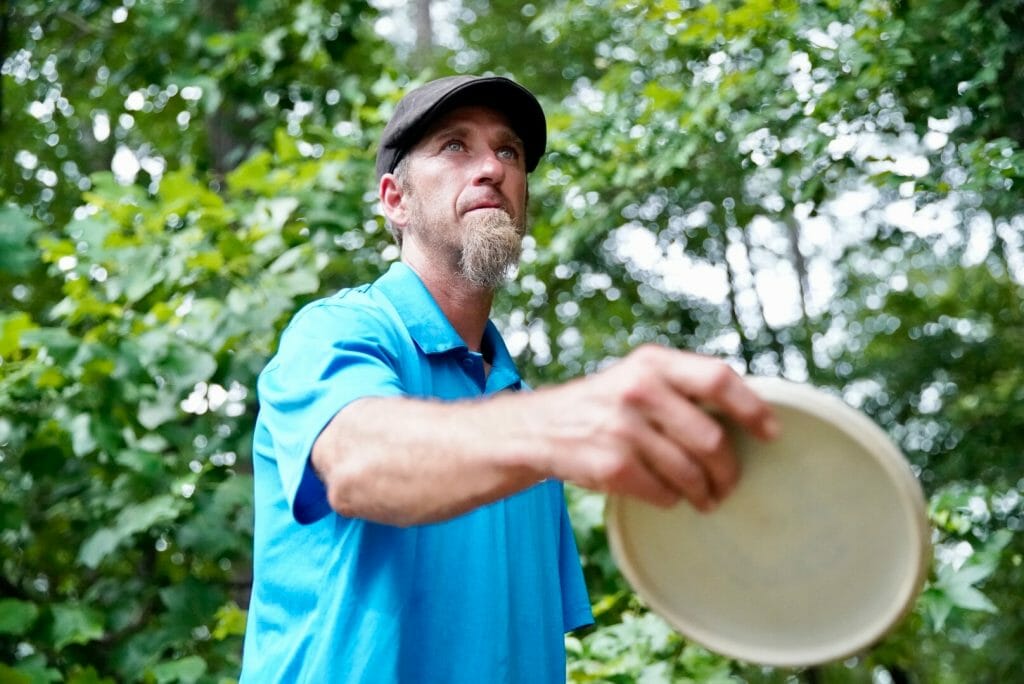 And as Todd was battling a long-term, lingering malady, Lizotte's suffering began on Tuesday in his hotel room. The German star said he felt something snap in his back when he bent over to pick up a t-shirt, leading to instant, acute pain. He spent much of the day seeking treatment, first at the hands of Open Women's veteran Jennifer Allen, whose day job is as a physical therapist's assistant. After she aligned his hips, he was still feeling extreme discomfort. A trip to the chiropractor then resulted in an urgent care visit, and a cortisone shot, as Lizotte did everything he could to counter the injury.
"I got a needle up my butt. It was beautiful, loved every moment of it," Lizotte deadpanned. "And then [the doctor] gave me some Valium to sleep, and this morning I took a thousand milligrams of Ibuprofen. So I still feel it a bit, but mostly my body's just numb."
Lizotte also said he considered skipping the treatments — and Worlds entirely — for fear that playing through the injury could cause further damage. He did not throw at full power during round one, but the more open layout of Fort Gordon awaits.
"I have no idea how my back will feel tomorrow," Lizotte said. "No idea. I'll do my best to make it as good as possibly can be."
McMahon, meanwhile, was licking his chops as he readied for action on the nearby military installation. The Colorado native had some rough tee shots on Jackson's last two holes, but managed to escape relatively unscathed.
"I am really excited to go into tomorrow, because Fort Gordon is a lot more of an open course," McMahon said. "A little more of my style. I can play these tight wooded courses, but it's kind of uncomfortable. Tomorrow I can kinda just open up and not worry as much. I think there's maybe one or two holes at Fort Gordon that I'm even slightly worried about, and this course you've gotta be on your toes on pretty much every hole."
Wysocki hit some hurdles in his first go at his title defense, taking a bogey 6 on the par 5 10th as his drive landed deep in the rough. He ceded strokes as he struggled to break free of the brush, then later took another bogey on hole 13, one of the more attainable birdies on the course. He got back on track late, though, stringing together three straight birdies to land him on today's chase card.
"I ran into some trouble on the back nine, but I salvaged the round — I didn't completely blow up," Wysocki said. "I shot a mediocre round. I'm pretty happy after the first round. I'm sure I'm not leading, but I'm right in the hunt, so that's all I care about."
McBeth, meanwhile, also battled some inconsistency. His early drives were plagued by some skittishness on the wet teepads, and he often found himself scrambling to get back on the fairway. His return to a standard putting stance was generally successful, though, and he heads into Fort Gordon still within striking range. As a result, he said he wasn't feeling any added pressure to strike back with a hot round, even with the shortened Worlds format this year.
"Every other Major we play is four rounds, so I don't see this as any different than any other Major," McBeth said. "I hear a lot of people talking about, 'It's so short, it's so short.' Every tournament we play is this or shorter, so there's no sense of urgency after the first round."
After a day where Mother Nature delivered relatively cool temperatures and cloudy skies, McCray hoped the move over to Fort Gordon might turn up the heat on the competition.
"I want it to start boiling people," the Florida native said. "I want everybody to start looking like this."
McCray then rolled up his sleeve to reveal a sunburned, peeling bicep, and let out a chuckle.
"That was from sitting on the lake though," he said.
Now, he's sitting pretty with 54 more holes to play in the tournament. The lead card tees off today at 12:40 p.m. Eastern.