Run it, or lay up?
One day Alice came to a fork in the road and saw a Cheshire cat in a tree. "Which road do I take?" she asked. "Where do you want to go?" was his response. " I don't know," Alice answered. "Then," said the cat, "it doesn't matter."1
Chances are, if you are on the disc golf course, then you know exactly where you want to go: to the basket, and with as few detours as possible. But taking the most direct route is not always the best idea, and course designers are always looking for ways to lure us into risky plays by dangling birdie opportunities amidst traps and hazards. So, for this installment of our Tuesday Tips series we will be examining ways to identify high-risk, high-reward scenarios and help determine not only when to attack, but also when to hold back.
Note that, when addressing high-risk or high-reward, we are not referring to holes that simply require a generous dose of luck, those with so-called "poke and hope" fairways. There is no risk-reward evaluation to be made when the only option is to pick a spot and hope for the best. Rather, a hole that trades high-risk for high-reward should present a clear choice between whether to "go for it" or "play it safe." These are the situations that can really test our nerves, as well as our decision-making.
Example 1: Birdie Over Troubled Water

Hole 7 at Optimist DGC in Fort Morgan, Colorado, represents a classic type of high-risk, high-reward design. From the tee, players can barely make out the pin, hidden behind reeds and bushes some 457 feet in the distance. Standing between the tee and the green, and running nearly the entire length of the fairway, is an imposing body of water that will challenge even the biggest arms. Failing to clear the water means having to re-tee with two throws and perhaps having your favorite driver sunk in the drink. There is a bailout zone running the length of the water on the left side of the fairway that offers a reasonably safe alternative for par-seekers, but the temptation to make a run at birdie — especially when goaded-on by the gallery that traditionally gathers to watch this hole during tournaments — has led to more than a few blow-ups.
The risk is great, and the reward may be even greater. Should you go for it? Well, can you throw 457 feet? If so, then you should probably be the one giving advice here.
Example 2: Should've See That Coming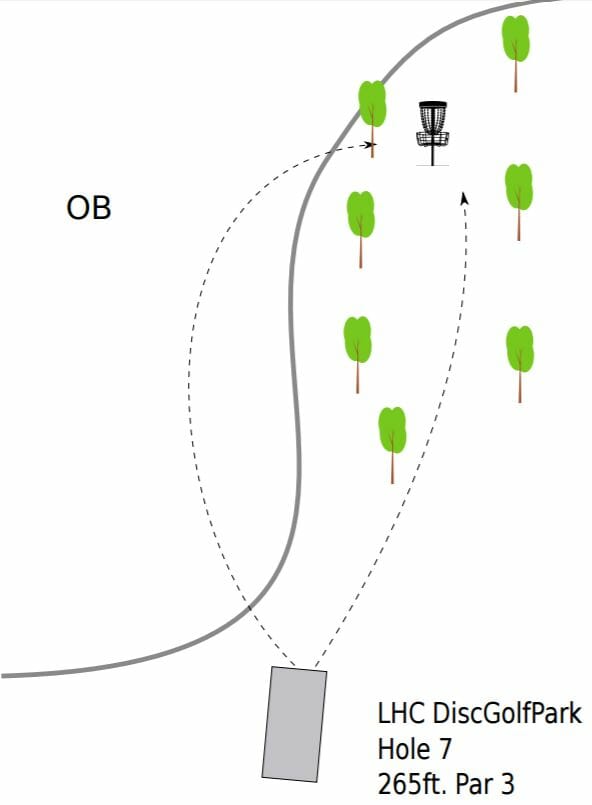 Sometimes the hazard lurking in a high-risk, high-reward scenario isn't as obvious as Optimist's big scary drink. This was the case for me on hole 7 at LHC DiscGolfPark in Scotlandville, Louisiana.
Hole 7 at LHC DGP plays much shorter — a mere 265 feet — and slightly downhill with the pin set among the trees on the right side of a snaking sidewalk that divides the fairway on the right from the OB on the left. Unlike hole 7 at Optimist, this one is birdieable without throwing your tee shot over the OB. But because there are trees along the fairway — whereas there are none along the OB side — and because the fairway slopes dramatically down left toward the OB, the higher-percentage shot for birdie would be a righthanded forehand hyzer flick that carries over the OB and fades back across the sidewalk toward the pin.
I can tell you exactly when I first considered what the consequences would be if my flick didn't make it back inbounds: It was during the short span of time between when I grip-locked my release and the moment it hit the ground. And, of course, it was during a sanctioned tournament. Let's see: One tee shot, plus one OB stroke… Add the re-tee, sprinkle in a little upshot, and you have yourself a double bogey 5. On a birdie hole. Ouch.
If you are going to try to carry the entire length of the hole over an OB zone, at least be aware of the risks involved, and, perhaps, consider the alternatives. From now on I'm going to throw my backhand over the fairway, even if this means a few less birdies and, as can easily happen on this hole if your righthanded backhand throw fades back over the sidewalk, the occasional bogey. Lesson learned (the hard way).
Example 3: Straight Shooter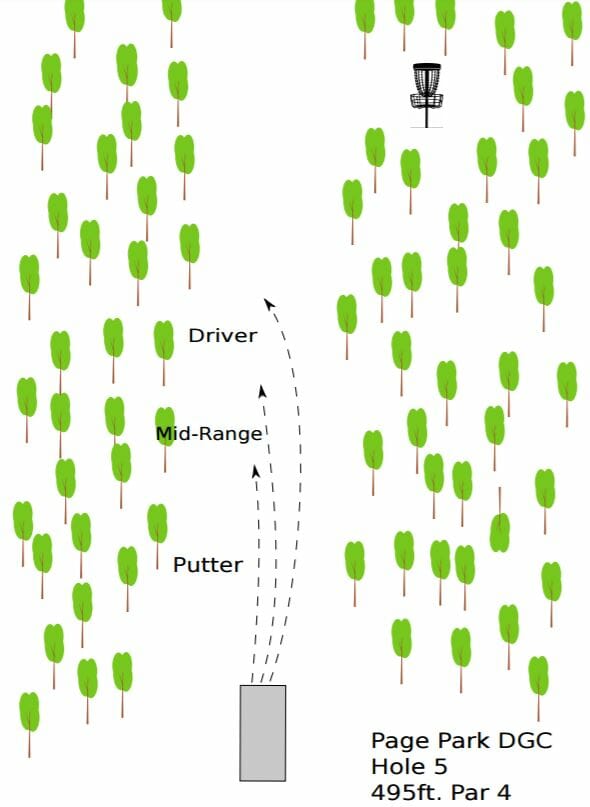 Our final risk-reward scenario comes to us courtesy of hole 5 at Page Park DGC in Bristol, Connecticut. Unlike the previous two examples, the risk factor on this hole does not involve OB. Rather, the hazard here is a dense, unforgiving forest that lines both sides of the narrow, 495-foot fairway. Getting yourself in position to card a birdie 3 requires a pretty aggressive tee shot — probably with a midrange, if not a fairway driver. Because the left rough slopes dramatically downhill, the risk here is landing a wayward shot deep — and I mean deep — in jail. Get out your machete and prepare to start hacking your way back to the fairway.
The safer play is to go conservative with a putter or mid that you can keep on a straight line and land in the fairway. Another shot like just like this should put you in position to get up and down for a comfortable 4, a completely respectable result. But if you want to separate yourself from the pack and think you can lace a speedier disc on a rope, then you will find no greater opportunity to flash your skills than on this hole. But tread carefully, because bushwhacking your way out of these dense woods might not only rough up your scorecard. It can also wear down your arm, as well as your morale. Don't say I didn't warn you.
Parting Shots
At this point, you may be wondering where to find the "tips" in this Tuesday Tips article. The truth is, I can't tell you whether to run it or lay up — except for on hole 7 at Optimist. Unless you are perennial Colorado State Disc Golf Champion Joe Rovere, or you are down to your last hole with two throws to make up, you should probably just play for par. Other than that, I can only offer a few generalizations and will leave the tough choices up to you.
The most important factor in making the right decision is realizing that you have a choice to make in the first place. And here, I'm hoping that the examples above will serve to help some players actually realize when they are in high-risk, high-reward situations. In general, the best approach is probably to calibrate your level of aggression somewhere between the poles of recklessness and timidity. I don't need to explain how extreme aggression can land you in trouble, but it is probably worth pointing out that being overly cautious can also be problematic. Sometimes, when the only thing on our mind is avoiding trouble, the trouble has a way of finding us.
Be mindful of the best-case and worst-case scenarios. If the best-case scenario doesn't involve a birdie (see example 1 above — I've never thrown 460 feet in my life), or the worst-case scenario involves heartbreak (blow-up your score and lose your favorite driver), then it is probably best to play it safe. Should you choose to go for it, then commit to this decision. No second guessing allowed, especially during your backswing.
Let's keep the conversation going! What is your favorite example of a high-risk, high-reward hole? Bonus points for including a picture or diagram. Leave a comment below, or join the discussion on our social media channels.
---
This is a popular misquote from the Lewis Carroll classic Alice's Adventures in Wonderland. Since the original did not quite suit my needs, I've opted to leave the altered version unaltered. ↩