Ulibarri breaks back into the top 10 after a strong Beaver State Fling finish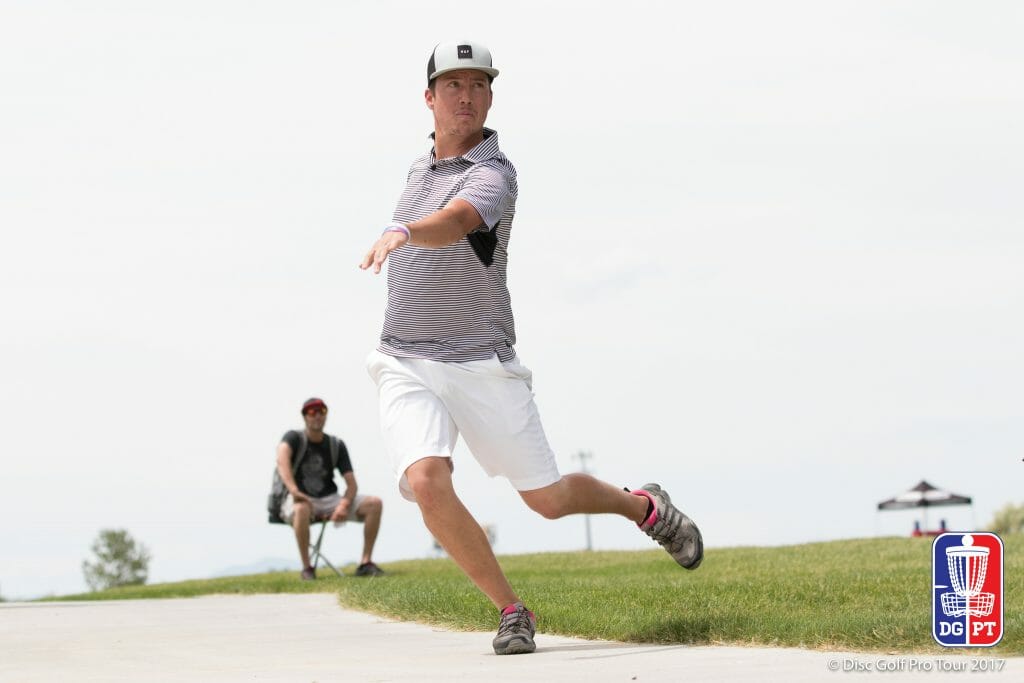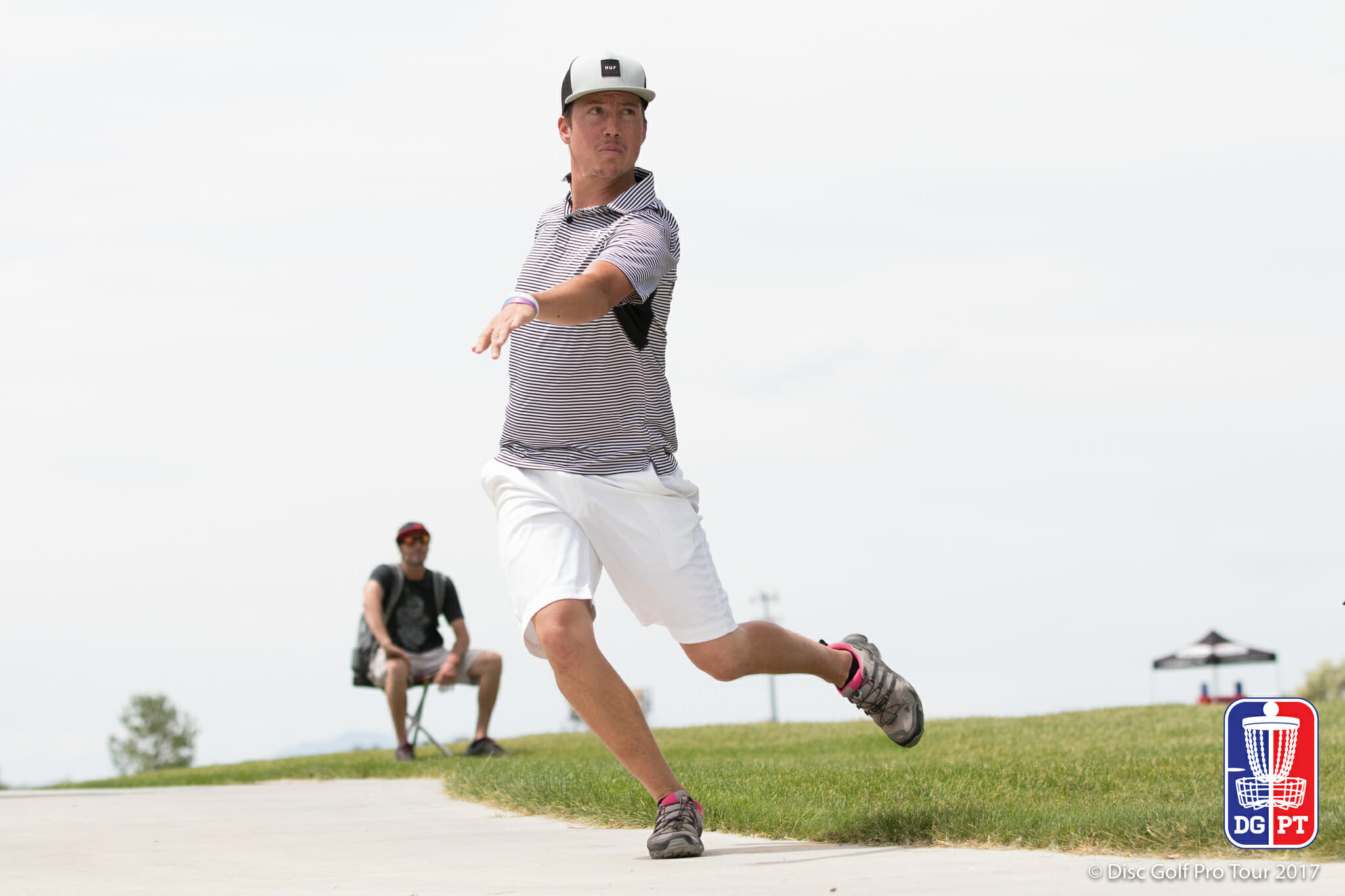 While Simon Lizotte and Eagle McMahon garnered attention as upper echelon pros who took a few events off to mentally unwind, there was another player who, quietly, embarked on the same type of break. And now that he is back, he has strung together his two best events of the season.
That player is Paul Ulibarri, and with the way he's playing, "quiet" won't be an applicable descriptor much longer.
One of disc golf's great road warriors, Ulibarri has has averaged almost 42 events per season since 2014. That kind of dogged schedule doesn't allow for much rest or recovery, and amplifies any maladies. So when a long-standing wrist injury flared up on him earlier this season, leading to a 40th place finish at the Nick Hyde Memorial and a 28th place showing at the Glass Blown Open, he made the difficult decision to head home. He took nearly a month off the road, skipping both the Konopiste Open and the Masters Cup, and came back renewed at the Utah Open. He hit the feature card in round one and stayed on the lead for round two before finishing in 10th place, but that was merely the appetizer.
The next week, at the Beaver State Fling, Ulibarri fired off four rounds above his current 1017 rating en route to a fifth place finish. It was his second career top 5 placement at the Fling, just two spots behind his third place finish last season.
Now, he takes a rejuvenated game into the PDGA Professional Disc Golf World Championships next week, where he'll battle not only the wooded confines of Georgia, but also the aforementioned players who are also coming back from a hiatus. And after a low finish at last year's Worlds — he was nursing an injury to his finger there — he is no doubt motivated to log yet another top 5 showing.
1) A walkoff ace and a playoff win put Ricky Wysocki back on top of the heap, just in time for Worlds.
2) If Paul McBeth brings the hot putter from Santa Cruz instead of the lukewarm one from Oregon, we may witness a fifth ring being won.
3) Though he only took second place at the Kansas City Wide Open, Jeremy Koling averaged 1032 golf in his final Worlds warm-up.
4) Another NT, another solid weekend for Nate Doss. Scrub his 999-rated third round and he's right in the mix.
5) Simon Lizotte has been home in Germany, where he dabbled in pro wrestling by taking down the Summer Slam Vol. IV. (Fine, it was a B-Tier disc golf tournament. But come on. It was too easy to pass up.)
6) Philo Brathwaite finished with the hottest final round at Beaver State to move into a sixth place tie.
7) The time at home did Eagle McMahon plenty of good, as he returned to the limelight with an authoritative third place showing in Oregon.
8) The real question as Nate Sexton embarks on paternity leave: Will he twirl a dirty diaper before putting it into the trash?
9) Seppo Paju's last three tournaments: fifth place, win, win.
10) It's been vintage Paul Ulibarri the last two weeks, as he's rounded back into form with 10th and fifth place showings.
11) Josh Anthon sprinkled a second place finish in between two ninth place NT showings.
12) Unfortunately, Cale Leiviska won't be playing with Worlds, instead working on some course installs in Minnesota.
13) Though he isn't quite a national name, James Proctor has all the tools. And the 2015 college champion put them on display at Beaver State to take fourth place.
14) Austin Turner struggled a bit in Kansas City to finish in 11th, but he is getting some credit here for his top 5 Utah Open finish.
15) Anthony Barela has pulled the reverse Uli the last two weeks, logging fifth and 10th place showings. Simply put, the 17-year-old out of Arizona is a stud.
16) Alex Geisinger is clearly big on education, logging wins in A, B, and C-Tier events in the last two weeks.
17) Steve Rico logged his second best rating of the season during round three of Beaver State on the way to his strongest NT showing of 2017.
18) Simple rule: Beat Jeremy Koling, get on the rankings list. Welcome aboard, Andrew Presnell, and congrats on your KCWO win.
19) Most has been quiet on the Nikko Locastro front, with a victory at the A-Tier St. Louis Open his biggest recent showing. Is it the calm before another storm at Worlds?
20) Devan Owens and a top 10 finish, like peas and carrots.
1) We're running out of superlatives for Paige Pierce's season, and it's not even at the halfway point. She won the Beaver State Fling for the first time in her career, by 18 strokes.
2) Moving up to second in the power rankings is defending PDGA World Champion Valarie Jenkins. A solid second place showing at the Beaver State Fling, where she averaged 972-rated golf, has her in a similar position to where she was prior to last year's World Championship: having a great, but "under the radar" season.
3) Deciding to skip the two high-profile events out west after the Masters Cup, Jennifer Allen instead took wins against smaller fields at the St. Louis Open and the Kansas City Wide Open.
4) After losing in a sudden death playoff in Utah, Catrina Allen couldn't hold on to second place at the Beaver State Fling, either. Allen heads into the World Championship in a bit of a funk, but there would be no better event in which to turn around one's season.
5) Sarah Hokom is well-positioned to parlay her recent run of consistent play into a run at her second World Championship on the wooded fairways of Georgia's coastal plain.
6) A win at the Utah Open in a sudden death playoff and a fifth place finish at the Beaver State Fling move Jessica Weese back into our top 10.
7) After taking much of the previous season off from traveling to higher-profile events, Ragna Bygde Lewis is back in a big way and right before the biggest event of the season. She averaged 970-rated golf at the Disc Girls Gone Wild event in Lansing, Michigan. It wasn't that long ago that she was a perennial top 5 finisher at Majors and NTs.
8) Another solid finish, replete with quality putting in a big field, moves Lisa Fajkus up in our rankings.
9) Five-time PDGA World Champion Elaine King is coming off a win at the Tennessee State Championship, where the next closest competition was ten strokes back. What's more, she's won every event she's played since March, and she's not doing it at local C-Tiers, either.
10) Even though Hannah Leatherman didn't get the win at Disc Girls Gone Wild, her solid play keeps her in the top 10 and on track for a quality performance at the World Championships next week.