Rejuvenated McMahon in second at the tournament's midway point
With only 12 days until the PDGA Professional Disc Golf World Championships in Augusta, Georgia, this weekend's Beaver State Fling serves as more than just another stop on tour. Indeed, its placement on the schedule makes it the last chance for players to hone their craft in a high-pressure setting before seeking the sport's most prestigious title.
That fact is not lost on Paul McBeth.
"I'm not overlooking this tournament, [but] it's kinda just a tune up for Worlds," McBeth said. "I'm not going in here like, 'Alright, my mindset's to win this tournament.' It's like, 'No, fine tune everything before Worlds.'"
It seems, then, that the McBeth Machine is already firing on all cylinders.
The four-time PDGA World Champion holds a two-shot lead after two rounds of the Beaver State Fling yesterday, with his 16-under par 106 total putting him ahead Eagle McMahon, who returned from a brief hiatus to toss a 14-under par 108 through 36 holes. Anthony Barela — fresh off his top 5 Utah Open showing — and Nate Doss share third place after their 12-under par 110s, while Kyle Crabtree, Ricky Wysocki, and Devan Owens are all tied for sixth place with 10-under par 112s.
McBeth's 9-under par opener at Milo McIver State Park's Riverbend West Course and his 7-under par at the East Course in the afternoon qualified as each round's hot score and came in with ratings of 1060 and 1048, respectively. He kicked things off quickly in the morning, carding four consecutive birdies to start play, then kept a clean sheet in round one until a bogey on hole 18 derailed his blemish-free hopes. As rain began to fall in the second round, he feasted on East's early par 3s and a midsection of par 4s to pad his score.
"I wasn't giving away too many strokes overall," McBeth said. "I was getting the 2s there, which are pretty big there because they're kinda important, then not giving away many strokes. Making the putts I had to and scrambling when I needed."
McBeth, who skipped last week's Utah Open after a blowout victory at the Masters Cup, said he didn't use his time off to relax. Instead, he hit the practice field in an effort to clean up his forehand, and that it had already paid dividends on Milo McIver's wooded fairways.
"It's going back home, seeing [family and friends], but also working my butt off," McBeth said. "Going out training in the field and doing all that stuff and making sure everything's dialed. So it's actually exciting to come back, because now I'm back playing and seeing what I improved on after doing that."
McMahon, meanwhile, seems rejuvenated. After opting to sit out the Masters Cup and Utah Open in favor of re-working his bag and playing smaller events in his native Colorado, he returned in fine form, carding only one bogey between his two rounds and making the most of his power by taking towering lines over Riverbend's massive firs.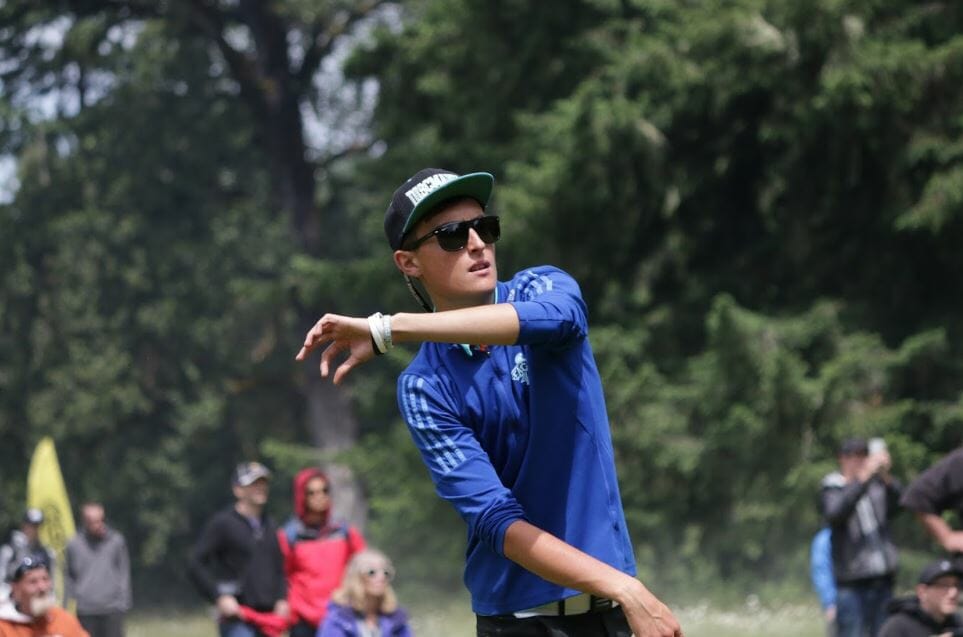 "Completely refreshing," McMahon said of his opening day in Oregon. "It's just really, really nice to come out here and execute some shots and feel good about my play after the last few months. I definitely have a lot better mindset and just really tightened things up, and [I'm] feeling pretty good now."
McMahon attributed his recent struggles — he finished in 36th place at the weather-truncated Glass Blown Open before taking 23rd at the Konopiste Open — to some "personal things" that he has since been able to resolve. With his focus now fully on the game, he said he was pleased with how he rebounded and was excited to be back in the limelight of the PDGA National Tour.
"Today was a definitely a weight off my shoulders, considering this is the big stage and just having the thoughts that any person has who hasn't been successful in what they're doing," McMahon said. "To come back strong and be on lead card again feels really good."
He got to that setting by shooting a bogey-free, 1052-rated first round, highlighted by one of the field's two eagles on the West Course's 850-foot hole 6.
"I was just thinking in my head, 'If I just 4 this, it'd be super awesome,'" McMahon said. "You can't really count on too much on that hole. I threw [my drive] to a bad spot, to the right side of the fairway — you want to be more left if you want to attack the green. Just threw an FD3 on the second shot, made it around the corner perfectly, dropped the 3. I was pretty pumped about how that ended up."
That sequence wasn't McMahon's only impressive feat on the day, though. His birdie on the East Course's 475-foot 13th — a downhill shot with the basket tightly guarded by trees — was also one of the only two made by the field and found him taking a stroke from all three of his fellow competitors on the lead card.
"It's probably one of the biggest bonus birdies on the course," McMahon said. "It's such a demanding shot."
In other notable Friday performances, Wysocki tied McBeth during the first round of play with his own 9-under par on the West Course, but faltered in round two. He shot even par through the front nine at East and only managed to walk away with a 1-under par showing, dropping him six shots off McBeth's pace. Melton, meanwhile, took advantage of his left-handedness and was the only player to card a 2 on the West Course's 509-foot 18th, which features a hard dogleg right. Only Crabtree and Steve Rico managed a birdie on the East Course's closing hole.
With the Fling already half finished, McMahon, like McBeth, was keeping one eye trained on Milo and the other one on the other side of the U.S.
"This tournament isn't really the main goal," McMahon admitted. "A big reason I came to this tournament was a warm-up for Worlds. It was either this, or go back east to the East Coast and visit my family. I chose this because I figured it would be a good opportunity to get my game sharp before Worlds. It's basically me just gaining confidence playing at the big stage before the main event."
As for McBeth, it's clear he's playing more for form this weekend than for first. But if he does manage to walk away with the bonus victory?
"Then it looks like I'm tuning up well," he said.
The lead card again takes on the West Course today at 12:30 p.m. Pacific, with real time scoring and updates available via PDGA Live.