Koling, Musick, Wysocki also share lead; Misplay situation ultimately does not result in penalties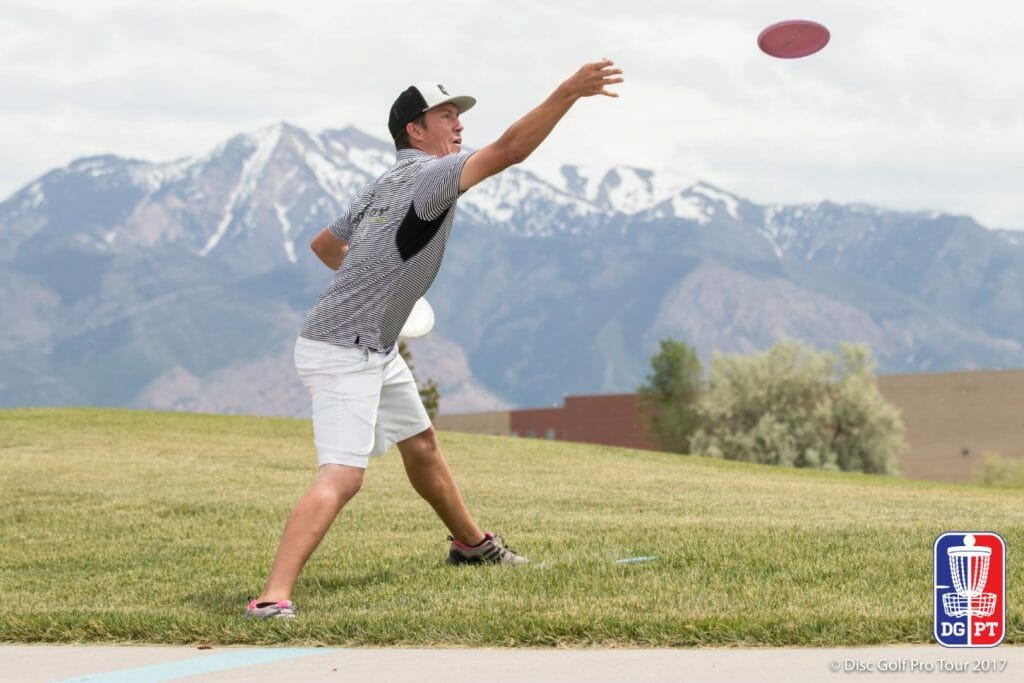 While the Wasatch Mountains provided a natural, picturesque backdrop for the Utah Open's first round yesterday, it was the man-made features of the Mulligan's Creekside Disc Golf Course that wreaked havoc on the scorecard.
When all was said and done, four players — Paul Ulibarri, Jeremy Koling, Bobby Musick, and Ricky Wysocki — topped the Open division with 8-under par 50s to share the lead after 18 holes. A.J. Risley is in fifth place after a 7-under par 51, while Dana Vicich, Dustin Keegan, Drew Gibson, and Cameron Messerschmidt are all tied for sixth place after their 5-under par 53s.
Though their scores were the same, each of the four leaders took his own path to the top of the leaderboard. Musick was the only player in the field who managed to go both bogey-free and penalty-free, a staggering feat considering the 48 player field carded a total of 241 OB strokes. Musick also led the field in two other measures: fairway hits (89 percent) and circle 2 in regulation (94 percent), further demonstrating the control with which he managed the course.
Ulibarri, meanwhile, escaped virtually unscathed, only heading out of bounds on hole 2. From there, he deftly navigated Mulligan's numerous hazards — bunkers and golf greens dotted nearly every hole, while water came into the mix on 15 of them — to birdie six of the final nine.
"That course — over three rounds we're all gonna throw it out of bounds," Ulibarri said. "It's that type of course where you can almost throw a pretty good shot and then skip in [the hazards]. It's a matter of, like, I probably caught some good breaks, but I was throwing the disc well."
The biggest factor for Ulibarri, though, was a resurgent putting stroke. After two-putting on holes 2 and 3, he snapped into action and converted on his next 13 opportunities from close range. His 40-foot step putt on hole 6 was a return to his vintage form, while another 40-footer on hole 8 — an uphill job with serious roll away potential on a miss — struck the chains with authority.
Ulibarri skipped his last three events, he said, to particularly work on his putt. Needless to say, he was pleased that the break was paying early dividends: The 1058-rated round was his highest of the 2017 season.
"I feel great," Ulibarri said. "The time off really helped, and I really focused on coming back stronger, obviously. I mean, the whole reason I kinda left the tour was to work on my game. I wasn't satisfied with the places I was getting, obviously. A lot of hard work on the putt, I know that's kinda — you get your putt going and the rest of your game kind of follows. So I worked really hard on my putt."
As Ulibarri and Musick took their more consistent approach, Koling and Wysocki rode the scorecard rollercoaster. Wysocki started the round noticeably shaky, failing to convert a par save from inside the circle on hole 2 after throwing his drive out of bounds. His second penalty shot — this time a line drive that continued sailing right and over an OB fenceline — found him carding another bogey on hole 7.
"I struggled at first and I found my rhythm about halfway through the round, and I was happy with that," Wysocki said. "Tomorrow I'm not gonna need nine holes to warm up. I feel like I'll be able to warm up right when I start."
Wysocki carded five straight birdies as he settled into his groove, highlighted by a 70-foot Sockibomb on hole 10. That seemed to wake up his putter, as he added a 50-footer on hole 15 and three more 40-footers, including a death putt on hole 18's island green, to seal his position in the first place logjam.
"I really wasn't thinking about the water, which is why I think I made it," Wysocki said. "…I just felt so confident, I didn't really need to check what was behind [the basket] because I wasn't planning on missing."
With the wind whipping early in the round, Koling distinguished himself from the rest of the feature card by unleashing a flurry of low line drives via his signature forehand while others took higher, S-curving routes. The strategy paid off, with Koling notching park job birdies on holes 6 and 8, and the assault continued with an ace run on hole 10's island green. By the time the card reached hole 14, Koling had collected his ninth birdie on the day and had a virtual share of the lead.
Then, Mulligan's gnashed its teeth.
Koling went out of bounds and into the nearby creek on holes 15, 16, and 17. And while he was able to scramble for par on each hole, it was a missed opportunity to take sole possession of first place.
Those hazards were a well-known risk of this course going in, though, and it can bite hard. On the other hand, keep a clean sheet — or as close to one as possible, like Risley did with his single-bogey day — and you're golden.
"You ask anybody, and that's the toughest part of this course, is just water and bunkers and greens everywhere," Risley said. "It's definitely huge if you can stay in bounds."
As play begins for today's second round, the focus won't only be on steering clear of hazards; it will also be on sorting out the mess made by several misplays on hole 15. The most difficult hole on the course — 50 percent of the Open field carded a bogey or worse during round one — found many players going out of bounds into a water hazard off the tee. Per a Disc Golf Pro Tour statement on the matter (which was originally posted on the tour's website, but has since been removed), players should have proceeded to a drop zone as was stated during the player's meeting Wednesday night. However, the caddy book given to players did not clearly state this procedure, which left multiple competitors playing their second shot from its last point in bounds.
"It was weird and it's gonna affect a lot of people I feel like," Risley said. "Right now I can think of five people, of the top of my head, that I've heard about misplaying it."
Players were initially asked to self-report their penalties before teeing off for the second round, but were later told in an email that penalties would not be assessed after consideration was given to the contradictions between the players meeting and the caddy book. The issue did not affect anyone on the lead card, but Ulibarri was still going to work hard to stay focused — and calm — as he tried to carry his momentum into the day two.
"Just kinda handling my nerves [will be the key]," Ulibarri said. "It was good today — I took that time off, and for the first time in a while I had some jitters. That was awesome to feel to kinda get me going. I think it's just, control my emotions and trust in my process and everything will be fine."
The lead card tees off at 4 p.m. Eastern and will be streamed live on SmashboxxTV and the Disc Golf Pro Tour's YouTube channel. Real-time scoring and statistics can be followed via UDisc Live.