Some simple ways to become a dynamic duo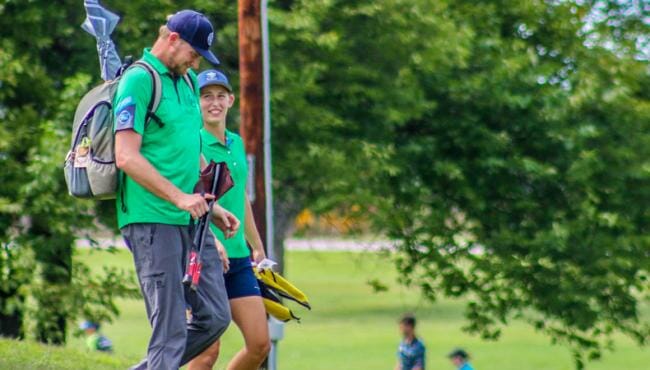 While the vast majority of disc golf coverage and commentary is focused on the individual stroke play format, best-shot doubles – especially at the local level – remains an important staple of the sport. Most clubs host a weekly random-draw best-shot doubles night, and these serve to draw new players into competitive play, forge new friendships among would-be partners, and strengthen bonds across the disc golf community.
With so many players relishing this under-the-radar format, we are dedicating this week's Tuesday Tips to highlight five simple strategies for getting the most out of your best-shot doubles rounds.
1) Get To Know Your Partner's Game. Perhaps your partner can crush huge drives, or maybe they excel at consistency and control. Maybe they have a dependable forehand flick that can help you attack lefty-friendly holes, a thumber that can soar over treetops, or a knack for knocking down 40-foot jump putts. Whatever their particular skill set, every player brings something unique to the course, and getting to know your partner's game will allow you to strategize more effectively and find opportunities to take advantage of each player's strengths. If you've never seen your partner play, have a quick conversation before the round begins so you can establish a plan.
2) Throw From Your Partner's Lie First. Unless there is a particular reason for doing otherwise (see Tip 4 below, for example), player B should generally throw first from player A's lie. This will ensure that both players have an opportunity to contribute to the team's performance. If player A is consistently parking their drives within 20 feet of the basket and then going up to clean up the birdie, player B may start to feel like they've been left out of the action. If player B can knock down those putts, great! This will make take some pressure off player A so they can focus on continuing to execute off the tee. If player B is missing these birdie putts, let them continue to try; this will give them opportunity to find their range and build some confidence.
3) Have Your Strongest Arm Tee Off Second. If both you and your partner are pretty evenly matched, then go ahead with alternating tee shots or any other arrangement that suits your fancy. But if one player has a distinct distance advantage on the teepad, having their partner tee off first will provide some strategic advantages. On easier par 3 holes, it will give the weaker arm an opportunity to park some holes and contribute to the birdie count. On more difficult holes with a higher risk/reward factor, the strategic play would be to have the first player lay up a safe shot and give their partner a chance to be more aggressive. If the first player fails to put their drive in a decent position (with a good chance for par), then the second player can choose a more conservative line.
4) In Death-Putt Situations, Have Your Best Putter Go First And Give It A Run. Let's say you are looking at a 40-foot downhill putt with OB just beyond the pin. The stronger putter will have a better chance of at least hitting the cage so that a miss will stay close to the pin and allow the second player to also take a run at the putt. If, by chance, the first putt does miss badly and go OB (or any other scenario where the comeback putt becomes difficult), then you can let the second player lay up with a safe shot that will guarantee the two-putt.
5) Find Ways To Build Team Chemistry And Reduce Tension. The best-shot doubles format can lead to some ridiculously low scores, and this can ratchet up the pressure pretty quickly when you and your partner miss a few birdie opportunities; just a couple of mistakes make you feel like you are out of the running. But if you start to get down on yourself or your partner, your chances of turning around your score — or, for that matter, having any sort of good time — decreases dramatically. Stay positive; compliment your partner for every decent shot they throw, and give encouragement when they mess up. Getting mad at yourself can have a negative impact on your partner because they may start to feel like they should be mad at themselves, too. Even if you are convinced that you no longer have a chance to cash, try to focus on small goals like winning just one hole and claiming the box.
Of course there are many other strategies that may prove effective, and a lot comes down to the particular players and the particular course. We'd like to hear from you: What has or hasn't worked for you in best-shot doubles competition?